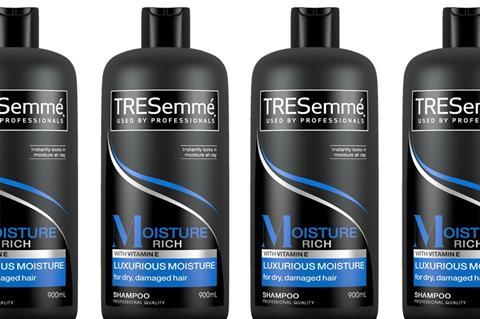 Unilever has introduced a new black pigment into its plastic bottles across its Tresemmé and Lynx brands, making them easily detectable by recycling plant scanners.
The revamped high-density polyethelyne packaging will be phased in during 2019, as Tresemmé and Lynx both introduce a minimum of 30% recycled material into their packs.
Black plastic typically goes undetected by automatic optical sorting machines in recycling plants because they use near-infrared light that is absorbed by pigment commonly used to colour the packs. "This effectively makes them invisible to the sorter and leads to them being rejected and sent for waste," said Unilever.
However, the company's new pigment meant "a further 2,500 tonnes of plastic bottles could now potentially be sorted and sent for recycling each year – equivalent to the weight of 200 London buses or 1,250 family-sized cars".
The Anglo-Dutch supplier had carried out "extensive" trials in partnership with recycling charity Recoup and waste management partners Veolia, SUEZ, Viridor and TOMRA, which had "proven that this new pigment can be technically detected within their material recycling facilities in the UK".
Information about the new colouring tech would be "made accessible to others in the industry, as well as to other markets globally" Unilever added. "We will be pleased to share our work and the insights generated with other manufacturers to enable wide use of this technology and approach."
It comes as part of Unilever UK's commitment to The UK Plastics Pact and its new 'Get Plastic Wise' campaign, which aims to tackle plastic waste in the UK and move towards a closed loop where plastic stays within the economy, not the environment.
The Lynx owner has also pledged to ensure its plastic packaging is fully reusable, recyclable or compostable by 2025 globally, and to use more recycled plastic content in its packaging.
"For the UK & Ireland, we want to significantly accelerate this," said Sebastian Munden, general manager of Unilever UK&I. "We're proud our innovation will help us towards achieving our aim, as well as making a significant contribution towards the UK Plastics Pact targets."