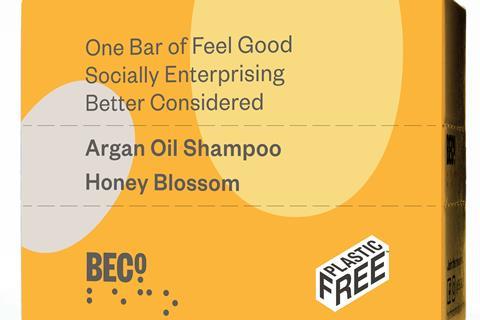 BeCo, the premium soap brand from social enterprise Clarity & Co, is tapping the personal care category's plastic-free trend with its first shampoo bar.
The Argan Oil Shampoo Bar (rsp: £3.75/90g) will roll out as a Honey Blossom variant on 3 June to Waitrose – marking the first time the supermarket has listed such a product.
It is packed in sustainably sourced cardboard, and bears the 'Plastic Free' kitemark from environmental campaign organisation A Plastic Planet.
The shampoo's packaging was "a response to the trend for anti-plastics products demanded by a new generation of conscious consumers" Clarity said.
Meanwhile, the bar itself lasted "far longer than conventional liquid shampoo, making it that much more eco-friendly – and saving on valuable water".
It is biodegradable, vegan, cruelty-free and hypoallergenic. It is also free from sodium lauryl sulphate, which is commonly used in personal care products as a foaming agent but can irritate skin and eyes.
The shampoo bar's "ultra-gentle" formulation matched "the pH of human hair, meaning that it won't strip the hair of its natural oils" Clarity added.
Founded in 1854, the organisation makes soap at its East London factory, where 80% of the workforce are visually impaired, disabled or disadvantaged. It launched BeCo last July with foaming handwash and organic bar soap in three "planet-friendly and eco-certified" fragrances: Honey Blossom, Spring Meadow and Wild Berries.
BeCo had already become known for "pushing the boundaries" claimed Clarity marketing manager Diane Cheung. "We all need to play our part fighting plastic pollution and reducing water usage. If we can do it while providing employment for people with disabilities, it's a real win-win."