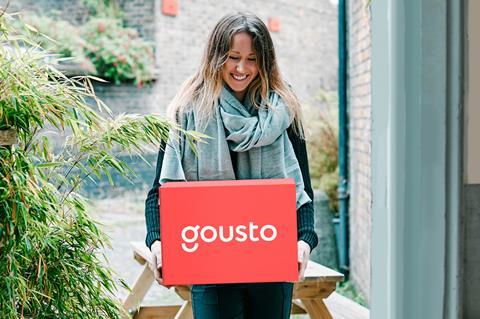 Recipe box delivery business Gousto is set to remove 74.5 tonnes of plastic from its recipe boxes this year by using a newly developed insulation technique.
The recipe box delivery service said the latest savings, combined with the 100 tonnes of plastic it removed in 2019, would see it meet its pledge to halve its use of plastic.
The new temperature-controlled packaging will replace the existing packs. Gousto currently uses wool insulator liners – which are compostable and biodegradable – to keep food cold in transit and prevent food waste.
The wool liners currently come wrapped inside plastic packaging. It is this plastic that will be replaced by the new insulator.
The new insulator is made of cardboard, and is plastic-free and fully recyclable. It works by wrapping many layers of paper to trap air. This creates lots of pockets of insulation that stop the cold from escaping.
It has been tested for the past year in all weather conditions, and been piloted with 4,000 customers. Gousto said it had spent over 3,200 hours developing the new packaging.
The plastic reductions achieved last year came from introducing more loose veg and using cardboard punnets for mushrooms and tomatoes.
"Our heavy investment in technology and AI has helped us to reduce food waste and more recently achieve a significant breakthrough in reducing plastic in our recipe boxes," said Gousto founder and CEO Timo Boldt. "This, paired with the sheer tenacity of our employees to own the solution, has enabled us to make huge progress across our supply chain.
"We're delighted to be able to provide a more sustainable packaging upgrade for our customers, helping us to become the UK's most-loved way to eat dinner."
The business has also committed to ensuring all Gousto-branded packaging is reusable, recyclable or compostable by the end of 2022. To achieve this it said it would continue to explore new materials, technologies and processes, while working with suppliers to continue to reduce plastic packaging.