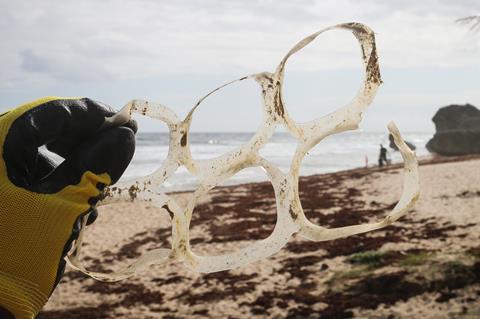 Packaging supplier Hi-Cone has launched a nationwide consumer initiative to recycle plastic rings from drinks can multipacks.
The rings – also known as yokes or hi-cones – have been widely used for more than 50 years, but have also long been seen as threat to the environment, contributing to plastic waste pollution and endangering wildlife and marine life.
Hi-Cone, a leading yokes specialist, has teamed up with recycling giant TerraCycle to allow consumers to download a freepost label from ringrecycleme.co.uk, and then return their plastic rings to be repurposed as park benches, outdoor furniture and the like.
The scheme also offers the opportunity to set up drop-off locations. Its aim is to build a public network across the UK – to keep plastic ring carriers out of general waste streams.
Not all local councils had the capability to recycle all plastics through kerbside collection, and it was "not always clear which packaging formats are accepted" said Hi-Cone. "Initiatives such as these, therefore, are becoming vitally important."
It was the first time a beverage packaging manufacturer had been actively involved in such a programme anywhere in the world, the company claimed.
Its president, T. Kenneth Escoe, hailed the scheme as "a crucial step on our journey to recover and reuse as many plastic ring carriers as possible worldwide". It was "the first of many planned phases to help communicate to consumers that these carriers can be recycled to great effect" he added.
"Hi-Cone is fully aware of its responsibilities as a company that places packaging into the retail supply chain, and this latest project forms part of a broader proactive strategy to create a circular economy, within which the ultimate aim is to ensure recycled ring carriers can be reused for the same purpose again and again."