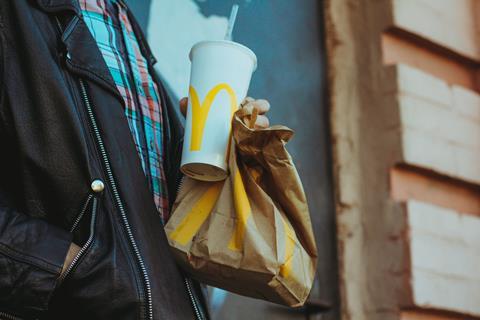 McDonald's has launched a trial to collect unwanted plastic toys from customers to be recycled into new products, such as coffee cups, bins and outdoor play equipment.

Seven restaurants across the UK and Ireland will take part in the 'The Big Toy Take Back' initiative.

During the four-week trial, running until 11 December, customers can return any plastic toys to the special bins in store.

McDonald's said it would use the trial to gauge customers' reactions to toy recycling. If successful, the fast food chain will roll out the scheme to all its restaurants in 2020.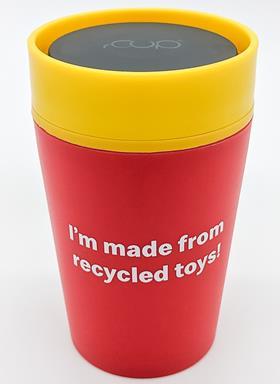 Working with surplus Happy Meal toys earlier this summer, suppliers Ashortwalk and TerraCycle have created reusable coffee cups and trays as examples of the types of things McDonald's could donate to communities across the UK and Ireland next year.
Helen McFarlane, sustainability manager at McDonald's UK & Ireland, said: "It is really important we test this to ascertain what customers bring back to us and in turn what we are able to create with the old plastic toys.

"We want to ensure we're creating genuinely useful products from the toys children have enjoyed and finished playing with. This test will enable us to work with our suppliers to create a range of new items, maximising the amount of plastic we can recycle and reducing the need for the creation of new virgin plastic."

The trial launches as 41 restaurants run a test to offer families the choice between a toy or fruit bag with a Happy Meal. In early 2020, the business will be launching a test to offer a choice of book or toy.

Marco Ruggeri, family marketing manager at McDonald's UK & Ireland, added: "We are always working on our Happy Meal, from reformulating to reduce fat, salt and sugar, to increasing parental choice with new menu items and innovation in our gift offering. These trials allow family customers to participate in this continued improvement - they can choose between a toy or fruit bag, a trial we launched last month, as well as return their much-loved old toys to our restaurants for us to make into something new."

The Big Toy Take Back trial is part of a wider pan-European programme, 'Better M', announced today to minimise plastic and improve recyclability in packaging across Europe.

Participating restaurants in the Big Toy Take Back trial are:

• Bramley Road, St Ives

• East Kilbride - Queensway Drive Thru

• Kingston, Milton Keynes

• Cherry Tree Road, Blackpool

• Culverhouse Cross, Cardiff

• Roscrea, Tipperary, Ireland

• The Swan Centre, Eastleigh