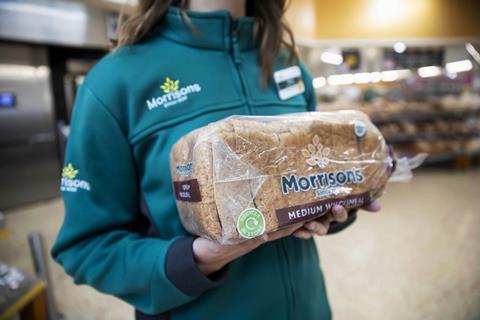 Morrisons has launched a new front-of-pack labelling system, which it claims will enable customers to recycle more by improving their understanding of what to do with different types of packaging.

Under the scheme, Morrisons is to invite customers to bring recyclable plastic packaging, such as low-density polyethylene (LDPE) bags and film used on products like bread, potatoes and toilet rolls, back to stores, because of the lack of kerbside recycling for such products.

Those products will carry a 'Recycle Me In Store' logo.

Meanwhile a 'Please Recycle Me' icon appears on packaging that can be recycled at home - such as plastic milk and drinks bottles.

The rollout, initially to 400 lines, which account for more than 500 million items sold by the supermarket per year, would be extended to more products if it was successful, Morrisons said.

It has also rolled out back-of-pack labels, giving details on all the packaging components used, and clarifying whether they can be recycled and where.

Items brought back will be collected in large recycling bins positioned at the front of all Morrisons stores, which will accept all recyclable plastic bags, films and wraps.

They will be turned into recyclable carrier bags and bin bags.

The move follows new research by Morrisons which claims two thirds of customers are not confident whether they can recycle some plastics - including fruit & veg bags (64%), plastic wrap around toilet rolls (66%), and plastic bread bags (62%). The research also reveals that 90% of customers are more likely to recycle if there is a simple, clear front-of-pack message - letting people know how to recycle it.

"Our customers tell us they want us to reduce packaging, and where we can't remove it they want to recycle it," said Morrisons packaging manager Natasha Cook.

"So we are putting clear icons on the front of 400 popular purchases - and inviting customers to bring back packaging they can't recycle at home. The new clear 'at a glance' labels on the back of our packaging is also designed to help our customers recycle - whether pots, tubs, trays, bags, film, bottles or glass."

As part of its environmental plans, Morrisons has pledged to reduce plastic packaging by 25% by 2025 and start removing problematic plastics such as rigid PVC, expanded polystyrene and black plastic by the end of this year.

Its move is the latest in a raft of measures by the big supermarkets to make recycling easier for customers.

In April, Tesco introduced a trial of in-store technology enabling customers to return items such as petfood pouches, shopping bags and crisp packets - all of which cannot commonly be recycled by local councils - so they can be recycled in store.