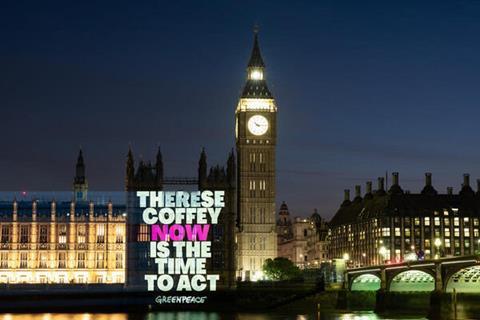 Campaigners have urged Thérèse Coffey to support stronger plastics policies – including the controversial Extended Producer Responsibility (EPR) scheme – at talks to develop a global plastic treaty.
The UK's environment secretary is joining other world leaders in Paris this week to advocate for tougher regulation to crack down on plastics.
But amid a complete meltdown of the government's deposit return scheme (DRS) and warnings from the food industry that the upcoming EPR rollout is "heading for disaster", campaigners are calling on Coffey to vouch for strong plastics policies at the summit.
"The UK government talks a good game on how they're leading the world in tackling the plastic crisis – there are few better chances to live those words than through the global plastics treaty," said Anna Diski, plastics campaigner at Greenpeace UK, which projected a message directed at Coffey on to the parliament buildings ahead of the UN meeting.
"Thérèse Coffey has to actually back a position which rises to the challenge facing us globally and ends the age of plastic," Diski added. "That's why we've brought our message to the heart of power, projecting a challenge to the environment secretary somewhere she can't ignore."
The UN-led event is the second of five sessions to develop an international legally binding plastics treaty to curb plastic pollution by 2040.
The treaty is set to feature both legally binding and voluntary measures that address the full lifecycle of plastics – from production and consumption to disposal and waste management.
Initial conversations kicked off last year and the aim is to complete negotiations by the end of 2024.
The UK is the second largest plastic polluter per capita after the US, a 2020 study showed.
Ministers including Coffey have been in conversation with stakeholders across different industries to come up with solutions to plastic pollution for the past few months in order to bring solutions to the table at the Global Plastics Treaty.
However, much of the progress on some of the government's flagship proposals has either slowed down or completely stalled following a combination of industry pushback and political turmoil.
The launch of DRS in Scotland has been delayed once again, and EPR too has received severe backlash from food behemoths including Nestle and PepsiCo – even though Coffey has watered down some elements of it since last year to lessen the cost on industry.
The BRC recently estimated the combined impact of EPR and DRS would cost the industry £4bn a year.
But Coffey and fellow world leaders are being urged to count EPR – a scheme designed to tax businesses or organisations handling and suppling packaging to consumers or businesses and responsible for more 25 tonnes of it in a calendar year – among the key provisions for inclusion in the treaty.
EPR schemes have been successfully running in the EU and other regions around the world for years, though each country has its own different version.
"Shared guidelines and minimum standards for EPR are necessary to define the desirable minimum operating standards of EPR schemes," said Andrew McCaffery, chief strategy officer at environmental compliance specialist Ecoveritas.
"Where reduction and prevention are not possible, developing a well-designed EPR is proven to help the circulation of all plastic items that cannot be eliminated, keeping them in the economy at their highest value.
"Our problem is that different countries do wildly different things. Some implement bans, and others levy taxes. There are also different approaches to collection, sorting, and disposal."
"We expect Defra Ministers to push for tougher measures to tackle plastic pollution, but also to listen and learn from other countries who are moving faster and going further than the UK," said Brita UK MD David Hall.
"The UK is moving in the right direction, but we need to think beyond our current Extended Producer Responsibility and Deposit Return Schemes and put in place schemes and policies which dramatically cut waste and are tough on unnecessary single use plastic items, such as bottled water."
The Defra head will join leaders of 150 other UN member states, as well as thousands of industry representatives, at the event which will take place until Friday, 2 June.