This year has been a story of survival for brands and retailers, leading to a focus on core products to keep shelves stocked. But the NPD pipeline hasn't stopped, proving the tenacity and resilience of the industry's top players
What do BrewDog Punk IPA, Lidl Deluxe and Levi Roots Reggae Reggae sauce all have in common?
Two things. First, they're some of the biggest NPD success stories in UK grocery. Second, they all landed on supermarket shelves in the midst of the last economic recession.
In fact, if there's one thing the crash of 2008 taught the industry, it's that whatever the challenge, whatever the uncertainty, the answer is never to sideline NPD.
It's a rule that applies beyond the world of food and drink. When McKinsey looked into 1,100 public companies that had significantly outperformed their industries 10 years after the economic downturn, they found they shared three attributes: they'd quickly cleared up their balance sheet, they efficiently cut operating costs ahead of the competition – and they had continued to invest in growth via innovation.
It clarifies what many in the industry already know instinctively: that "innovation is the lifeline of these companies", as Sally Hookham, founding director of The Food Business, sums up. "You cannot stop."
Even for a global pandemic. The thing is, when Covid-19 first arrived in the UK back in March, that was easier said than done. With frantic shoppers stripping shelves, every single cog in the supply chain hunkered down and focused on ramping up production of core lines.
"There was no point talking to retailers about a new proposition when there wasn't enough pasta on the shelves," remembers Valia Christidou, fellow member of the Institute of Food Science & Technology (IFST).
"Innovation is the lifeline of these companies. You cannot stop"
Even once the initial availability crisis had been averted, product development teams faced major hurdles. "We had to reduce the number of people operating in our laboratories and test facilities – it was based on a 'must be on site' basis," adds Christidou. "You could never be sure at any one time if you'd had your full complement of product developers or marketers to get a project running."
That required some new procedures. Paperwork that tracked progress on new ingredients, recipes or suppliers was kept meticulously up to date, so if one team member found themselves suddenly self-isolating another could pick up where they left off. Some major suppliers, such as KP Snacks, even decided to temporarily shift product development to home kitchens, liaising on ingredients and flavours over Google Hangouts instead.
And once you'd successfully overcome all of those challenges, there still remained the dilemma of how to take an idea from concept to scalable product. With factories focused on staples, and also running with smaller, socially distanced teams themselves, it became a major job to test NPD on the line, recalls Christidou.
It's no surprise, then, that the total amount spent on NPD did fall by 15% in the 12 months to November 2020, according to Kantar. Just 10% of sales in UK supermarkets were from innovation – a fall from 12.8% the year prior.
But given the circumstances, that drop isn't a major one. That's testament to the lessons of the last crisis, believes Mike Faers, CEO and founder of Food Innovation Solutions. During the 2008 downturn "we saw a lot more people stop, and stop harder with their innovation. This time around it's much more geared towards people wanting to continue to innovate, though they're being more careful. And that's a key shift."
Shifting priorities
See the new products on the shelves for proof. In the past few weeks alone we've seen major launches from the likes of The Collective, Danone, Coca Cola and Knorr, despite the ongoing uncertainty.
The nature of this NPD is what's particularly interesting. Priorities have shifted, say the experts, towards 'must haves' rather than 'nice to haves'. It has been more about what Hookham calls EPD – evolving product development – than NPD. Real blue sky thinking "has been put on the backburner", she adds.
That is partly due to capacity constraints, says Mike Adams, product innovation lead at Campden BRI. As universities have been closed, and many UK-based facilities have been left unavailable, his company has mostly been helping out with "urgent short-term problems and keeping longer-term innovation projects ticking along", he says.
But whether radical or not, what matters is that companies' appetite for innovation hasn't dissipated. In some cases, it's even accelerated. "We've had our busiest quarter ever," says Jonny Bingham, co-founder at Bingham & Jones. "We put out the message that it's not the time to sit back, it's time to innovate and a lot of people listened. We were working with brands that upped their game, that wanted to see a two-year pipeline."
That approach extends all the way from large branded fmcg operators to private-label suppliers and entrepreneurial start-ups, adds Faers. "Brands that have a presence, that have an equity they can leverage with consumers, are always looking at how they can stretch that equity further," he says.
All of these brands realise consistent NPD in a challenging climate is what will determine where power lies in the weeks and months to come, Faers adds. "The people that have innovated consistently all the way through the past six to 12 months? They will do well, they're ahead of the curve. That pent-up pressure from consumers that want newness hasn't gone away, it's just been temporarily or forcibly put on hold. Businesses providing that are set for really good growth."
Doggedness is therefore an important attribute when it comes to who has power in NPD. Even more so during periods of upheaval. But there are also other factors at play. An agile response to changing consumer habits, for example, is also a key determinant of success.
Take arguably the biggest NPD trend of the past decade: plant-based. The UK accounts for around 40% of all plant-based consumption across Europe, according to Deloitte, with a meat-free market worth £816m as of 2019, up 40% from 2014. Within four years that'll exceed £1bn, says Mintel.
Plant-based NPD outstrips any other trend as a result, with nearly a quarter (23%) of all grocery launches last year labelled vegan. Those brands that spotted the switch early and responded have been rewarded with soaring growth. Look no further than the heady $1bn-plus valuation given to Beyond Meat in its 2019 IPO.
Then there are the categories that have seen major upticks in just the past year. For canned fish and meat, lockdown turned into a virtual goldrush with sales up 13.7% in the 24 weeks to October – a £140.4m increase versus the same period last year.
The category's affordability, shelf life and convenience all fed into its appeal during long months spent at home. Companies that were agile enough to spot that short-term opportunity and bring through NPD in response were rewarded (earning Princes' Kevin Evans the ninth spot on this list).
The same goes for alcohol. Though the shuttered hospitality industry saw on-trade sales of alcohol take a major hit, the surge in bored, lonely and anxious Brits rapidly pushed up off-trade sales via retail for many booze brands, with 48% of consumers admitting to drinking more alcohol at home than prior to the pandemic.
In fact, even as pubs temporarily reopened, sales of beer, wines and spirits sold through grocers grew 41% from May to June [Kantar]. Swift and creative NPD in response reaped the benefits, with the likes of the Lockdown Liquor Co achieving a £4m valuation inside six months, and BrewDog hitting the headlines for its witty riposte to Aldi.
But even then, success in NPD doesn't begin and end with a brilliant product in a booming category. Christidou says innovation is a mindset. "It's in the way companies operate, the way they adapt production plans and their ways of working. It's needing to have an innovative state of mind, as well as output." Which is why our list of 10 of the most influential figures in NPD doesn't stop at top product developers or heads of innovation.
Because if creating the product itself is one half of the battle, getting it to market is the other. Here, major power does still lie in the hands of supermarket buyers – something the pandemic has only served to highlight. "The most difficult thing for people has been to get their products in front of buyers as nobody is allowed into head offices," says Bingham. As a result, the focus has been on finding creative ways to get NPD in the hands of the right people.
Routes to market
At the same time, retail buyers aren't the source of power they once were. "The market is much more open and much more splintered in terms of routes to market," points out Hookham. There's the likes of Amazon, of course, that provides brands with access to an international audience and an unmatched logistics network. But there's also a growing opportunity to cut out the middleman altogether and sell direct to consumers. It's a disintermediation trend that has favoured start-ups and entrepreneurs in the first instance, providing a "lower cost, less risky entry point for innovation to anyone with a good idea", says Faers.
"You can't rely on the consumer going to the retailer anymore. And you never will be able to again"
All of which erodes the power of traditional retail. "The mults are very much aware of that too," says Hookham. "It's becoming very apparent you can't rely on the consumer going to the retailer anymore. And you never will be able to again. They've had to look to their laurels and think again about what they're selling, how they're selling it and the target markets they're appealing to."
In response, a glut of incubator schemes has emerged from supermarkets in recent years as a way to gain back access to some of the most exciting start-ups and entrepreneurial brands, such as Sainsbury's Future Brands (see number two on this list). In return for mentorship, early funding and even office space, these schemes get to mould early concepts and secure first, or even exclusive, access to the products.
It's an unabashed attempt to seize back control in NPD. Because between the last financial crisis and this one an awful lot has changed, from what sells and what doesn't, to the boom in e-commerce and new routes to market. The only thing that hasn't? The central importance of innovation in grocery.
Something our top 10 know only too well…
Tim Murray
Partner, Newton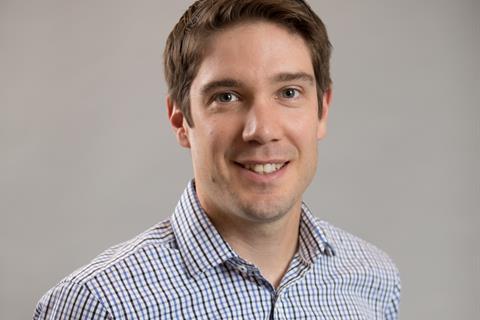 At the start of the pandemic, retailers and suppliers responded by cutting ranges to maintain availability of core lines. As a quick fix, this worked well and helped remove cost – which will be increasingly important as consumers feel the impact of the recession. Understandably, innovation was put on the backburner.
However, the rate at which the pandemic has changed consumer habits means there's now a compelling argument for businesses to take a serious re-look at innovation.
This isn't about proliferating ranges, but identifying opportunities to meet unfulfilled needs. Done well, innovation generates new revenue streams, boosts margins and gives people new reasons to visit a store or buy a brand. But doing it well is hard. Firstly, it starts with understanding what the consumer really values. Secondly, businesses must ruthlessly remove everything that doesn't add value. And finally, companies need to have a detailed understanding of the impact across the end-to-end supply chain.
Neglecting to understand the production process can make or break innovation. In one example, a large cake producer, backed by extensive consumer research, re-invented a best-selling product to appear more 'homemade'. At launch, shoppers loved it, but the production facility struggled to consistently reproduce the altered product; line efficiency dropped below 50%, and waste increased three-fold. The costs became unbearable and the product failed.
But well-thought out innovation is invaluable, as this year's Power List shows. The challenge for the rest of the industry is to keep up.
The NPD Power List
Martin Dickie
Co-founder, BrewDog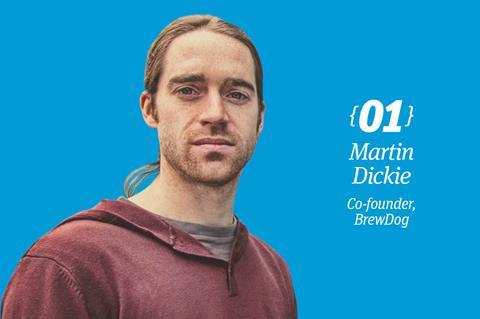 Love them or loathe them, BrewDog embodies the type of disruptive challenger brand and entrepreneurial flair that has (re)shaped NPD in grocery over the past decade.
Strip away all the stuffed 'fat cats' dropped from helicopters, and 55% proof beer poured from roadkill, and you're left with a (reportedly) $2bn brand built off the back of an ever-growing portfolio of cult products.
For proof, look no further than its signature Punk IPA. First brewed by hand in a rented building in Aberdeenshire, before all the Putin protests and publicity stunts, the light, almost fruity concoction with a bitter finish remains BrewDog's top seller more than 10 years later, and the bestselling craft beer in the UK, according to the brewer. In fact, BrewDog says it is now behind six of the top 10 craft beers in the UK. That doesn't happen if the beer doesn't live up to the bluster.
And, hard as it is to separate the efforts of the close co-founders and ex-schoolmates who built the brewery from scratch together from 2007, if James Watt is the mastermind behind the brewery's elaborate marketing tactics and political outspokenness, it is the quieter, more reserved Martin Dickie that delivers the new product development.
His relentless pace of innovation for the brewery hasn't slowed down in 10 years either. Not even for a pandemic. In May, while other brands took pause, BrewDog announced plans to fast-track the rest of its NPD pipeline, revealing eight prototype beers online. It also retains the agility to match brands 100 times its size. Take its recent Twitter spat with Aldi. What could've turned hostile – as Watt hit out at Aldi's 'copycat' Anti-Establishment beer – ended up as a new product on Aldi's shelves within weeks.
That the brewery stood its ground with the discounter is no surprise. Though its beers are listed across all the major mults, its power and influence has never relied on a buyer in a boardroom, but on the cultish loyalty of its consumers, who flood to its famous AGMs and revere both Watts and Dickie.
What Dickie brews, they'll buy. Be it in the mults, online or in BrewDog's portfolio of global bars. And that kind of power in NPD is hard to beat.
Rhian Bartlett
Commercial director of food, Sainsbury's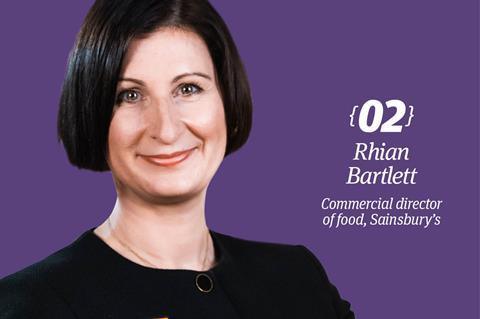 Few people have a bigger job in NPD right now than Rhian Bartlett, Sainsbury's newly appointed commercial director of food.
Promoted from director of fresh food earlier this month, Bartlett has been a breath of fresh air since returning to the business in 2019, evidenced by the relaunch of its chilled offer in early October. Now she's been tasked with meeting new CEO Simon Roberts' vision, as a 'food first' retailer, of tripling new product launches, and increasing speed to market for innovation by 30%.
Bartlett has the right rounded credentials. Not only a deep knowledge of what makes the mult tick, having worked across senior roles from 2008 to 2015 (including non-food, online merchandising and category manager roles), she's also spent time working at more agile e-commerce operators like eBay, where she spent nearly three years as senior director of trading in the UK.
She'll need to harness all that experience, spotting innovative opportunities across both established brands and entrepreneurial start-ups alike, including Sainsbury's Future Brands programme, which has lost some of its momentum due to the pandemic, mission creep and personnel changes (the position to lead it is currently vacant).
Developed in 2018, the Future Brands initiative supports promising NPD and startup brands get not only listings but mentorship and access to other perks, such as free data.
Tej Lalvani
CEO, Vitabiotics and 'Dragon'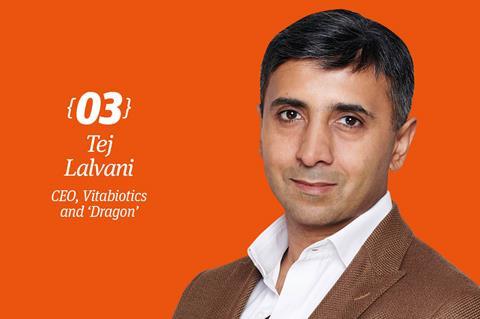 While the likes of Brewdog, Oppo, Hungry House and Froglet were infamously turned down, BBC series Dragon's Den has changed the fortunes of several food and drink businesses, from Levi Roots to Bare Naked Foods and free-from brand Kirsty's. Indeed, by 2016 food and drink was the most popular field for the millionaire Dragons, accounting for a fifth of all investments on the show.
The addition of Lalvani in 2017 has only cemented that focus. That's largely because Indian-born Lalvani knew a fair few things about bringing fmcg to market before taking his seat alongside the likes of Peter Jones and Deborah Meaden. He's helped turn the family supplements business Vitabiotics into a £300m behemoth – an achievement that began with Boots turning away the product, convinced it wouldn't sell, and ended with a reported £390m valuation.
Now Lalvani, less ruthless than his rivals on the show but equally astute, has taken that know-how and ploughed it into nurturing small start-ups – including Tea+, a North Yorkshire manufacturer of vitamin teas, as well as personal beauty, skincare and homeware startups.
Even startups that have walked away from a Lalvani investment have benefited. The Great British Porridge Co, offered £90k by the Dragon for a 5% stake, raised 15 times that amount in a funding round after the show aired. Proof of the power of the Dragons to breathe fire into NPD.
Peter Hynes
Head of R&D, Meatless Farm Co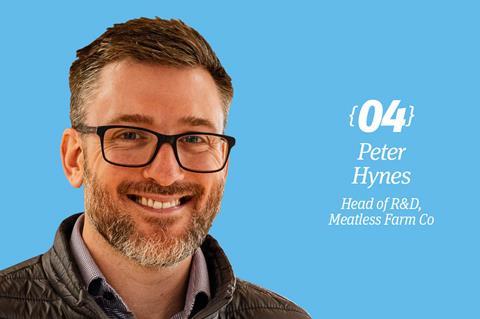 If there is one trend that has driven more NPD in the past five years than any other, it's plant-based. In 2019, 23% of all grocery launches came with a vegan label, according to Mintel, as brands of every size, across practically every category sought to appeal to the swathes of British consumers looking to reduce their intake of meat and dairy.
But no NPD has quite set our collective tastebuds salivating more than the emergence of meat-free burgers, sausages and mince, that look, taste and behave almost like the real thing. Leading the charge on that front in the UK is Meatless Farm Co and its head of R&D Peter Hynes. Joining the business in 2019, Hynes brings with him 11 years of experience, developing products for the likes of Unilever and Reckitt Benckiser. Now he'll be focused on creating recipes that rival the famous bleeding burgers of Beyond Meat et al in the US. And he'll have the resources to do it: in September the business closed a $31m funding round, a significant chunk of which will go towards building up its pipeline of NPD.
"The category is at a tipping point," said the company, as it confirmed the investment. So Hynes will be tasked with ensuring Meatless Farm Co gets over the edge first.
Jenny Arthur
Director of nutrition & innovation, Leatherhead Food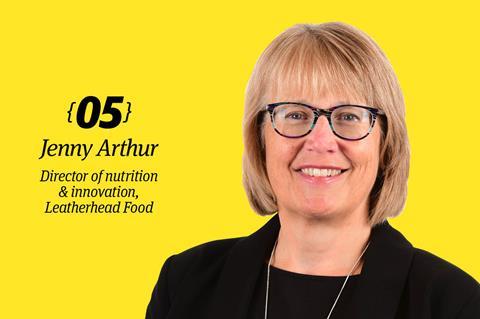 The pandemic has only served to highlight the significant role played by external specialists and consultancies when it comes to NPD in the UK.
With internal development teams furloughed or hampered by new restrictions, many brands and manufacturers turned to the services of these specialist teams, who went on enjoying unfettered access to state-of-the-art labs without the concerns of a packed manufacturing line next door.
Picking a single organisation from the huge breadth of NPD specialists out there is tough. But, set up 100 years ago and with two R&D innovation centres in the UK alone, it's Leatherhead Food that stands out.
Leatherhead's 400 employees are laser-focused on product development, offering expertise in everything from food safety to sensory science and the latest consumer insight. What's more, at a time when the government is pushing forward with plans to clamp down on anything high in salt, fat or sugar, triggering a new wave of demand for reformulation, Leatherhead brings with it the sort of scientific and nutrition-based focus brands will be looking for.
At the helm of this will be head of nutrition and innovation, Jenny Arthur. Prior to joining Leatherhead in 2014, Arthur worked as company nutritionist at M&S and also launched her own independent nutrition consultancy, developing strategies for a range of retailers and food manufacturers.
In her current role, she has been instrumental in nudging the UK team toward a more health-focused agenda. Arthur has integrated the nutrition and product teams to provide clients with a one-stop shop, as well as collaborating with regulatory teams in science, consumer and sensory.
As the ban on advertising HFSS products in the UK edges ever closer, Arthur and her team will no doubt find this combined expertise in nutrition, regulation and reformulation in much demand.
Giles Brook
CEO, Vita Coco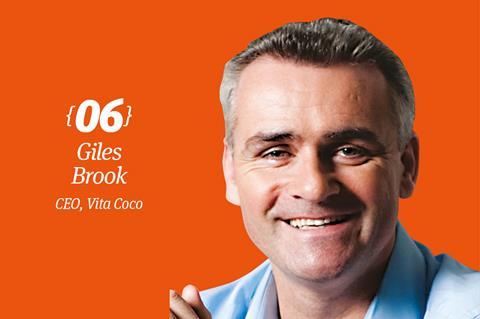 Energetic, curious and engaging, Giles is one of grocery's most visible and most successful serial entrepreneurs. That is in no small part thanks to his ability to spot a gap in the market – and then find exactly the right product to fill it.
He did it first with Bear, growing the fruit snack brand to £14m in sales inside four years. Then came Vita Coco, a pioneer of the coconut water market, which has fended off repeated challenges from the likes of Innocent Drinks (Brook's ex-employer), and of which Brook remains CEO.
Then there are the multiple investments he has made into emerging start-ups in fmcg, lending his years of experience to the teams at Pip & Nut, Dalston's and savoury snack company Bepps, into which he invested a six-figure sum in 2018.
Brook might not dream up NPD in his own kitchen, but when it comes to taking a founder's concept and turning it into a commercial success story, there are few better.
Lucy Ede & Lucy Thomas
Founders, Tastemakers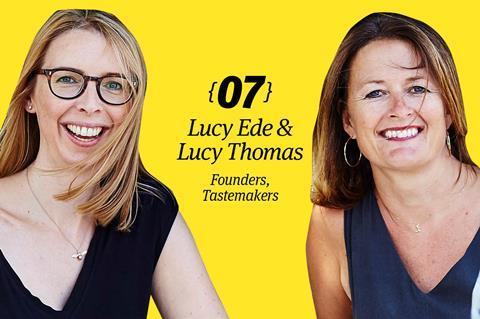 It was five years ago, on a truffle hunting holiday no less, that Lucy Ede and Lucy Thomas first decided to join forces. The result was Tastemakers, a UK innovation firm that has worked in the years since with a veritable who's who of UK grocery, from Deliciously Ella to Propercorn, Unilever to M&S.
They turn to the London-based firm to tap into the combined years of expertise in innovation that both founders bring. Ede has worked with M&S, Soho House and Wahaca restaurants, while Thomas lists Unilever, Graze and Le Cordon Bleu on her CV.
Although the idea came about on holiday, the pair first met while working for Innocent Drinks. Ede was head of product and Thomas was NPD manager at the brand, where they helped launch its 'superfood' smoothies.
Their motto is simple, say the duo. "Figure out what is a trend versus a fad, and then create a delicious, commercially viable product people actually want to consume."
Which, coming from this pair, almost sounds easy.
Jeremy Basset
CEO, Co:Cubed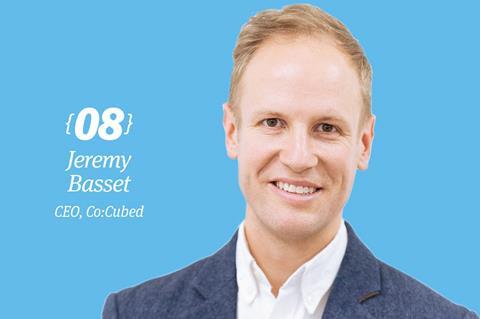 The rising power of the start-up has presented a major challenge to established brands. What Jeremy Basset realised was, if you can't beat them, bring them under your wing.
And so in 2014, he helped propel the launch of The Unilever Foundry, a global platform for partnering with start-ups, offering them funding and mentorship in exchange for access to their ideas. Within four years of launch, the scheme had successfully run 100 pilot projects, with 48% of them scaled up.
By that time Basset had spotted the bigger picture. In 2017 he launched Co:Cubed, offering his insights and experience to other Fortune 200 companies that had seen the success of Unilever and wanted to launch their own start-up collaboration programme. In the past three years he and his team have worked with the likes of Danone, Coca Cola European Partners and Reckitt Benckiser, marrying the financial clout of these corporates with the blue sky thinking of start-ups.
Kevin Evans
Head of innovation & NPD, Princes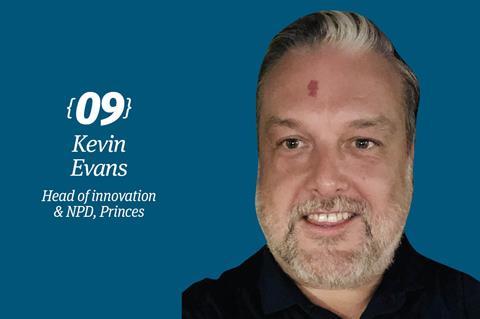 Few categories have grown off the back of the pandemic quite like canned and ambient food. And though Heinz and its Beanz remain the market leader, it's Princes that has come up with the most compelling plan to take advantage.
In July, Princes unveiled plans to splash out £5m on a major upheaval of its NPD strategy in the next three years, hiring a six-strong innovation team and opening a new innovation kitchen in Liverpool.
Tasked with delivering on its ambition will be Kevin Evans, appointed as head of innovation and NPD at the food group in 2019. As well as responsibility for overseeing the central innovation kitchen and team, Evans will take point on all 'blue sky' NPD, says Princes, helping it think well and truly outside the can.
Perry Haydn-Taylor
Founder and creative director, Big Fish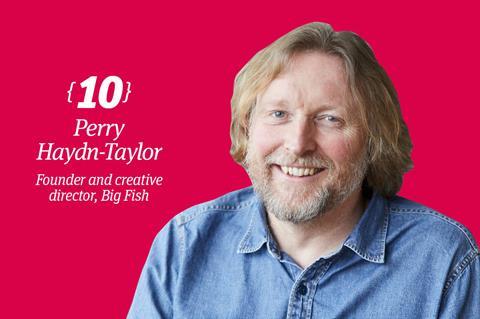 If perfecting the product is only half the battle when it comes to NPD, then Perry Haydn-Taylor is an expert when it comes to perfecting the rest. A former freelance designer for the likes of BBC, Unilever and The Guardian, Haydn-Taylor has spent the past 25 years working alongside challenger (and not so challenger) brands to bring their concepts to life via branding, design and marketing.
An illustrious list of clients includes the likes of Charlie Bigham's, Yeo Valley, Gü, Sipsmith, Tyrrells and St Pierre. He and his team gave Whole Earth its distinctive design, Sipsmith its signature swan neck label and Gü its name. Not afraid of a blue chip either, Haydn-Taylor has also shared his creative skills with high street names such as WH Smith and Mothercare.
The businessman has even taken the entrepreneurial plunge himself, investing in brands that include Biscuiteers, Grub Pies and the Chesil Smokery. Why? Well, "it takes one to know one", he says.