Supermarkets cut promotions heavily to stop panic buying but with availability back to normal they're still down 17% on average. So why aren't they back?
One of the most notable effects of the pandemic on food retail has been the fall in promotions. At the start there was ample justification for doing so – especially on multibuy promotions – as they encouraged panic-stricken shoppers to stockpile.
The result has been a sharp increase in inflation to 4.1% [Kantar 12 w/e 14 June 2020] its highest level since 2012. In recent weeks, as availability has improved, promotion levels have picked up. But they're still down 17% [Assosia w/c 15 June 2020 vs w/c 2 March 2020] on pre-lockdown levels. And in the case of Tesco 33%.
So why haven't supermarkets brought promotions back to previous levels? Do they have any justification? Are they taking advantage of shoppers? And what are they going to do to help shoppers as we face into a major recession?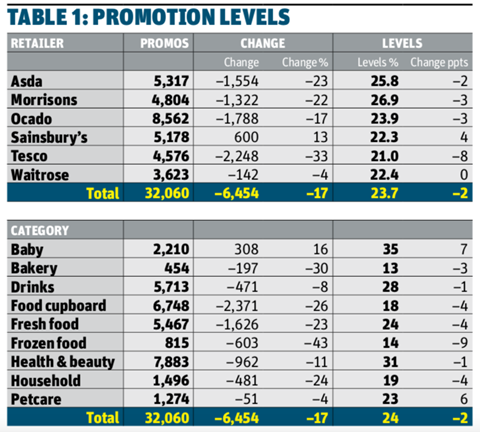 To be fair, promo levels at Sainsbury's have not only returned to pre-lockdown levels, they're actually up 13%, with 4,576 offers last week – 600 more than on 2 March. But for rivals, that's not the case.
"Levels of promotion are running at 27% in the latest four weeks, significantly below the 31% recorded in January, for example," says Fraser McKevitt, Kantar's head of retail and consumer insight. But the inflationary picture is compounded by shopper behaviour. Kantar's measure of inflation is based on sales data, rather than price file data. In other words, it's the price shoppers paid for the products they picked up. And there's less attention being paid to deals, he adds. "Sales of products bought on price- cut deals have gone up by 8%, which is still behind the market – and multibuys, in all their forms, have declined by 17%.
"This reflects the fact that in the current environment shoppers are simply not spending as much time focusing on picking up deals, or they are shopping online and in convenience stores where promotions are either less prevalent or not as noticeable. Retailers are also looking to keep shelves stocked and avoiding 'out of stocks' (promoted or not)."
"Shoppers are simply not spending as much time focusing on picking up deals"
Supermarkets insist promotions have returned in categories with strong availability. The steepest cuts have been in promotions on frozen food (down 43%), followed by bakery (30%), ambient (26%), household (24%), and fresh food (23%).
With sales of olive oil up "well over 40%" since the lockdown, the reduction in promotional activity has resulted in inflation of over 10% in the past three months [Nielsen 4 w/e 16 May]. Filippo Berio MD Walter Zanre believes "the reactivation of promotions should correct this."
And Neil Brownbill, commercial director at Napolina, believes the supermarkets are justified in maintaining promotions at a lower level. For now.
"The level of sales is certainly slowing down but it is still above what we would call the norm. The level of sales has been such that we can't afford to increase demand any further. So that demand has effectively been at full price. I can't say there's been absolutely no promotions on Napolina because there will have been some prior commitments but by and large, we have not been promoting in the market place. It's been a natural uplift in demand that's been predominantly driven by new consumers coming into the category and buying the Napolina brand."
Napolina wants a period to recover its 'safety stock' and will be looking at promotional activity from August to September onwards as new season comes into supply, he promises.
Oil prices fall sharply
Other costs such as fuel – so often linked to food price inflation in one way or another – have fallen sharply recently, but the picture is more complex for importers. There is still a lack of non-food exports to Europe, forcing many food importers to pay fuel costs for both legs of the journey. "If you haven't got a backload the outbound load is covering the whole cost of the fuel," says Heather Wallace, international group manager at the Road Haulage Association.
Yet despite this, haulage costs, which ballooned during lockdown, "are now back below pre-Covid levels," according to Jack Fleming, CEO of cold chain logistics platform Chill-Chain.
"Initially because the [haulage] prices rose so quickly, suppliers had to take the brunt of it. Then they will have attempted, and in some cases succeeded, in passing them on to retailers, and will be less inclined to tell the retailer that their costs have now decreased."
"I wouldn't necessarily see the retailer as the bad boy in this scenario"
"I wouldn't necessarily see the retailer as the bad boy in this scenario," he adds. "It really is a case of commercial savviness. There will have been so many suppliers attempting to increase their cost price to retailers, and the retailers had no choice but to absorb that but it should only have been for a few weeks. It was just an initial shock of the pandemic that caused the increases in prices, and now they're back to normal, if not lower, because demand is lower.
"Fuel is a factor in lower haulage costs, "but it's actually because there's less demand for haulier services. it's a supply and demand thing," he adds.
In the case of shipping, however, prices remain high, he adds. "Deep sea shipping lines have actually continued to increase their rates. They're in a pickle because all the containers are the wrong place."
Retailers facing criticism over business rates "windfall"
Whatever the extenuating circumstances, however, supermarkets will need to consider their reputations. There's growing criticism of the business rates holidays they're enjoying, despite the extra costs incurred as a result of the pandemic, for example.
"The fact that the supermarkets have had a windfall [from business rates] during this crisis is scandalous," says a supplier source, "and there is no question they have made money by allowing prices to rise."
"The supermarkets need to do something to keep inflation down," agrees says Kay Staniland, MD of retail research analysts Assosia. But she's confident promotions will return to pre-Covid levels in the fullness of time.
"There is no question retailers have made money by allowing prices to rise"
Despite the costs the supply chain has borne many costs during Covid-19 – adapting facilities, new protections for staff, logistical interruptions – but none of this explains why the costs to the consumer have been ramped up, says Shane Brennan, CEO of the Cold Chain Federation. "There are no factors in the supply chain to suggest supermarkets should be effectively putting up prices above what they were previously," he says.
On the other hand, with the mother of all recessions expected, a return to pre-Covid promotional strategies may not be enough. It's not surprising, therefore, that – as supply has now stabilised – Tesco is preparing a major pricing strategy shift, stepping up its Aldi Price Match campaign, and promising a switch to EDLP pricing. Or GPED (good prices every day) as it calls it.
"It's determined not to be caught out as it was in the last recession," said a supplier source. "Tesco have made it clear there will be no promotions in store."
While a price war may be good news for shoppers, some fear it will impact on innovation and choice.
"Suppliers will not want to put all investment into EDLP on iconic lines as this will ensure chaos across the whole market and a race to the bottom," says Ged Futter, founder of The Retail Mind. "What will be the benefit for suppliers? What volumes will Tesco be 'promising' with lower prices?
"The removal of all promotions and a 'pure EDLP' strategy is not enough to excite customers long term, so the question is 'what next?'. The excitement comes from innovation. Aldi have maintained their innovation pipeline during Covid, Tesco have put theirs on hold. EDLP and innovation need to go hand in hand. Without 'newness' EDLP just becomes dull."
As rivals prepare their responses to Tesco's move, the other question is the extent to which supermarkets will cut ranges. A whopping 13,794 grocery products have been delisted since March, a 9% decline – with Asda's range cut by 3,847 lines (15.7%). That's enabled suppliers to crank out extra volume to meet the demand but that increased efficiency should also mean lower prices, believes Brennan, as logistics networks have to a large extent become simplified and smoother.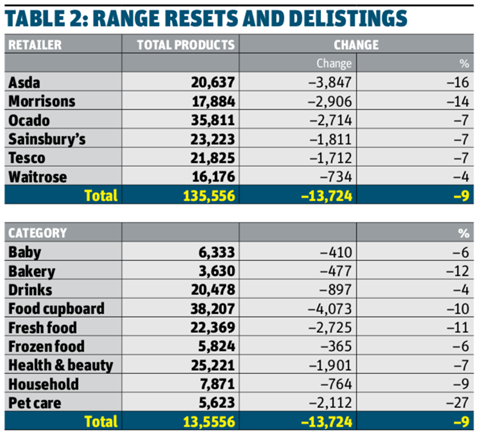 Buyers 'resting' products
Some of the 'delistings' have been a result of availability issues. Some buyers also talk about 'resting' certain products , waiting for conditions to return to 'normal'. But it looks like retailers are settling into a new normal, with ranges at their lowest across all the retailers in June.
Coronavirus has demonstrated the value in a simplified range, and it's hardly damaged sales. At the same time, a simpler range should mean savings for suppliers in many cases – savings supermarkets should be able to pass on.
That spells bad news for for choice, and for challenger brands. On the other hand, it's clear, from delistings to date, that leading brands have been among the most affected, with household names – from Absolut, Actimel and Air Wick, to Young's, Yushoi and Yorkshire Tea – all seeing multiple lines delisted.
The question now is whether supermarkets choose to permanently strip back ranges. And of course, what the supermarkets now ask for in response from suppliers.