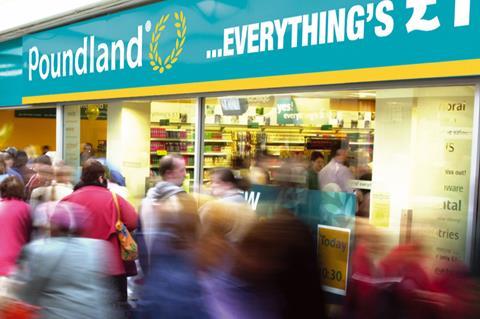 Poundland has announced moves towards a major shift in its pricing strategy, including trials for the rollout of permanent sub-£1 ranges for the first time.

The retailer will also test a "wider spectrum" of £1-plus price points, adding £1.50, £3 and £4 ranges to the £2 and £5 marks introduced in 2017.

Poundland has previously offered 50p items as "manager's specials" and in post-Christmas sales. The pilot is the first time it has offered permanent dedicated ranges at the lower price points.

The trial will take place in stores in the Midlands, with examples of sub-£1 products including 500g Napolina Passata and 75g Prince's Sardine & Tomato Paste at 50p, and 100ml Colgate Toothpaste at 75p.

The bargain operator claims the new pricing architecture will allow it to extend ranges to cover a larger proportion of the volume of items demanded by customers.

"We promise customers amazing value and we are committed to fulfilling that promise on the widest range of items," said Poundland managing director Barry Williams.

"While three quarters of the products we offer will still be £1, it's important we look to broaden our ranges elsewhere, whether above or below £1. These extended price points mean we can meet an even greater range of customers' needs, while offering the same outstanding Poundland value.

"Our customers are among the savviest in the country. We know that and it's why we're moving at the pace they dictate to become the simple price retailer they want us to be."

Clive Black, an analyst at Shore Capital, said the move could crank up competition between Poundland and discounters such as Aldi and Lidl.

"The move to more flexible pricing should give Poundland potential scope to deliver a more varied and arguably stronger value proposition, albeit shoppers will need to be brought along," he said.

"If rolled out across its estate, the competitive intensity within the discount channel in the UK and Ireland - so bringing Aldi, Lidl and Savers into the pool - could intensify a notch, something that the value-based supermarkets will also, no doubt, be keeping an eye on too."

The latest move by Poundland comes a week after The Grocer revealed it had demanded a 2% discount from overseas suppliers backdated almost a year, in a controversial move to increase its margins.

In a letter to suppliers dated 26 July, Poundland head of trading Tim Bettley demanded a 2% rebate backdated to 1 October 2018 and an ongoing 2% discount, payable in quarterly rebates.

Bettley's letter pointed to Poundland's fixed price points and resulting inability to manage "margin through price increases" as the reason for the demand.