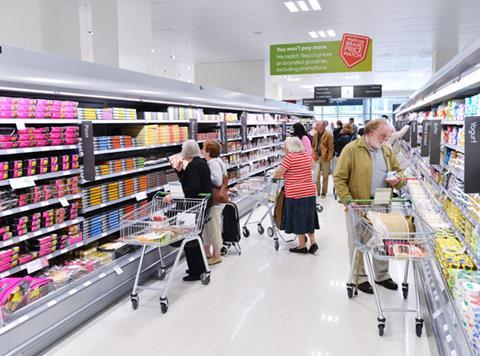 Food inflation stayed at a record low this month, bringing relief to hard-pressed consumers.
Overall shop prices (including non-food) were down 1.8% in September, making it the 17th consecutive month of deflation, according to the BRC-Nielsen Shop Price Index (SPI), published today.
Food inflation remained at 0.3%, unchanged from August, and the lowest level recorded by the index since it began in 2006. Non-food deflation accelerated from 2.9% to 3.2%.
"There are historic low levels of price increases across the high street," said Mike Watkins, head of retailer and business insight at Nielsen. "With more price cuts expected from supermarkets over the next few weeks, shoppers will continue to get great savings."
The fresh food category fell to a flat rate of 0% for the first time since February 2010, with upward pressure on the category coming from oils & fats, meat, fruit, fish and convenience food. Downward pressure came from milk, eggs & cheese and vegetables.
Ambient food inflation remained at 0.6%, experiencing downward pressure from all its major sub-categories apart from alcoholic beverages, which reported inflation above the category average.
"The outlook for inflation remains modest," said Helen Dickinson, BRC director general. "Falling commodity prices, the strengthening of Sterling, benign pressure in the supply chain and, critically, fierce competition across the retail industry suggests lower shop prices for consumers will continue."
Discounters a hit
Separately, new data from IGD, published yesterday, revealed that shoppers' thirst for the discounters continues unabated.
"Over half of shoppers (54%) tell us they've used a discounter in the past month, which is the highest level for four years when we started tracking the data," said Joanna Denney-Finch, IGD chief executive in a speech.
"Examples of good retail disciplines that shopper tell us they like about discounters include: it's easy to find things, they can get around the store really quickly and the meat is clearly labelled as British."
"People want pricing that makes a real difference," she added. "Shoppers have told us the discounters have listened and responded to them – almost as if they've been eavesdropping on the negative views I've heard."
She said retailers should focus on greater personalisation of the shopping experience, utilising technology, recognising the importance of small companies, rewarding customer loyalty and learning to differentiate between price and value for money.