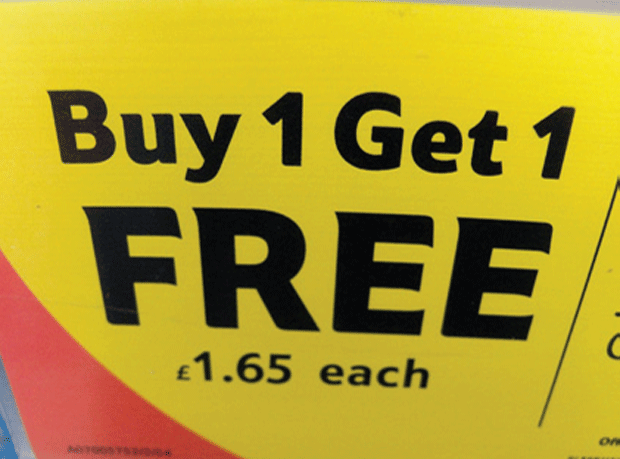 Some things simply refuse to die: skinny jeans, hip-hop music and - in the world of grocery retailing - the bogof.

The demise of the buy-one-get-one-free deal has been called for or heralded many times in the past, by retailers, government and commentators in the pages of The Grocer. But, as shown by analysis of promotional activity in featured space such as gondola ends and pallets, suppliers and retailers can't break the habit.

Of the 10 most-promoted brands, eight offered bogofs in the four weeks ending 12 July. And five businesses - Nestlé, McVitie's, Birds Eye, Mars and Kellogg's - have increased their use of the mechanic compared with the same period a year ago.

Despite being one of the three brands to reduce the proportion of bogof deals in their promotional mix, Walkers remains the biggest proponent of the mechanic, which accounted for 18.2% of its total offers.

Although some of the biggest brands are showing renewed interest in bogofs, its use has declined fractionally across the total market, accounting for 2.8% of all featured space promotions versus 3.4% a year ago. The industry has also pulled back from extra-free, half-price and x-for-y deals, though the latter still accounts for almost 30% of promotions.

"While the main multibuy deals continue to be x-for-y promotions, there is still room for a little differentiation," says Kay Staniland, MD of retail analysts Assosia. "Bogof, with a saving of 50%, can offer consumers greater savings and, used in moderation, can have a big impact on volume sales."

Straight money-off 'save' offers are where the action is, and it now accounts for just over half of all of promotions following a 4.2 percentage point increase in share.

Simple money-off deals are popular with consumers, less likely to upset the likes of Which? than a tricky multibuy, and also allow brands greater control over the savings offered. Its increased use will have contributed to the average depth of deal falling from 33.3% a year ago to 32% now.