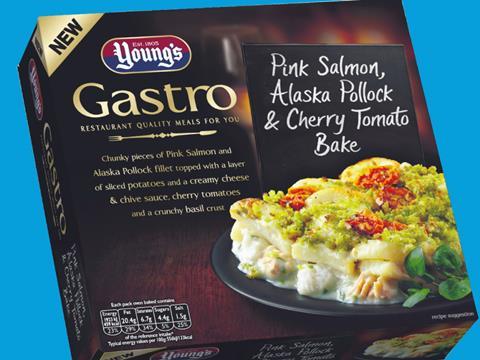 Who: Young's

What: Young's Gastro Pink Salmon Alaska Pollock & Cherry Tomato Bake

Where: Frozen fish ready meals

When: Launched September 2014

How much:£1.89/380g

Why: Young's last year responded to demand for premium frozen ready meals by expanding its Gastro frozen fish brand with a meal-for-one range comprising cod, spinach & cheese gratin; Alaskan pollock, white wine and Parmesan risotto; and the pink salmon, Alaskan pollock & cherry tomato bake tested here. They can be baked in 45 minutes or microwaved in 10.

Consumer verdict: There was a good level of pre-trial interest. Sampling left a generally good impression, though there were a few concerns over the lack of seasoning and unbalanced quantity of ingredients, with comments including "no fish, all potato" and "not enough tomato". Despite these reservations, the overall score was above average for the category, and two-thirds of testers considered this added something new and different. However, an almost equal number felt there were similar but better premium fish ready meals currently on the market.

Pre-trial purchase: 33%

Post-trial purchase: 35%

Better than what's out there: 38%

New and different: 67%

Overall score: 37/50




What is Fast Foodfax?
It is a subscriber service that has been running for more than 30 years, offering consumer assessments of new products and allowing comparisons with more than 17,000 products from our database. It is objective, impartial and totally independent, and each product is assessed using original consumer feedback from respondents across the UK. See here for further information. Fast Foodfax is prepared by Cambridge Market Research, which works closely with The Grocer magazine on a variety of projects including the consumer judging element of the The Grocer's Own-label Food & Drink Awards and New Product Awards.
Tel. 01223 492 050 Email: Info@CambridgeMR.com