He runs a cross between aa building site and a supermarket, but still fought off a host of fantastic store managers to scoop the Grocer Gold award for Store Manager of the Year last week. So how did he do it?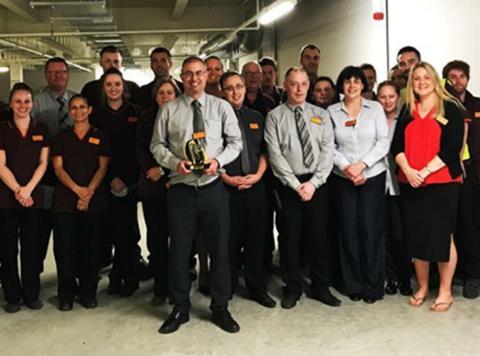 How many supermarkets do you know with an official Wet Squad? Sainsbury's Redhill has one. "There were a couple of times when the water was an inch deep on the sales floor," recalls store manager Dave Curness. And for a while, when it rained, it leaked. "Water will always find a way," he says, ominously.
This week The Grocer's newly crowned Store Manager of the Year has understandably been enjoying the heatwave, but flooding hasn't been the only problem Curness and his team have been contending with. Working for two-and-a-half years in a cross between a building site and a supermarket, almost every day there's been a new issue to overcome.

"We have emergency lighting, but no generator, so if we get a power cut we lose the tills. We have lots of five-minute blackouts. The worst was Boxing Day and we were lucky, we only lost power for 30 minutes." And then there are the constants, like the "immense" noise of drilling. Curness almost no longer notices. Almost.

Fortunately, it's all coming to an end soon. This autumn, Sainsbury's will open a vast new 60,000 sq ft store on the site, almost three years after the complex project began in November 2014.

It's been an extraordinarily disruptive rebuild. As well as knocking down the old 23,000 sq ft supermarket, and building a new one, Sainsbury's built a temporary 20,000 sq ft store on the site, for business continuity and to save jobs. But there were setbacks from the get go.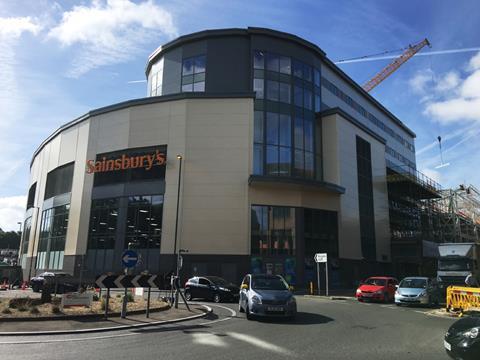 Micro details

Demolition of the old store ("not a single brick remains") didn't begin until 2016, following a delay when the original builders went bust four weeks after breaking ground. Then there was the huge inconvenience to shoppers in terms of access. "The plan we were given was to go down from 360 spaces to 155 during the rebuild, but me and my deputy Jim walked the car park and some of the spaces were extra wide. We knew we could gain 15 spaces through repainting them. That cost me, but meant we would only go down to 170." As the works continued further reconfigurations were constantly required, but "in the end, we've averaged 230, which is extraordinary".

Even entering the store has been a headache. Access to the temporary store has involved a long walk down a grubby tunnel. Curness recently created another access point by persuading the builders to prioritise it ahead of schedule. "Four weeks ago this bit was cordoned off," he says, standing outside the store. "Customers coming from this side of town had to walk all the way around. These micro details were costing me £20k a week."
Talking of headaches, Curness has been equally focused on keeping the noise down. "We knew the noise of the drilling was really bad, so we agreed during breakfast and lunch the builders wouldn't drill. That meant other areas might have taken a few more weeks to complete, but we got the buy-in from colleagues."
The positivity displayed by his team is even more remarkable when you consider the state of the staff facilities over these past two years. "We warned them months in advance, we said 'we are really sorry, but soon the 25-year-old colleague areas, where nothing worked, will be brand new'. I'm so proud of my team. They could have been up in arms but they have been absolutely brilliant."
Dark and dingy

Another nightmare has been the need for temporary warehousing out back. It's dark, dingy and disjointed ("we play jigsaw puzzles every week to work out where to put the stock") but at least the light and bright temporary store provides a glimpse of what is to come.

"The challenge with the temporary store was to do the right thing for customers but also run it as a profitable business. Normally when you launch a new store you know there will be more waste, you get a bit more shrink, you end up spending more on labour because you're not sure where to position it, there are lots of little nuances. But after a £4m beat to expected disruption forecasts in the old store, we beat our sales budget in the temporary store over six months by £500,000, and our profit budget by £340,000 and I am dead proud of that, because running this feels like business as usual."
snapshot
Status : 45, married to Sharon, with son, Alex
Where is the trophy? Alex has it. It was at the store yesterday but he's seven, he's dead proud, and he wanted it in his bedroom for a couple of days. I couldn't say no
If this is the highlight of your career, what was the lowlight? When Morrisons took over Safeway I had four weeks to re-range the entire store while sales leapt up 30%. I really struggled because I didn't ask for enough help, I was trying to do it all myself. So that was a real lesson about myself and what I need to do if that happens again
Best career advice: Embrace change and be the best you can be in whatever you do
And he's dead proud of winning Store Manager of the Year. "It will be the best feeling I have as a store manager in my entire career. The reaction was amazing, the phone didn't stop for 24 hours, everyone was saying 'Well done!'. You can't do it without a brilliant team, it is impossible. It's called Store Manager of the Year but really it's Sainsbury's Redhill that is store of the year."

By autumn the construction chaos will all be over. In a funny way, is he going to miss it?

"When we launch I'll have a café, counters, a gym, clothing and 120 colleagues that will have only been here for two months," he grins. "So it will be a different kind of buzz. Six weeks after that, we launch online from a standing start. And then it's Christmas!"

Besides, he says, "we have seen more changes in this industry over the last two years than in the last 20. So there will be more than enough to keep me occupied. I don't think the adrenalin will ever really stop."