Spirits are high in UK supermarkets right now, with sales up 3.9% to more than £4.7bn on volumes up 1.7%1. But online sales of spirits have always lagged behind those in physical stores.
Now, Asda and Diageo are using the power of storytelling to redress the balance. In 2018, the two businesses worked together to launch the Gin Guide, an online initiative designed to share information about the latest trends, offers, new products and serves to inspire drinkers to broaden their horizons.
One year on, the results are staggering. Asda's online gin sales have almost doubled. In the first three months after the guide's launch, Asda's share of online gin sales had climbed from 15.3% to 16.7%. Within six months, an extra £600k of gin had been sold.
"Ecommerce platforms have an advantage over traditional bricks & mortar: they give retailers the space to communicate so much more than the information that can be shared on a physical label or shelf." says Diageo Grocery Digital Commerce Manager Rob Spencer.
"People access the internet on their mobiles to educate themselves before making a purchase either online or in store. It's our job to inspire consumers online. Spirits can be expensive, so consumers want to be sure about a product before they buy. By offering information and helping educate consumers online, we're increasing the likelihood that they'll purchase a new product that they'll enjoy."
The product page for Gordon's Pink Gin (the fastest growing spirit of the past year) on Asda.com illustrates this perfectly. Mouth-watering video content takes pride of place, showing how to mix the perfect Gordon's Pink Spritz. Beneath this are details of the gin's heritage and ingredients, along with further serving suggestions and advice on garnishes.
Asda has also revamped its category pages in a bid to encourage shoppers to spend more time browsing its range and try new products. Diageo and Asda put together Whisky and Cocktail Guides and, later, the Gin Guide (since shortlisted for an IGD digital commerce award) to guide consumers.
Each of the almost 300 gins and whiskies stocked by the retailer have been categorised by flavour (whiskies are smoky, spiced, sweet and fruity, for example) with small clickable icons added to the product images. This means shoppers can browse all products that suit their taste preferences and, crucially, allows Asda to encourage shoppers to trade up.
"Our range has always featured major brands but as our range expanded with the boom in craft gin and whiskies, we had to find a way to bring it alive for consumers as they browsed our range on their desktops or, more often, their mobiles." says Asda Online Senior Merchandising Manager Rob Barlow.
"We took Diageo's advice on flavour categorisation and developing something customers would interact with, in partnership. Using icons is a way of relaying extra information without sacrificing page estate. Being able to measure how shoppers are interacting with our pages allows us to constantly improve our offering. People are spending more time on the pages and therefore engaging more with the category as a result."
In short, Diageo and Asda are sharing stories about their spirits to whet the appetites of shoppers online, broaden their drinking horizons and, ultimately, drive impressive growth.
So, here are the five fundamentals of using storytelling to boost online spirits sales.
1. Start at the beginning
The basis of any story is what, where, when and who. The space you have online allows you to share so much more than merely what the product is. Share stories about the ingredients and processes that make the drink unique – say, the rye in Bulleit Rye or the botanicals in Tanqueray – to help shoppers form an emotional connection to the spirit.

Deepen that connection with stories about the charismatic founders of brands, where and when they dreamt up their recipes and so on. For example, Alexander Gordon began his mission to make the world's best gin way back in 1769 (today it's the UK's bestseller); Bell's Whisky originated in a 'wee' Perthshire shop that started selling the dram in the 1800s.

"Like it or not, social media has turned us all into storytellers." says Spencer. "You don't just share a picture of a standard G&T on Instagram– you tell a story about the gin you're using, how it's been mixed and what with. If a brand is good at storytelling it helps consumers tell stories too. Consumers buy the story, not just the spirit."


2. Flavour profiles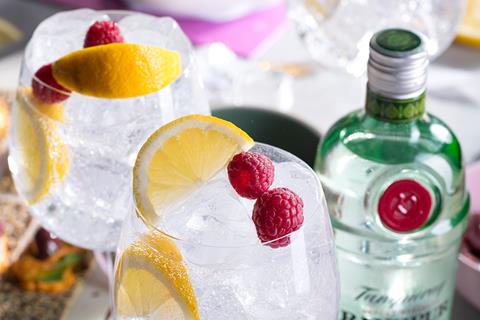 Flavour is also a key factor. Trouble is, choice in the spirits aisle can be bewildering. Consumers know what they like but can often be discouraged to try new things by the high price of a bottle of spirits and the fear they won't like the flavour. Retailers therefore need to act as category curators and guide their shoppers around their expanding ranges.

"Let's say a customer is used to their usual brand of gin when shopping online, which we categorise as having a 'classic dry' flavour profile." says Asda's Barlow. "By allowing shoppers to see other classic dry gins by clicking on the flavour icons, we're introducing them to gins across category with similar flavours. This allows us to help customers discover something new and exciting."


3. Suggest servings
Asda is also inspiring its shoppers by suggesting servings and offering link deals that allow people to buy all the elements of a drink with one click. "The uptake of these deals has been really good," says Barlow. "It is really helping us to unlock halo effects cross-category by helping customers with suggested solutions through bundles."

The Gin Guide allows drinkers to buy everything they need for a Gordon's Pink Gin 'Spritz' (Gordon's Pink, Schweppes Lemonade, Extra Dry Prosecco and strawberries) or Citrus G&T (Tanqueray 10, Fever Tree Mediterranean Tonic and basil) with one click, for example. The Whisky Guide pairs different whiskies with Coco-Cola's new Signature Mixers range.


4. Use multimedia
It's far better to show shoppers how to mix a new drink than tell them. "With the growth in social media, the way people consume media and educate themselves is changing," says Spencer. "They are not looking to read long articles. They want engaging video content that will show them what they need to know in a short space of time."

So, the product pages of many gins and whiskies on Asda.com now feature videos showing how to create simple but exciting serves at home. Others use the medium to tell stories about the heritage of a brand. The page for Cardhu Gold Reserve features a short film about the single malt whisky's founder's tangles with the law back in the early 1800s, for instance.


5. Analyse shopper feedback (and act on it, fast)

Ecommerce allows retailers to gather shopper feedback far more effectively than in the past. This can come in the shape of online reviews, search terms and actual purchase decisions. By constantly reviewing this feedback in real time, smart retailers can work with their suppliers to meet shoppers' changing needs. Examples abound in Asda and Diageo's partnership.

"Gifting in whisky is a great example," says Spencer. "Through data analysis we saw that the November payday is a busy period for whisky gifting, so we moved the gifting element of the Whisky Guide to the top of the page to meet our consumers' needs. Similarly with the Cocktail Guide, it became clear that the sparkling cocktail bundles with Prosecco were proving very popular, so we tweaked the line-up accordingly."

By telling stories about the spirits they sell, learning fast and acting quickly on the feedback they get via shoppers' purchase decisions, Asda and Diageo have made great leaps in their ability to sell spirits online. Question is: what stories will you tell to boost your online spirits sales?
1Nielsen 52 w/e 7 September 2019