Coming of age against a backdrop of Covid-19 and Brexit, OWR reveals how automation is both fending off challenges and thriving in a world dominated by e-commerce
Following the release of its recent report in conjunction with Hikrobot, How ready is the UK warehousing industry for the robot revolution?, OW Robotics (OWR) explains the conditions that are causing operations to rethink their warehouse set-up.
For warehousing and logistics businesses, 2020 marked something of a turning-point, with many forced to quickly scale-up operations and capacity – as well as streamline processes, in order to meet new challenges.
With warehouse space in increasingly short supply, the e-commerce surge showing no sign of slowing and Brexit creating an array of challenges, for a forward-thinking business – or even those that need to react to these conditions – now is the perfect time to automate.
The rise of e-commerce
As the nation was placed under strict lockdown, and bricks-and-mortar stores were forced to close, we witnessed panic buying on an unprecedented scale and a surge in online orders. Under these conditions, agile supply chain management became a top priority, with businesses forced to re-evaluate out-dated, manual and ineffective processes to keep operations moving.
Despite its robust infrastructure and experience, even the likes of Amazon was tested, having to rapidly scale-up, acquire vast quantities of new warehouse space and hire new operatives to cater for the demand – signalling a new era for the UK warehousing and fulfilment industry1.
Interestingly, e-commerce retail sales increased to nearly a third of all retail across the UK in May, far exceeding pre-pandemic estimates. On a global scale, Amazon is forecasting to have made an impressive $416.48 billion this year from online orders – $12 billion more than the initial estimate.
Many experts are now arguing that the pandemic has irreversibly changed UK consumers' purchasing habits, putting pressure on warehouse managers to implement more efficient automated systems. Now, no matter the circumstances, customers expect next-day delivery as standard, and without the right technology suppliers risk losing out on valuable sales.
Robotics will get businesses ahead of the curve by providing them with a means of offering later ordering cut-off times and next-day delivery subscription services.
With a reliable goods-to-person solution, a business is well placed to cater for this change in demand. If, for example, a customer decides to place an order late into the evening, its ERP or WMS can integrate with the Robot Control System (RCS) to provide a seamless workflow – even without a fully staffed warehouse floor.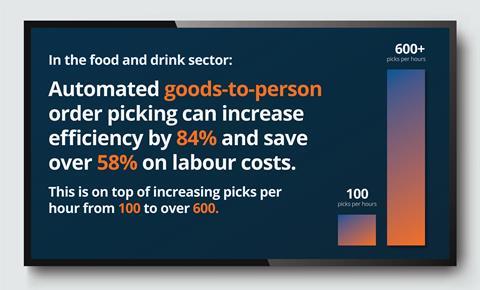 One report estimated that automated goods-to-person order-picking can increase efficiency by a staggering 84% and save over 58% on labour costs, as well as increasing picking performance from 100 picks per hour to over 600. Remember, during a typical shift, two-thirds of a picking operative's time can be wasted walking the warehouse floor – time that adds zero value to a business and significantly adds up over the course of a year.
So it's easy to see why experts are predicting the automated guided vehicles (AGV) and automated mobile robots (AMR) market is set to cross the $5 billion mark, with a CAGR of ~32% by 20262.
Preparing for the skills shortage
The UK logistics sector is heavily reliant on access to EU workers, currently constituting 13% of the country's entire logistics workforce3. Having navigated the many challenges created by Covid-19, the warehousing and logistics sector must also prepare for the unknowns of Brexit and potential labour shortages.
Since the referendum in 2016, the government has championed the idea of automation as a potential solution. In fact, Innovate UK, a public body funded by the UK government, has offered a total of £5 million to companies to develop robotics and autonomous systems (RAS)4.
No longer out of reach for smaller and medium-sized businesses, AGVs and AMRs are becoming increasingly attractive investments, with a complete return on the investment usually achieved within a 12- to 24-month period. Once the initial implementation is covered, the price of robotics solutions is a lot cheaper than employing and training numerous extra employees to complete the same work.
Not only will this help address any labour shortages created by Brexit, it will also free up existing employees to focus on more strategic and value-added tasks.
Warehouse space is becoming more expensive
In such uncertain times, the last thing a small or medium-sized business needs is the hassle of purchasing a new warehouse or committing to a disruptive extension. With a fully automated robotics solution, you can better optimise your existing space and hopefully avoid both of these outcomes for as long as possible.
Making better use of existing warehouse space by storing stock keeping units (SKUs) denser can have a profound impact on operational costs, able to generate savings of around 65%5.
"In less than 12 months, warehouse automation has gone from a 'nice to have' to a 'must have' for businesses looking to sustain their place in the market and thrive in 2021"
Unlike warehouse operatives, robots have the capability to move racks of items that are in demand to the front, and out-of-season stock to the back, making popular products easy to collect as and when necessary. These racks are also configurable to cater for products of different shapes, sizes and weights, so a business can adapt to the needs of its warehouse and make use of every inch of space available.
The shift towards automation in UK warehouses was, of course, already in full force before the Covid-19 pandemic hit. However, the events of 2020 have forced many to accelerate their plans, realising the benefits of automation to help mitigate problems around skills shortages, limited warehouse space and, of course, continuing to meet customer expectations.
In less than 12 months, warehouse automation has gone from a "nice to have" to a "must have" for businesses looking to sustain their place in the market and thrive in 2021.
For further information about the robot revolution, download OWR's latest report, How ready is the UK warehousing industry for the robot revolution, which contains crucial insight on:
– The true state of the UK warehouse automation market
– The race for storage space, labour challenges and the e-commerce boom
– Demand in food & drink that's accelerating the drive for change
– A 'robotics-ready' verdict that draws on 50+ independent sources
For more on the efficiencies of automated warehousing, see the video below:
Sources:
1. https://www.realestate.bnpparibas.co.uk/2020/oct/industrial-logistics-insider-q3-2020
2. https://www.thelogisticsiq.com/research/warehouse-automation-market/
3. https://logistics.org.uk/campaigns/campaign-carousel-on-homepage/the-workforce-logistics-needs
4. https://www.gov.uk/government/news/robotics-and-autonomous-systems-apply-for-innovation-funding
5. https://www.thelogisticsiq.com/research/warehouse-automation-market/