Growing consumer pressure to reduce waste, combined with a will by businesses to meet wide-ranging environmental targets, have created opportunities for packaging, supplier and retail companies to take the lead on flexible plastics innovation and recycling, says Amcor Flexibles
With consumers increasingly focused on global environmental issues and the need for greater sustainability, the gauntlet has been thrown down to businesses of all sizes to aim for an improved carbon footprint, with net zero and a circular economy being the ultimate goals.
In the fmcg industry – and food and drink in particular – this relates to all types of sustainability actions, from the provenance of the products, the food miles they have travelled and the packaging used to protect and present them in-store. Shoppers are increasingly voting with their wallets when it comes to choosing products that align with their values, including the recyclability of packaging, so the onus on companies to up the level of recycled content in their packs, as well as make them fully recyclable is only going to grow.
Government is also backing that consumer demand, laying down legislation to ensure companies take action to meet their environmental responsibilities. In April 2022, for example, the UK will be introducing its new Plastic Packaging Tax1, imposing a £200 per tonne duty on certain types of virgin plastic packaging, with the aim of increasing the use of recycled material in its production. The goal is to incentivise demand for recycled materials and increase the collection and recycling of waste plastic, thereby reducing the amount landfilled or incinerated.
The implications for businesses are clear and the push to develop new types of packaging to comply with restrictions and meet consumers' expectations is being constantly ramped up.
Packaging for longer-life foods
For longer-life foods, flexible retort pouches are gaining popularity against alternative forms of packaging. Considered a modern alternative to metal cans, they are light, easy to transport and available in different shapes and sizes, thus enhancing convenience to the consumer as well as offering a decreased carbon footprint through material savings and reduced shipping.
Flexible pouches also have appeal to younger consumers, who may perceive cans as old-fashioned and the stand-up pouch gives the supplier better options for printing, branding and transparent windows, where required, to make the product inside visible. "Pouches allow brands to better highlight new flavours and fresh combinations, appealing to Gen X and Millennials," explains Amcor Flexibles sustainability director Gerald Rebitzer.
However, flexible retort packaging uses high-performing materials – usually a combination of different plastics that often includes aluminium – to keep the foods inside fresh for a longer time. For years, the outer layer of a retort pouch has been made with PET due to its high heat resistance and its ability to withstand the thermal processing used for food sterilisation.
But the problem with using PET is that there is no recycling stream available for PET-based bags and pouches. Moreover, while standard retort pouches use aluminium to keep out oxygen and bacteria – and aluminium on its own is recyclable – when it is sandwiched between layers of different plastics, this can create problems in the recycling stream.
In 2019, a number of companies in the UK, including Ella's Kitchen, Nestlé, Mars, Ecover and Taylors of Harrogate, along with waste and recycling expert SUEZ, came together to form the Flexible Packaging Consortium, with the aim of tackling plastic packaging waste. Earlier this year, their first report2 revealed the extent of the problem in the UK and the opportunity to take a significant step forward in recycling flexible packaging, which would be transformative for brands, suppliers and consumers.
Innovation drivers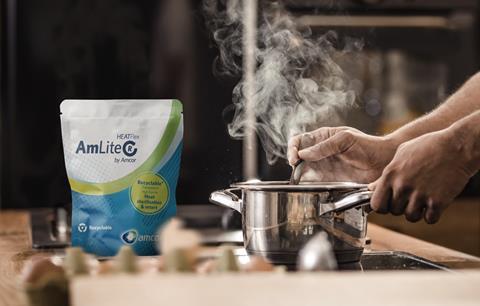 Meanwhile, at the packaging end of the spectrum, recyclability was the key driver in Amcor Flexibles' bid to create a heat-resistant retort pouch, suitable for use with a diverse range of food products, but that could also be widely recycled, reveals Rebitzer. So it seems a logical step that the company collaborated with two of the Consortium's members – Nestlé and Mars – to rigorously test and approve the innovation for wet pet food and microwavable rice, respectively.
"We already had several AmLite packs, but the challenge was to create a heat-resistant material, with the right level of barrier and with polypropylene, so the pack could fulfil its function as well as meet its recyclability needs."
Flexible packaging (bags and pouches) using polyeolefin solutions such as PE and PP are recyclable, but there are several standards that need to be established when maximising their use, says Rebitzer. "Ideally, you need 80-90% monomaterial, but then you need to create a barrier for those materials," he says.
Amcor uses its SiOx coating, based on silicium oxide material in its AmLite range, an inert and minimal material, which does not interfere with the sorting and recycling process, he says.
However, to create a heat-resistant material, the company realised that only polypropylene (PP) can have a melting point higher than 130°C, easily the temperature reached for retort processing, so it was faced with a single option – to develop a broad solution based on PP.
Amcor, which worked extensively with the likes of Nestlé and Mars, first launched its AmLite HeatFlex Recyclable pouches for wet cat food in October 2020 and has since introduced the first mono-material microwavable rice pouch earlier this year. "Prior to AmLite HeatFlex, it was assumed that one would never be able to make a material like that," says Rebitzer.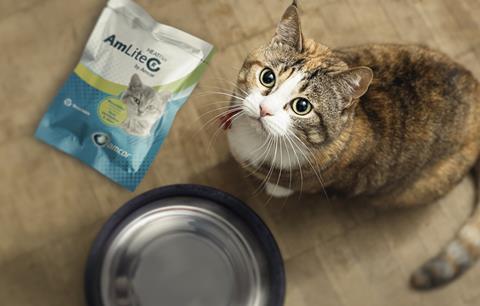 The first mono-material PP retort pouches for wet cat food were sold in the Netherlands starting in October 2020, followed by the first mono-material microwavable rice stand-up pouch in the UK in early 2021. Ready meals and wet pet food will remain a focus for this product, Rebitzer says. "We know that pet owners are increasingly scrutinising the sustainability credentials of pet food from methods of production to ingredients and packaging. We recently conducted a webinar with Mintel on pet food trends, which showed 66% of UK pet owners would choose a brand that uses more environmentally friendly packaging over one that didn't."
Market gap
While the benefits of the company's new material are clear – including a reduced carbon footprint of up to 60%3 and helping to reduce food waste by maintaining the barrier properties of the pack and thus longer shelf-life – there is still room for AmLite HeatFlex packaging to expand in the market.
The cost of change, the need to communicate the benefits of a new type of packaging and the lack of available recycling infrastructure across all European countries has prevented certain brands from taking the lead in the plastics recycling space, believes Amcor. "To enable easy recycling, ideally you create an environment in which it becomes easy for the consumer… for example kerbside recycling," says Rebitzer. "However, we do see this improving, with in-store collection programmes in the UK announcing that, starting January 2022, they will accept this mono-PP packaging for in-store recycling drop-off."
Currently, the UK has a 43.5% recycling rate compared to Germany at 66.1%4 and only 10-17% of local authorities in the UK collect some form of film or flexible plastic packaging, according to the Flexible Packaging Consortium2. In the meantime, retailers and brands are filling the gap. Large supermarket chains like Tesco, Co-op, Sainsbury's, and Aldi announced back in summer 2021 they were expanding trials of "soft-packaging collection" to a wider number of stores for both PP- and PE-based flexibles. Following this, On-Pack Recycling Label (OPRL) announced that polypropylene (PP) film packaging, such as the AmLite pouches, can now apply for an in-store recycling logo on-pack starting from January 2022. Indeed, initiatives such as Amcor's breakthrough on recyclable retort packaging and a will to find solutions to flexible packs recycling, such as the move by Tesco5, are creating a push-pull drive that should eventually result in more action being taken to recycle all types of flexible packs.
How to build a truly circular economy is still a learning curve, notes Amcor, and while regulations are still being clarified, some brands are waiting before they make the move with packaging changes. However, at Amcor the goal is clear. "Most of our packaging is already designed to be recyclable, and we have pledged that, by 2025, all our packaging solutions will be designed to be recyclable or reusable, and to increase our use of recycled content."
Next steps
Amcor currently offers pre-made pillow pouches and stand-up pouches using the AmLite HeatFlex Recyclable technology for pet food and ambient ready meals. The company also provides films on reels for customers that have form-fill-seal machines, and that material can be shaped into a variety of packaging, such as flow-wrap, stand-up pouches or 4-corner sealed bags.
Its recyclable high-barrier liddings for fruit bowls and ambient ready meals are in the final development stage at the moment and the company will soon be adding larger pouches (above 500g) for pre-cooked fruits and vegetables.
For more information on Amcor's AmLite HeatFlex Recyclable packs, click here.
Sources
1 https://erp-recycling.org/uk/plastic-packaging-tax/plastic-packaging-tax-summary/
2 Flexible Packaging Consortium, 'Mapping the Value Chain for Flexible Plastic Packaging in the UK' - https://www.circularonline.co.uk/wp-content/uploads/2021/02/SUEZ-UK-FlexiblePlasticPackagingValueChainReport-2102-3.pdf
3 Carbon footprint comparison is based on Amcor's ASSET lifecycle assessment system, certified by the Carbon Trust. It is based on standard retort packaging using a PET/aluminium foil/PP pouch, versus the new AmLite HeatFlex Recyclable OPP/AmLite SiOx barrier/PP pouch. The maximum carbon footprint reduction of 60% assumes 100% recycling of the AmLite HeatFlex Recyclable pouch.
4 https://resource.co/sites/default/files/World%20Recycling%20League%20-%20Full%20Report%20-%20FINAL.pdf
5 https://www.edie.net/news/5/Tesco-adds-flexible-plastic-recycling-points-to-all-large-UK-stores/

Amcor Flexibles is a global leader in developing and producing responsible packaging for food, beverage, pharmaceutical, medical, home and personal-care, and other products.
View full Profile