Among the casualties of the Covid-19 pandemic has been that staple of British culture: the trip to the pub. Consumers have remade the experience at home, but with lockdown easing in the coming months how can retailers encourage people to continue enjoying their home pub?
Amid the nationwide lockdowns, consumers moved their drinking occasions away from pubs, restaurants and other outlets to their kitchens, living rooms and gardens. Data from Kantar shows that while on-trade drinking occasions fell by 750 million last year, off-trade drinking occasions increased by 350 million1.
The effects were felt in grocery, with data compiled by Nielsen for The Grocer showing that shoppers bought an extra 382.6 million litres of lager, ale and cider from retailers in 2020 compared to the previous year2. Likewise, volume sales of pre-mixed cocktails grew by 18.7%, equating to 11.7 million litres, while an extra 65.2 million litres of wine were also purchased.
"Pubs hold a special place in British hearts as somewhere to relax, shake off the stresses of daily life and enjoy yourself. We're missing the experience and comfort it provides," says Matt Smith, marketing director at Tayto Group. The group's Mr Porky, Midland Snacks and The Real Pork Co, which are the three best-selling pork scratching brands in the UK, enjoyed an off-trade boost during the lockdown as pork snacks became the fastest growing category in savoury snacks.
With the government's current roadmap out of lockdown stating that pubs will be allowed to open for outdoor trading on 12 April and indoor trading from 17 May, many consumers will relish the opportunity to return to the pub to enjoy the experience in its traditional location.
However, with some locked-down Brits having converted their living rooms and sheds into pubs – sometimes with serving hatches and beer gardens – not everyone will be rushing back to their local so fast. The question is what retailers can do to capitalise on this trend beyond lockdown.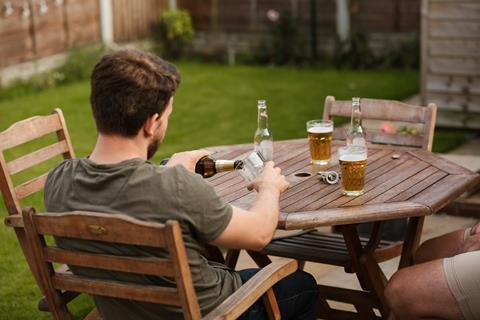 Stocking the home pub
The move to home drinking was evinced over the past year by more than broad sales volumes. Categories like pub snacks and barware did well, and some analysts believe that the success of specific alcohol segments shows that people wanted drinks they would usually enjoy outside the home.
"From a buyer perspective we have seen stouts and porters grow much faster than within the beer category," says Richard Lee, head of alcohol at Kantar. "For me that's indicative of people trying to recreate the in-the-pub experience."
Citing the strong performance of flavoured spirits, such as spiced rum and tequila, Lee adds that households have upped their purchases of spirits in general to create fancy cocktails they would previously have enjoyed in a pub or bar. Kantar's data shows that 68% of British households bought spirits in 2020, up from 64% the previous year3.
The firm's research also reveals that sales in physical shops of barware, such as cocktail shakers, corkscrews and ice crushers, grew by 68.6% in the 16 weeks to 6 September compared to the previous year4. Consumers have clearly been trying their hands at mixing during lockdown.
Snacks are equally part of the pub experience. Last year the bagged snacks category grew £113.1m to £3.3bn, accounting for an extra 16.1 million kg, according to Nielsen5. Among these are some big winners within the crisp and nut segments, as well as the notable growth among pork snacks.
Up to scratch
IRI Market Place data shows that pork snacks are the fastest-growing segment in crisps and snacks in Great Britain, increasing by 10.1% compared to 3.6% for the broader category6. By way of explanation, Smiths say, "When it comes to capturing the pub taste, there's no matching a scratching."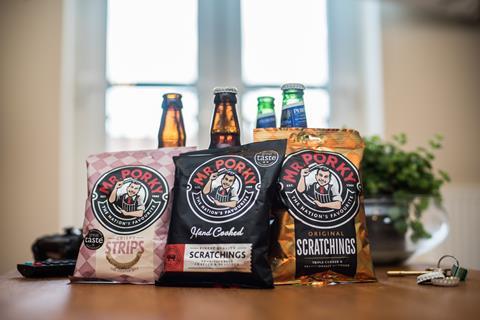 Originating in the West Midlands during the 19th century, scratchings were created to use the shank rind of a pig, which might otherwise have gone to waste. Since then they have become closely associated with the pub.
"Pork scratchings are seen as an 'adult' snack, being much less likely to be consumed by children than other savoury snacks," Smith says. "When consumers talk about pork scratchings, many can recall the very first time they tried them in the pub, often evoking quite vivid and emotional connections to those involved."
Norstat data from January 2020 shows that 83% of pork scratchings are consumed with a drink7. The data also reveals that 40% of Brits have consumed pork snacks in the last year, while one in six say they will not buy another snack if pork snacks are unavailable.
"Scratchings are the perfect partner to beer, wine and spirits due to their unique profile," Smith explains. "The fattiness helps balance the sharpness and carbonation of some drinks, while the saltiness enhances the flavour of a beer and helps get your thirst on, making both the snacks and the drinks even more moreish."
Although pork scratchings are often associated with older working-class men, research suggests they have broader appeal. Some 44% of pork scratching eaters are women, according to Norstat, with 41% of consumers under 358 and half of pork snacks eaten by those in the ABC1 social group, often equated to the middle class.
Not going out
Consumers' increased spending on pub-related groceries during lockdown is a trend that retailers can continue to profit from as restrictions ease. While it's expected that many will drift back to the pub throughout April and May, observers believe that the home pub will endure well beyond lockdown.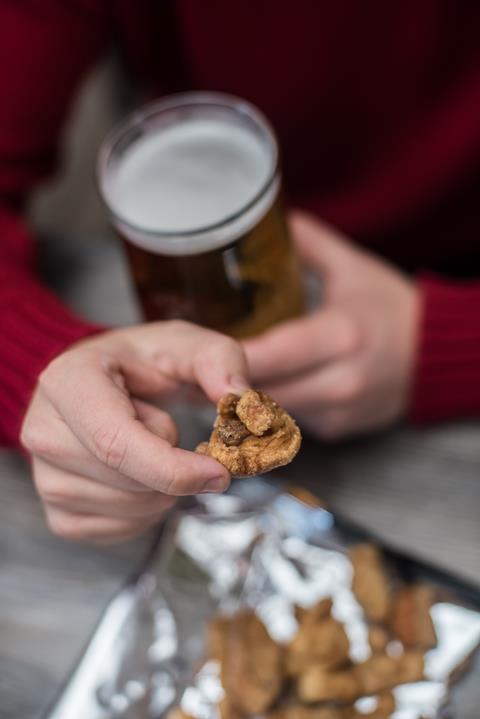 "I think there's going to be a gradual recovery," says Lee, adding that some consumers will have many reasons to stay in their home pub after lockdown. Those who continue to work from home, for example, will be attending fewer post-work drinks with colleagues, while others may do more socialising at home.
"Indications are that many consumers will be wary of socialising in busy public spaces for some time and so people are more likely to be welcoming their friends to the home pub before they meet up at their local," Smith says. "The summer of sport we missed last year could well be enjoyed by many this year with friends in their home pub."
For retailers, many of the trends seen in snacking and BWS during lockdown will therefore be relevant in the future. Those who cement the concept of taking the pub home as restrictions ease will enjoy continued custom when things are fully open again.
Making it easy for shoppers is key, for example by positioning savoury snacks alongside BWS to prompt impulse sales. "Consumers talk about picking up their pork scratchings 'at the offie'," Smith says. "Hanging a clip-strip with BWS will capture incremental sales without taking up additional floor or shelf space."
Sources:
1, 3 Kantar, year to 27/12/20
2, 5 Nielsen Scantrack, MAT WE 05/09/20
4 Kantar, 16 weeks to 6/9/20
6 IRI Market Place, MAT to 27/12/20
7-8 Norstat research on pork snack consumers, January 2020