With the low- & no-alcohol category gaining increasing traction in the UK, retailers cannot ignore the trend, as consumers are demanding more varied drinks options to fit in with a broader set of occasions. And trusted brands are the backbone of that growth, says Diageo.
The alcohol-free and low-alcohol category was worth £255m in 2022, according to Mintel1 and it is now estimated around 40% of GB adults are trying to moderate their alcohol consumption, with the behaviour more prevalent among 18-24 year olds2. Consumers are increasingly looking to moderate, therefore making alcohol-free and low-alcohol drinks options a must-stock for retailers.
There is an undeniable demand for alcohol-free and low alcohol products, with the low & no category across the off-trade growing at +12.5%, ahead of the entire alcohol category3. Now, more than ever, is the time for retailers to review their alcohol-free and low-alcohol drinks offering and merchandising tactics to evaluate ways they can tap into the opportunity of the expanding category.
A raft of new innovation across all beers, wines and spirits sub-categories means that ensuring a diverse range of alcohol-free and low-alcohol products is crucial. Not only does this help to encourage consumers to explore new alternative options, but it can help to build a positive customer sentiment by providing inclusive choice to suit any occasion.
Key sales peaks are during the build up to the festive period in November and December and the summer months, mirroring the wider alcoholic beverages market4,so consumers will want to provide alcohol-free and low-alcohol options alongside their alcohol offering.
99% of shoppers who have bought alcohol-free and low-alcohol drinks in the last year have also purchased alcohol5, and around half are switching between aclcohol and alcohol-free options on the same occasion6.

Whether hosting or simply stocking up a drinks cabinet at home, consumers expect alcohol-free and low-alcohol products to deliver on flavour and taste, enabling them to enjoy a beverage the same way they would an alcoholic drink. Quality remains king.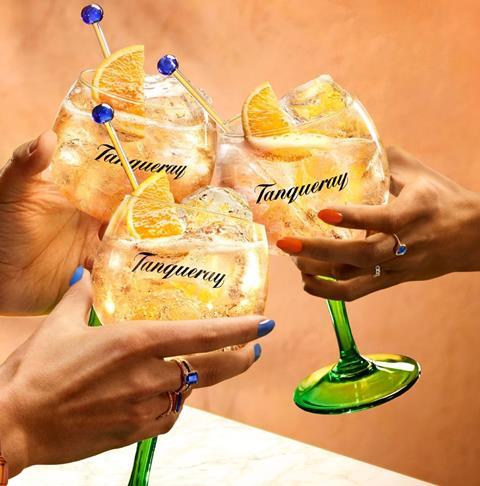 Meanwhile, consumers tend to buy brands they know and trust, and it is typical that consumers naturally follow suit with their alcohol-free and low-alcohol drinks choices. Diageo's House of Zero portfolio now spans across well-known and trusted brands such as Tanqueray, Gordon's, Seedlip and Guinness.
Standout alcohol-free and low-alcohol
Leading alcohol brands such as Gordon's have successfully tapped into the alcohol-free and low-alcohol drinks demand by introducing Gordon's 0.0% Alcohol Free Spirit in December 2020, shortly followed by Gordon's Premium Pink 0.0% Alcohol Free Spirit in April 2022. Both variants deliver the flavours and quality of Gordon's but without any of the alcohol. The unique distillation process involves each botanical being individually immersed in water, heated and then distilled before being blended together, enabling the 0.0% variant to capture the essence of Gordon's. The Gordon's 0.0 SKUs continue to deliver for the brand, with Gordon's now holding the majority share within the alcohol-free spirits segment7. This success has also been rolled out into RTD formats including Gordon's 0.0 & Tonic Alcohol Free RTD and Gordon's Premium Pink 0.0 & Lemonade Alcohol Free RTD to suit 'on the go' occasions.
Alcohol-free and low-alcohol beer
Beer continues to lead the charge overall in alcohol-free and low-alcohol segment across retail, growing at +18.9% MAT, accounting for 56% of the no & low category category8. With its popularity not set to dry up anytime soon, retailers can look to well-known brands, renowned for their quality and taste, to ensure consumers can easily navigate the category.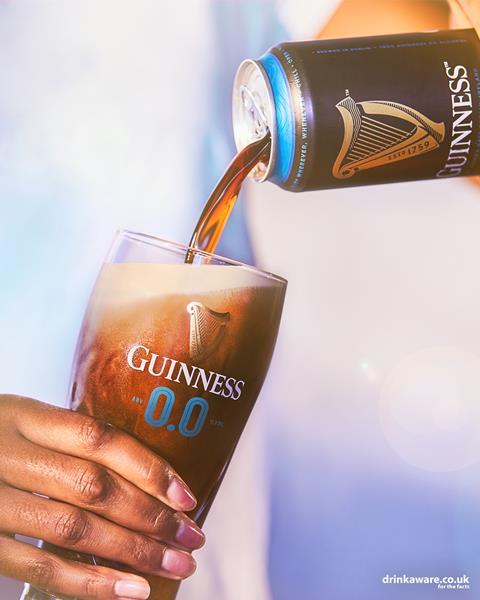 Guinness 0.0 has seen growth of 142% vs. last year (MAT)9, with Guinness 0.0 4-pack the No.1 pack in the no & low beer category10. The iconic stout perfectly taps into the increasing demand for high-quality and great-tasting alcohol-free options.
To ensure the unique and much-loved character of Guinness, the brewers at St. James's Gate start by brewing Guinness and go on to remove the alcohol during the cold filtration process. The resulting product is unmistakably Guinness, all but without the alcohol – still featuring the same dark, ruby red liquid and creamy head, hints of chocolate and coffee, smoothly balanced with bitter, sweet and roasted notes.
Merchandising advice – Waitrose partnership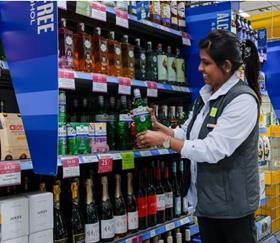 With the demand for low-alcohol and alcohol-free drinks growing at such a fast rate, this year, Diageo is working with Waitrose to introduce bold, dedicated areas in 253 shops across the UK to make it easier for customers to find Waitrose's full range of over 70 alcohol-free and low drinks, ranging from beer and cider to wines and spirits. The introduction of dedicated areas means 60% more space will be given to low and alcohol-free drinks.
As reported recently in The Grocer, Pierpaolo Petrassi, head of BWS at Waitrose, said the creation of alcohol-free versions of recognisable brands has been a key factor in the category's growth. "The growth is down to our customers wanting to moderate their alcohol consumption but is also heavily driven by the creation of new, great-quality drinks such as Guinness 0.0, Tanqueray 0.0 and Gordon's Pink 0.0."
Waitrose also revealed that sales of low- & no-alcohol products stocked across its estate had grown by 20% in the last year.
To discover more about Diageo's low & no brands and partnership development opportunities, visit DiageoOne.
Insight provided by of Kate Blake, Senior Category Strategy Manager, Alcohol Free

Source
1 https://store.mintel.com/report/uk-attitudes-towards-low-and-no-alcohol-drinks-market-report
2 Kantar Alcovision 31.05.23
3 Nielsen Scantrack no & low TBA/ BWS MAT 17.06.23
4Nielsen Scantrack no & low TBA/ BWS MAT 17.06.23
5 Nielsen Scantrack no & low spirits MAT 17.06.23
5 Kantar Shopper Panel MAT 09.07.23
6 Kantar Alcovision Total Trade 47%, Off Trade 44%, MAT 31.05.23
7 Nielsen Scantrack no & low spirits MAT 17.06.23
8 Nielsen Scantrack no & low TBA/ BWS MAT 17.06.23
9 Nielsen Scantrack no & low beers MAT 17.06.23
10 Nielsen Scantrack no & low beers MAT 17.06.23