Growing ethical consumerism in food and drink means shoppers increasingly expect suppliers to embrace sustainable production. Discover how the Welsh Government's Food & Drink Sustainability Cluster is helping manufacturers support each other and achieve B-Corp, boosting awareness and sales.
"How we produce and consume food is the biggest threat to our planet today," says WWF. "From farm to fork, food is lost or wasted at every step of the journey."
With messages like this coming to the attention of consumers through the media on a regular basis, it is little wonder that shoppers' ethical purchasing decisions are also on the rise, with UK spending on ethical products now reaching £122bn, according to the Co-op's 2021 Ethical Consumerism Report. Within that, ethical food and drink accounted for £14bn in 2020, up 12.3% on 2019 and closing in on triple the level seen in 2010.
In another study from Deloitte, for the 12 months to March 2021, one in three consumers claimed to have stopped purchasing certain brands or products because they had ethical or sustainability related concerns about them, with 34% choosing brands that have environmentally sustainable practices.
However, according to Mark Grant, who supports the Welsh Government's Food & Drink Sustainability Cluster, it is the trade rather than consumers who are currently the driving force behind food and drink sustainability awareness and change.
"While the sustainability credentials of products are important, consumers are more focused on price, range, shelf-life and ingredients such as fat, sugar and salt," he says. "They expect companies to take responsibility for the sustainability of their products. Suppliers are trusted to just 'get on with it' and consumers see it as the suppliers' job to have more sustainably produced and packaged food."
In fact, a study for Food & Drink Wales by Brookdale Consulting/Category Insight reveals that 48% of GB shoppers think manufacturers can make the biggest difference to controlling and limiting environmental damage.
So if manufacturers take action on the sustainability front, this is likely to have a positive halo effect on their businesses, building differentiation and credibility with consumers.
This factor has not gone unnoticed by retailers, with many that have traditionally demanded quality accreditations, such as BRC or Safe and Local Supplier Approval (SALSA), increasingly pushing for sustainability accreditation from suppliers. In addition, with COP26 [the United Nations Climate Change Conference] last year, sustainability moved from a 'nice to have' to a 'need to have', and is now seen by many retailers as an important part of listing a new supplier.
Sustainability Cluster

In Wales, as part of its overall strategic food and drink vision, the government has established 9 clusters to tackle different aspects of the industry. One of the most recent of these is its Sustainability Cluster, originally launched in January 2020 to support and develop sustainable business practices across Wales' agri-food industry.
Using the triple helix approach of government, industry and academia working hand in hand to tackle common industry problems, the Cluster instantly attracted 15 producers by March 2020 and has since grown to around 95 producers, along with government bodies and 25-30 academic organisations. It also has affiliation with Food Innovation Wales, the Advanced Manufacturing Research Centre in North Wales and links to the National Farmers' Union (NFU) and Farmers Union of Wales (FUW).
In line with the other Welsh Government clusters, the Sustainability Cluster is supplier-led and driven by its members who communicate what their needs are and what support they require to address these.
Gaining accreditation
Members are encouraged to achieve accreditation through schemes such as B-Corp in order to make them a more attractive proposition for the retailers and provide reassurance to consumers that they are acting in the most sustainable way possible.
Certain retailers have sustainability shops and dedicated areas on their websites – for example, Waitrose and Ocado – so achieving B-Corp gives members the potential to increase their listings. It raises awareness and sales for companies.
"Following detailed research and discussion with members, B-Corp was chosen as a focus as we viewed it to be the most rounded and balanced sustainability scheme, as well as in terms of how it interacts with customers, communities and the governance of businesses," says Grant. "Around a quarter of the Cluster have now attained or are working towards attaining B-Corp accreditation."
Cluster members can access one-to-one support in reviewing their sustainability B-Corp Impact Assessments (BIAs).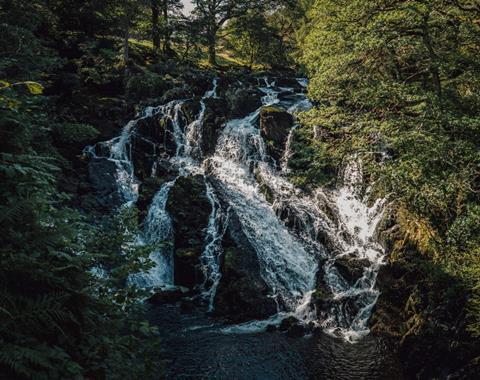 The power of the Cluster is illustrated by the fact that there are already around 20 companies accredited or on their way. Cluster members can join forces on particular issues or gain peer-to-peer support. "For example, they discovered that water usage was an area that was weak and that they could work on together," reveals Grant.
The work on sustainability is a natural extension of the Welsh Government's will to take the lead and be proactive in all aspects of its food and drink industry and the wellbeing of its people, as illustrated by the country's 'Wellbeing of Future Generations Act 2015' and the fact that Wales is now number three in the world on recycling, according to the Welsh Government Circular Economy and Waste team.
Food & Drink Wales' vision is for the country to become the most sustainable food and drink nation in the world, with a lot of activity going on to make that vision a reality.
Showcasing a holistic approach to sustainability
Later this month, Wales' Sustainability Cluster will take a stand at the Sustainable Foods London conference, due to take place on 30-31 March at the Business Design Centre. Here, it will showcase the suppliers who are already B-Corp or on their way, with sampling and networking high on the agenda.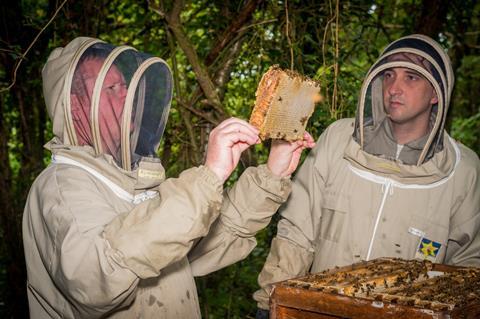 Among those showcased will be Llangennech-based Cilgwenyn Bee Farm, Llanelli, which recently won a Rising Sustainability Star Award for sustainability at the Speciality & Fine Food Fair, due to its holistic approach to business after transforming a disused coal mine into a brand new bee farm, offering carbon-neutral honey. Initiatives implemented at the business include creating their own electricity through solar power and planting enough trees to offset 30 years' production of jars and lids.
Discussing the award, Rhodri Owen, who runs the business with co-owner Richard Jones, said: "For some time we have been concerned about the impact we have as a species on this planet which affects biodiversity, ecology and the climate. We are all intertwined yet we, as humans, are creating the biggest affect, and not always in a good way.
"We reduce our emissions by using only parts which are sustainable, we produce our own electricity and when we need to purchase electricity we only buy green energy.
"Whilst being sustainable in energy terms we also ensure all of our products are supplied in recyclable materials. Our glass jars are made from 88% recycled material, our steel lids are recyclable, while also made from some recycled material and our labels and boxes are made to be recycled again with a proportion of recycled material. So we are plastic free but there is energy used in their manufacture. To mitigate these we are planting trees on our own land to capture CO₂ over a 100 year lifespan. We are planting many trees to make sure we cover the needs of the business for many years to come."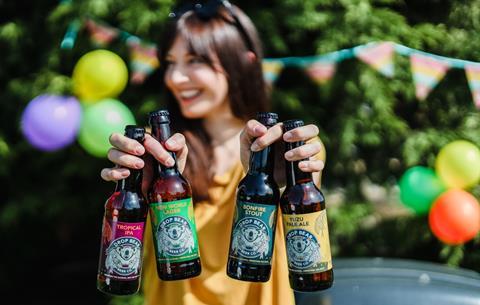 Also showcased on the stand will be Swansea-based alcohol-free brewer Drop Bear Beer Co, the first brewer in Wales to achieve B-Corp accreditation and the eighth in the UK overall. Founded in 2019, Drop Bear's range consists of four beers – Tropical IPA, Yuzu Pale Ale, Bonfire Stout and New World Lager – all produced under the company's mantra of 'dropping the alcohol, perfecting the craft'. By supporting numerous projects worldwide, the company had already offset 66 tonnes of greenhouses gases and planted almost 2000 trees by 2021 and pushed its commitment further with a 'Cheers to Trees' campaign between November 2021 and January 1 2022, planting a tree for every order received through its website.
Commenting on the B-Corp accreditation, co-founder Joelle Drummond said; "Our mission is to brew the best alcohol-free craft beers and help build a better world in which to drink it, so achieving B-Corp status is incredibly important to us. We all have a responsibility to take action and do so now. Our customers want to shop more sustainably and we want to be able to reassure them that we don't just talk the talk, we walk the walk. B-Corp status helps us do that."
To find out more about Wales' Sustainability Cluster, contact FoodBIS@gov.wales or click here.

The Welsh Government's Food Division is responsible for promoting the industry in Wales. Working with partners it recently published its future strategic vision aimed at creating a strong and vibrant Welsh food and drink sector with a global reputation for excellence, along with having one of the most environmentally and socially responsible supply chains in the world.