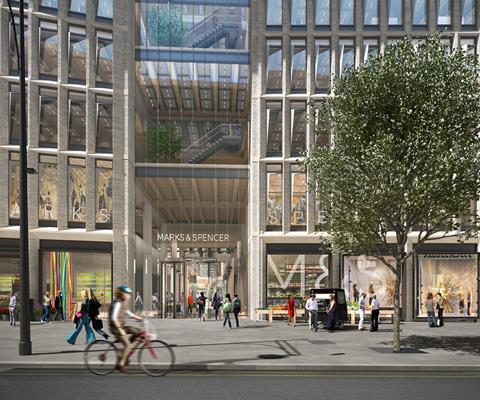 Marks & Spencer is planning to downsize the retail space on the site of its Marble Arch flagship branch on London's Oxford Street.
It has proposed to conduct the cutback to build offices into its upper floors and revamp the store space to add more modern shopping elements.
M&S envisages the smaller store will continue to offer a broad range of groceries, clothing and homeware, as well as offer digital shopping technology for customers and staff to "seamlessly integrate" with its dotcom offer.
The upmarket retailer said the redevelopment project was designed to "unlock value" through provision of office space, which it said remained in demand.
All staff employed at the Marble Arch store will be redeployed to surrounding M&S stores during the proposed redevelopment, and will return to the revamped branch when it reopens.
A planning application for the changes will be made later this year once M&S has consulted with customers, key stakeholders and the local community.
The project comes as part of M&S's Never the Same Again transformation programme, to create a store estate "fit for the future".
"The launch of our proposal to redevelop Marble Arch today is the latest example of how we are shifting gears in creating a store estate fit for the future," said Sacha Berendji, retail, property and operations director at M&S.
"Under our Never the Same Again programme we are focused on emerging stronger from the pandemic, and today's proposal not only means we can redevelop and modernise our store so that it better serves the local community on the UK's destination high street, but by taking an assertive approach to the management of our asset base we can unlock additional value from the site at the same time and further support our transformation."
He added: "We are really excited by the proposal and would encourage the local community to share views with us through our public exhibition, which kicks off today."