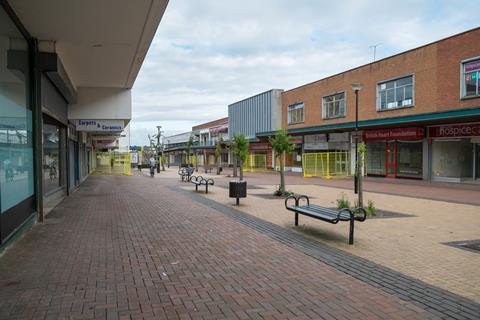 Plans to force landlords to let vacant shops have been dismissed as a "political gimmick" which ignores an unaffordable business rates burden.
Under reforms expected to be announced in the Queen's Speech on Tuesday (10 May), landlords will have to rent shops out to the highest bidder if they have been vacant for over a year.
The new 'compulsory rental auctions' are intended to create opportunities for new businesses and community groups.
"High streets up and down the country have long been blighted by derelict shopfronts, because they've been neglected, stripping opportunity from local areas," said PM Boris Johnson at the weekend.
"We are putting that right by placing power back in the hands of local leaders and the community so our towns can be rejuvenated, levelling up opportunity and restoring neighbourhood pride."
However, the British Property Federation said landlords were already willing to offer rent-free periods, but business rates were making properties unaffordable to new tenants.
"We fully support government's ambitions to revitalise town centres but political gimmicks such as compulsory rent auctions are not the solution," said BPF CEO Melanie Leech.
"No property owner wants their premises to be empty. In our experience, property owners are willing to do zero-rent deals to avoid boarded-up shopfronts, but the burden of business rates and other occupational costs mean it is still unviable for many small and independent businesses to trade from town centre premises."
Leech said "fundamental reform of the business rates system and more creative and sustainable solutions" were needed.
Tom Ironside, BRC director of business & regulation, said: "It remains to be seen if this new policy will actually reduce the number of empty commercial properties in town and city centres. Local economies must be strong enough to generate the demand and footfall required to support local shops and communities. However, we welcome efforts by the Government to address the issue of store vacancies."
The shop vacancy rate fell in the first three months of 2022 according to latest figures from the BRC and Local Data Company, to 14.1%, down from 14.4% in final quarter of 2021. However, the BRC warned of more uncertainty ahead for vacancies thanks to inflation.
The Levelling Up and Regeneration Bill is also set to permanently relax pavement licensing rules, allowing restaurants, pubs and bars to serves diners outside year-round, in an extension of temporary measures in the pandemic.
Levelling up secretary Michael Gove said: "By empowering local communities to rent out shops which have been sat empty for a year or longer, we will end the scourge of boarded-up shops that have blighted some of our great towns across the country for far too long.
"These measures will breathe new life into high streets, transforming once-bustling communities into vibrant places to live and work once again and restoring local pride as we level up across the country."