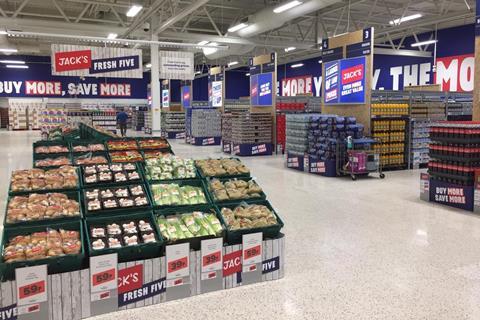 Tesco is closing its latest Jack's proposition and turning it back into a store "customers know and love".

The store in Rawtenstall, Lancashire, was opened less than six months ago, and is one of 10 Jack's stores unveiled since the chain was launched amid huge fanfare a year ago.

Rawtenshall, the ninth Jack's store, has been trialled as a bulk-buy format, sparking speculation the Jack's chain could morph into a cash & carry-style proposition.

But the retailer said the store would now turn back into a Tesco format in November following the experiment.

Tesco told The Grocer it had not given up on the bulk-buy format and that it was now considering other locations where it could be trialled under the Jack's banner.

However, the move comes amid speculation about the future of the Jack's format, which some thought would be used by Tesco to launch a full-scale onslaught against discounters Aldi and Lidl.
Since the launch of the first store in Chatteris, Cambridgeshire, in September last year, Tesco CEO Dave Lewis has sought to dampen expectations about the chain. At an investor event in June, Tesco revealed Jack's had generated underwhelming sales of £24m,

Tesco stressed that Jack's was being used as a "test bed for ideas", such as the Fresh 5 produce offer recently rolled out in Tesco stores.

It said the plans for Jack's were proceeding "as planned". It was recruiting for Jack's colleagues for three more stores in Liverpool, Wakefield and Sheffield, which are planned to open before Christmas, it added.

"We are set to open a refreshed Tesco store at Bocholt Way in Rawtenstall," said a Tesco spokeswoman.

"Earlier this year we launched a trial bulk-buy Jack's store but following local customer feedback we have decided that a Tesco store will better serve customers in this area," she added. "All colleagues currently employed by Jack's will transfer over to Tesco with new additional roles also available.

"The 10th Jack's store opened in Walton in August and we are planning to open three more by the end of the year."

Tesco UK CEO Jason Tarry added: "We are really pleased to be bringing Tesco back to Rawtenstall in time for Christmas. We have listened to customer feedback and look forward to serving customers in the refreshed store."