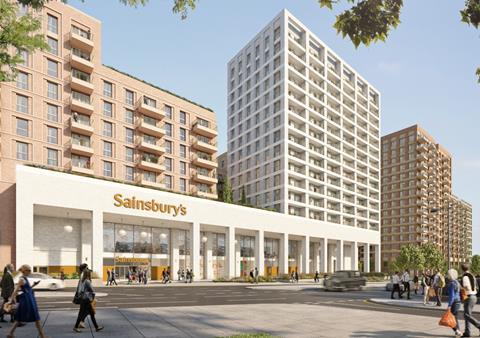 Sainsbury's is building a new flagship store with 1,309 homes attached, along with space for other businesses and a public park.
The supermarket has partnered with property developer St George to build a 43,000 sq ft store along with homes and local amenities in Hendon, north west London.
The Silk Park development is to include 10,000 sq ft of flexible commercial space for cafés, restaurants, offices or a gym.
A 1.5-acre park within the site will feature fountains, garden squares, play space and seating.
The 1,309 new homes will consist of one, two and three-bedroom apartments. Thirty-five per cent of them by habitable room will be affordable housing. The flats will be above the store and in three adjacent buildings, including a 28-storey tower.
An existing Sainsbury's store at the site will remain open as construction begins early next month.
"Sainsbury's has a proud history of serving the Hendon community and we're very excited to embark on this major investment to ensure we're well-placed to deliver for generations to come," said Sainsbury's property director Patrick Dunne.
"Our partnership with St George will deliver a flagship supermarket, housing, a new park and green space for residents and visitors to enjoy. We will continue to keep the community updated as we embark on this exciting development."
St George divisional MD Piers Clanford said: "We are delighted to work in partnership with Sainsbury's to deliver this important development for Hendon.
"Silk Park reflects our commitment of investing in communities and creating sustainable neighbourhoods through improved biodiversity and more accessible green spaces, state-of-the-art amenities and much-needed new homes and jobs for local people."
Sainsbury's has been redeveloping existing store sites into mixed-use schemes including housing since 2009. The latest project in Hendon has a 10-year build programme.