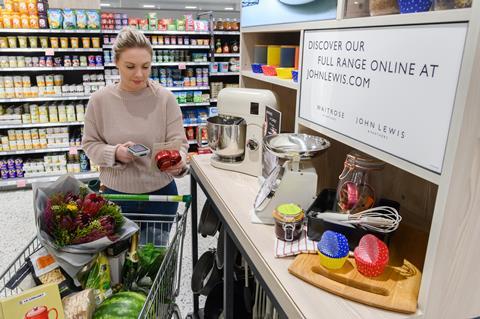 Waitrose stores could be closed as the John Lewis Partnership shifts towards being a digital-first retailer as part of chairman Sharon White's strategic review to turn around the fortunes of the group, according to an update sent to staff.
In the letter sent to the partnership's 80,000 staff, White said shops would remain crucial to the two brands, but they would increasingly be used to support its online business.
She added the business was facing "testing times", with profits expected to be "challenged" this year and next. However, "good progress" was being made, she added.
"The beauty of being a partnership is that we are able to take a long-term view," wrote White, who took over from Charlie Mayfield as chairman in February and inherited his controversial Future Partnership shake-up of the group, which slashed 75 senior manager roles, targeted £100m in head office savings and restructured the executive board.
"The strategic review should see green shoots in our performance over the next nine-12 months, and our profits recovering over the next three to five years."
Online demand at Waitrose and John Lewis has been strong during the coronavirus lockdown, with the pandemic accelerating the importance of digital and e-commerce. The supermarket has increased weekly online delivery capacity to 160,000 slots, up from 60,000 in March, and aims to hit 250,000 in the future.
White told staff in the letter Waitrose online sales would account for 20% of the business in future, compared with 5% pre-Covid-19, with John Lewis' online business growing from 40% to 60%.
"In both brands we will double down on making shopping easier and more convenient," she said.
Investments will be made in availability in store and online, usability and personalisation of the apps and websites, better rewards for loyal customers, online personal services and convenient pick-up, as highlighted by the recently announced expansion of the John Lewis click & collect partnership with Co-op. More John Lewis products will also be added to Waitrose stores.
"As customers increasingly shop online, we will become digital first," White said.
"Shops will always be crucial to the brand, but they will be in support of online. Over the next five years we expect to rebalance our shop estate so that we have the right space in the right locations where people want to shop."
White added there would continue to be a rebalancing of Waitrose stores, with new openings and potentially closures where demand wanes.
"Our existing stores will be updated to meet customers' expectations," she said.
In March, when the strategic review was announced, three Waitrose stores – in Helensburgh, Four Oaks and Waterlooville – were earmarked for closure. In July, White said eight John Lewis stores would not reopen following the temporary closures during lockdown.
Within Waitrose, there will be further investment in the own-label offering and a more local offer with more multi-ethnic food.
Waitrose food will also be made available in John Lewis stores, where demand exists, with the business also looking at how to make its products available through other routes, reflecting the fact it had a smaller presence in the convenience market than other supermarkets.
"I'm confident that we will have a compelling, concrete plan that we can all get behind and deliver," White wrote in the letter today.
"We need a transformation in the business and the action we take over the next nine to 18 months will be crucial. As you can see there's more work to do on detailed planning, but I hope that you get a good sense of our future direction.
"I am very conscious that a strategy – unless it is supported by partners and is well executed – is just another piece of paper. It is how we deliver on the plan and the commitment from all Partners that will make the difference.
"The next few months of trading are clearly crucial."
New John Lewis and Waitrose bosses Pippa Wicks and James Bailey are set to give more details on the trading priorities of the two brands in September and White will update on the strategic review further in the autumn.
As part of the strategic review, JLP will expand "beyond retail" into new areas, including growing its financial services offering significantly and building the horticulture business, as well as exploring turning excess space in its portfolio into mixed-use affordable housing.
"We have the opportunity to offer our customers new services where trust and a strong sense of purpose are important," White said.