Demand for fast delivery is bringing online distribution centres into smaller, urban spaces. What's the best way to integrate them? And what are the pitfalls of 'micro-fulfilment'?
In an unassuming warehouse, between a sofa outlet and a car garage on a small business park in Chiswick, is the epicentre of a "whole new channel" of grocery. It is from this 10,000 sq ft building that Ocado runs its Zoom rapid grocery service.

"A jiffy" is the stated time it takes for a customer's choice of more than 10,000 products on the website to arrive at their front door, Ocado says. It is available to anyone within a five-kilometre radius of the Acton site, covering Acton, Ealing, Chiswick, Shepherd's Bush and Kew. The "immediacy service", as head of Ocado Zoom George Dean calls it, is more than "just a way of selling a few more items". It should be considered an emerging channel, he told the IGD Live conference late last year.

"Our customers want things right now. But we don't want our shoppers to have to compromise just because they want things really quickly. We want them to get what they want, when they want it," Dean explains.

The modest unit is packed with the same automation technology as other Ocado facilities, making it "really efficient, low cost to serve and allows us to have a really dense product range in a small space".
"We don't want our shoppers to have to compromise just because they want things really quickly"
But it is completely unlike them in scale. Zoom Acton is dwarfed by Ocado's vast 36-acre Erith DC. It's considerably smaller than the so-called "mini CFC" currently being built in Bristol within a 150,000 sq ft warehouse.
More mini than a mini customer fulfilment centre, but still packing a punch, Zoom's site is best described as a micro-fulfilment centre (MFC) - a concept quickly finding favour with major grocers around the world.

In the UK, Interact Analysis predicts there will be 80 MFCs in the UK by 2023. Some will be dedicated warehouses like Zoom's. Others will be built within larger stores. Tesco is rolling out 25 in-store MFCs over the next three years, the first of which opens in coming weeks in West Bromwich. Given Walmart's significant investment in MFCs in the US, "it's plausible Asda could bring this technology to the UK" too, Interact says.

But the technology that allows micro-fulfilment sites to serve customers so quickly is complex and expensive. A small but growing number of vendors are clamouring for contracts. And there are other risks. Among them, a playground of complaining children.
Big reach from a small site: DC and store sizes compared
Ocado
(sq ft)
Erith
563,000
Dordon
350,000
Bristol
150,000
Zoom Acton
10,000
Tesco
Dagenham DC
460,000
Tesco Extra, Walkden
168,000
Urban fulfilment centre
10,000 - 15,000
Average Express store
2,300
Average One Stop
1,500
Rapid grocery
Zoom is not the first rapid grocery service. Sainsbury's launched Chop Chop in 2016, through which orders of up to 25 items are delivered within an hour, to customers in areas across zones one and two. Waitrose started offering a two-hour rapid delivery service from select London postcodes in 2018 and has since extended the offering to new areas. The Co-op followed last year in launching its own two-hour service from London stores, and this year extended its 30-minute grocery delivery partnership with Deliveroo to 400 stores.

Unlike next-day, large-order grocery deliveries that are sent from vast, out-of-town DCs, such services leverage their existing store networks. And unlike Zoom, competing services use nearest store employees to pick items from the same shelves as customers. On the face of it this makes sense. These chains already have a store network that penetrates highly populated urban areas.

"In-store picking has the logistical benefits of being closer to the customer, resulting in lower transportation costs. The downside is that order pickers compete with customers, creating congestion and leaving items out of stock more frequently," explains Rueben Scriven, lead e-commerce analyst at Interact.

In the US - where the likes of Kroger and Aldi outsource in-store picking to companies like Instacart - a study found that three quarters of shoppers had noticed the increase of manual pickers and close to a third said it negatively affected their in-store experience.

So-called 'hired shoppers', the majority of shoppers said, clogged up the aisles, caused longer queues and heightened the stress of shopping, the survey by micro-fulfilment system vendor Fabric found. It's not optimal for the retailer, either. "Store layouts are designed for customers - not pickers - resulting in lower order picking efficiencies," Scriven added.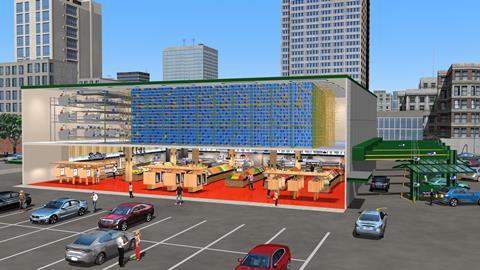 So why not create separate spaces for in-store picking? After all, MFCs aren't only for standalone 'dark' sites like Zoom's. A growing number of technology companies say their automated systems can swiftly pick orders and will fit into spaces - of as little as 5,000 sq ft - at the back of stores.

Typically, the systems feature rows of tightly packed shelves full of plastic boxes called totes. An order comes in, and robots bring totes containing the ordered items to a station where a human picker moves items from the tote to bag or box, which will go to the customer. The totes can be filled with fresh food if there is space to have separate refrigerated racks of shelves.

There are other advantages. "It eliminates much of the labour cost to pick the orders by a factor of 10. You significantly improve the productivity," explains PJ Stafford, marketing chief at MFC provider Alert Innovations. With MFCs the retailer also knows "exactly what is in the system in real time", meaning those ordering online can pick their own substitutions rather than be left disappointed.
Zoom uses parent Ocado's version of this system, hoping to prove its effectiveness at small scale. Tesco revealed its partnership with Takeoff Technologies last year. Amazon is reportedly working with Dematic. Walmart has adopted Alert's MFC system. Other players include AutoStore and Fabric. All compete on metrics like speed of build, items fulfilled per minute and minimum space requirements.
"Using micro-fulfilment is a wise decision. The biggest risk to grocery retailers implementing micro-fulfilment is selecting the wrong technology," says supply chain consultant Brittain Ladd. "I can't stress this point enough - retailers must choose wisely or they'll pay the price later."

Tesco's plan to establish three 'Urban Fulfilment Centres' by summer - and 22 more by 2022 - was laid out by departing CEO Dave Lewis last year. To increase the chain's ability to provide rapid delivery and to extend its online coverage, MFCs will be built in the back of stores in urban areas.

"We'll need to convert some of those stores, but we have the space… 10,000 to 15,000 sq ft is needed, and they're very, very efficient in terms of pick," Lewis said. Tesco says picking efficiency can be improved by a factor of two or three.
"The biggest risk to grocery retailers implementing micro-fulfilment is selecting the wrong technology"
It's worth noting, however, that Tesco quietly canned its one-hour delivery service - Tesco Now, which offered customers in central London 60-minute delivery on orders of up to 20 items - last year after 20 months.

MFCs were, Lewis added, the best way to increase reach and make rapid fulfilment economically viable "versus any other model". That sentiment is echoed by US investment bank Jefferies, which says "micro-fulfilment is superior to all fulfilment models".

In the US, other variations of the model are being rolled out. Last month, planning documents for Amazon's new grocery superstore in California revealed a highly automated MFC built into what has been described as a "hidden perimeter" of the store.

Other possible configurations include one suggested by MFC tech vendor AutoStore, in which the system is placed in the middle of a store, with a viewing platform for customers. Another concept, from Alert Innovations, puts the MFC on the second floor of a supermarket. While customers pick their fresh fruit & veg downstairs, the rest of their online order is prepared for collection at the end of their shop upstairs.

"I like installing MFCs inside stores as the stores have already been built and inventory is already being replenished to the stores," Ladd says. "Installing an MFC requires additional inventory being shipped to the store but that is easily managed. What I like best is that there is no need to have pickers roaming aisles and fulfilling online grocery orders. Attaching an MFC to a store or placing an MFC in a back room will also work."

In Tesco's case the in-store MFCs will be replenished by the same lorries that currently deliver to the stores. In Zoom's case, one delivery a day is made to Acton from Ocado's CFC in Hatfield.

"We take what we want once a day and bring it down overnight. Sounds inefficient because you're touching it twice, but it's actually great for two reasons," says Dean. "First, we only have to deal with one supplier coming into us, which means potentially we can open these Zoom sites in really tight urban locations because we only have to deal with one delivery a day, and second we can bring down exactly the right quantity. We don't need to bring down a whole case of something. If we only have two of an item and we sell one today, we bring down one tonight and it can be in full stock for the next morning."
The campaign giving Ocado a headache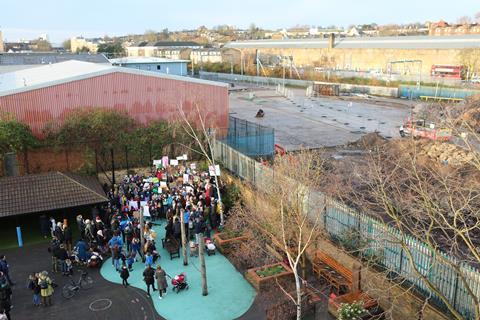 With a strong presence in their local community and in the media, the Nocado campaign group is proving a headache for Ocado and its MFC expansion plans. Slick videos parodying Ocado and retail partner Marks & Spencer ads on social media are gaining significant traction. A boycott of the online grocer could cost Ocado millions, campaigners say. The group are concerned pollution and noise from delivery vehicles at a planned depot in Islington will affect the children at the adjacent Yerbury Primary School, and that Zoom's presence will hurt local businesses.
"What our campaign is exposing is that there is a clash between Ocado's sustainability commitments and the reality of the way they do business," says Natasha Cox, one of the campaign's founders.
"Many Ocado customers would not choose them if they realised that beneath this greenwash, there is a harsher truth: they will put a polluting hub next to a large primary school regardless of the impact on children's health and wellbeing," Cox adds.
The company says it will eventually replace diesel vehicles with electric ones, and is considering a "living wall…to improve the air quality". Last month Ocado CEO Tim Steiner said: "We were very transparent about what we were doing on that site and anyone who suggests otherwise is being mischievous."
Opposition
Technology considerations aside, MFCs face opposition. Ocado's plan to construct such a facility, which includes a refuelling point for delivery vans, in Islington has been met with protests by parents and children at a school bordering the site, and the wider community.

"We are battling against a big corporation," says Yerbury Primary School headteacher Cassie Moss. "That's going to have a massive impact on the environment, on children's health and local businesses."

A 'Nocado' protest group (see above) - made up of parents, local businesses and residents - has vowed to boycott Ocado and its partner M&S.

On a call with media in February, Ocado CEO Tim Steiner acknowledged that while "some of the local residents aren't very happy", for future MFCs in urban areas, "we don't tend to have an issue".

But in the long term, according to Interact Analysis, the rise of MFCs in the UK is "not a matter of if, but when".

"When same-day delivery gains enough momentum, micro-fulfilment will become an attractive investment for UK grocers," says Scriven. "Wealthy professionals living in urban areas and willing to pay the additional costs will likely be the first demographic to adopt same-day delivery at scale."

Ladd adds that grocery retailers "must do the math to identify the optimal ecosystem" for MFCs and stores. "The beauty of micro-fulfilment is that it is easy and cost-effective to open multiple off-site MFCs or install MFCs inside stores. The economics work best if they can be placed inside stores. But placing an MFC even in downtown locations is cost-effective, as long as the retailer does a good job marketing online grocery to maximise capacity of the MFC. The big bang, big CFC approach isn't necessary," he says.

Micro-fulfilment looks set for a macro impact.