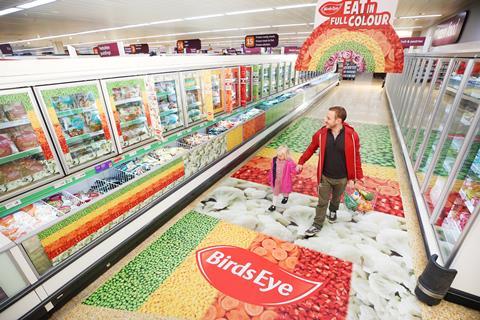 Sainsbury's and Birds Eye have teamed up for an in-store takeover that will see the entire frozen veg aisle at one of its stores re-merchandised according to colour.
Part of the frozen food giant's £6m 'Eat in Full Colour' ad push, which aims to double the amount of veg on dinner plates and engage shoppers in the frozen aisle, the campaign will see freezers at Sainsbury's Kiln Lane store in Epsom, Surrey, emblazoned with Birds Eye marketing material for the next three weeks.
"Frozen is such a low involvement category, so we're hoping the takeover will create impact on shelf, disrupt shoppers and jolt them into thinking more about frozen veg in a different way," said Birds Eye marketing director Steve Challouma.
"With the average number of veg portions eaten at just 1.6 a day, we're on a mission to increase consumption, and this should benefit the whole category."
The takeover includes vinyl stickers on aisle floors, borders on freezers and header boards, in addition to aisle fins promoting the colour-coding and specific Birds Eye products.
The fins also included shopper advice on the health benefits of veg, said Sainsbury's category planner for frozen Holly Callender.
"We've proven through previous activations that by disrupting consumers in their journey around store we can add to incremental purchases," Callender added. "The point isn't to steal share from anywhere else in Sainsbury's, it's to add to the repertoire of shoppers and to help them eat healthier."
Sainsbury's would analyse the performance of the promotion to see if it could be rolled out on a more wider scale, she suggested.