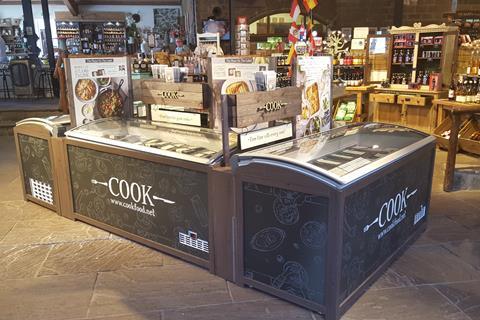 Frozen ready meal maker Cook is planning to grow the number of in-store concessions it has by almost a third in the current financial year.

The Kent-based manufacturer, which also owns 90 standalone Cook stores, is aiming to take its number of active freezer concessions to 656 by the end of March 2020, having finished the 2018-19 financial year with 505.

Speaking to The Grocer this week, Cook co-founder and CEO Edward Perry said it had put 181 freezers into 45 convenience stores over the past 12 weeks.

Perry said he expected this to translate into a 20% increase in net sales for the concessions arm of the business, to £20.7m, this year.

Concessions is Cook's fastest-growing channel, with sales growth of 16.9% to £17m for the year to 31 March 2019. Its retail and click & collect division grew 4.3% to £45m for the same period.

Perry said Cook remained committed to never supplying the big four.

"We are really pleased to be working with some of the best independent and co-operative retailers in the country, whether they are farm shops, food halls, convenience stores or delis," said Perry. "We've built strong relationships with brands such as Budgens, Booths and Co-op societies, as well as well renowned farm shops and food halls."

"We stay committed to never supplying the big four supermarkets because being independent ourselves, we want to support others like us."

The Grocer reported in March that plans to add to the Cook shop estate will remain on hold as a result of the political uncertainty around Brexit. This week Perry confirmed that remained the case.

"The high street remains an important place and as soon as we have some stability we will start to look again," he said.