In this second part of a triptych focusing on beers, wines and spirits, Tcc Global insight director Bryan Roberts turns his attention to wine.
A category that has typically seen decent growth (in terms of both market size and retailer sophistication) in most countries around the world, wine is also interesting thanks to the relative unimportance of big branded manufacturers – the market is instead dominated by private label as well as smaller producers.
The rapid growth of new world wines has come at the expense of traditional major producers in France, Germany and Italy. Recent challenges have included the mini-renaissance in beer thanks to the craft beer explosion and a return to form from spirits such as rum, vodka and gin.
Within the category itself, wine is not immune to broader trends – we have seen ongoing developments such as growth in low-alcohol wines, a surge in vegan product, the continued popularity of organic and Fairtrade lines, and the introduction of more flexible pack sizes and formats to cater for different consumption occasions.
Here are some of the more impressive examples of wine merchandising from the past year or two.
Albert (Czech Republic)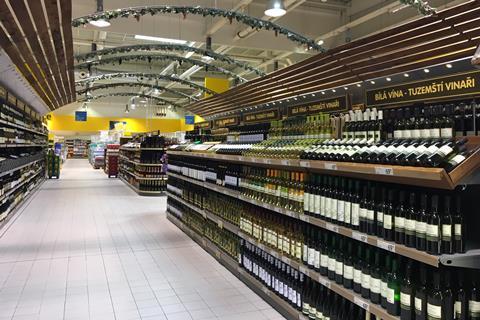 Albert, the Czech hypermarket division of global powerhouse Ahold Delhaize, has highlighted wines as one of its hero categories and has certainly gone the extra mile in making the department stand out.
Bespoke wooden fixtures, specialist lighting and metal arches bedecked with artificial grape vines create a section with great appeal and authority.
Delhaize (Belgium)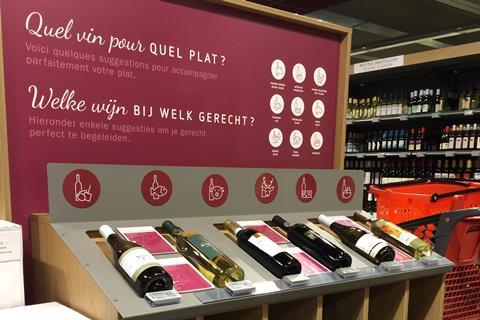 In Belgium, sister company Delhaize is awake to the opportunity of pairing wine with specific foods. An end-cap display presents an easy solution for shoppers looking for a wine to accompany their meals, with bottles recommended to pair with meat, fish, cheese and so on.
Globus (Russia)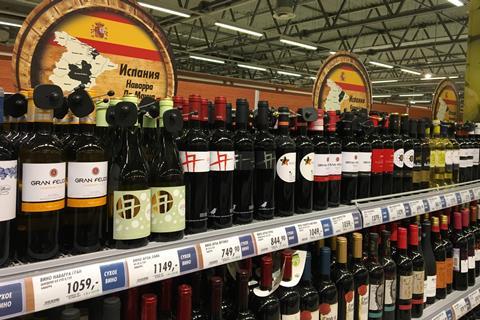 Different approaches have been attempted for segmenting the wine category, such as by variety or by price band. The default position still seems to be by colour and then by country of origin.
The Globus hypermarket chain in Russia, however, takes a more detailed approach, helping navigation through the deployment of barrel-style roundels that display regional information for both red and white wines, which are displayed together.
Carrefour Market (Spain)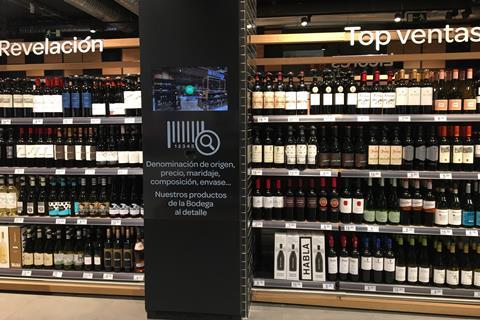 Lots of innovation on display here. In addition to sections devoted to new and bestselling wines, Carrefour Market's wine department offers interactive screens that let shoppers scan bottles to access information on each product.
This store also includes wine dispensing machines and a seating area to encourage sampling and exploration.
Continente (Portugal)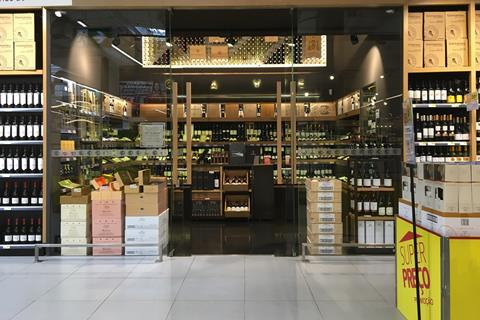 In Continente in Portugal, premium wines are given their own sumptuous environment in the shape of a wine cave complete with striking displays, unique décor and dedicated staff to provide information and guidance.
Mercadona (Spain)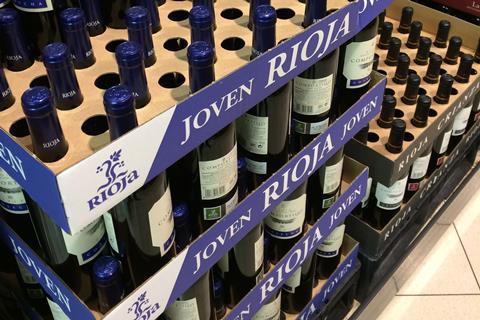 Spanish market leader Mercadona is a retailer that is able to offer its winning combination of high quality and low prices thanks in part to its strict focus on efficiencies.
One example is this novel approach to wine packaging, the bottles themselves a key part of the engineering that allows the retailer to use pallet displays in its wine range.
Plus (Netherlands)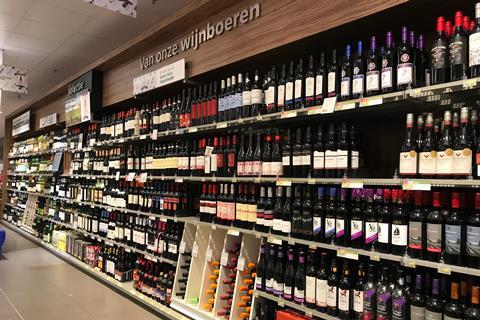 Plus has been recognised as supermarket wine retailer of the year in the Netherlands for six years on the trot. While a lot of this success is attributable to its sourcing, we were also taken by its strong merchandising, which uses digital screens and differentiated displays for premium lines.
Waitrose (UK)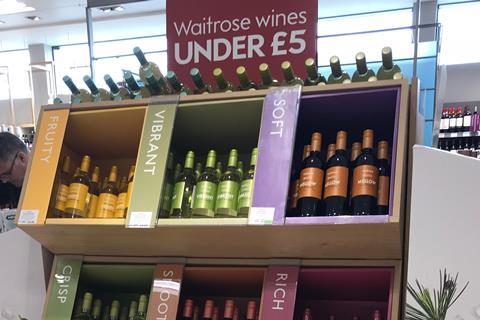 Great stuff here from Waitrose. In a display of beautiful simplicity, it brings together all its more affordable wines into a single colour-coded unit that uses unpretentious descriptors to help shoppers quickly make their choice.
Spar (Slovenia)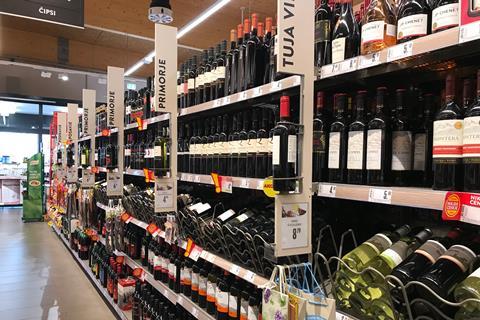 Spar in Slovenia has deployed some lovely kit. The stylish wooden fixtures include separate sections for premium wines, a selection of glassware and accessories, and these fins, which enable the retailer to call out specific bottles in addition to segmenting the broader range.