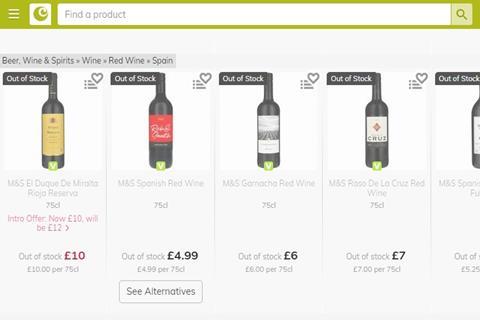 M&S has listed almost seven times the number of beer, wine and spirit products on Ocado.com compared to the existing Waitrose range, ahead of the retailer's debut on the site next month.
According to Edge by Ascential data shared exclusively with The Grocer, M&S has 102 red wine SKUs compared to Waitrose's seven. There will be 82 M&S white wine options available versus Waitrose's 13, and 36 spirits versus the seven Waitrose options with a similar increase in beer and ale SKUs.
Speaking to The Grocer earlier this month, Ocado Retail CEO Mel Smith said there were certain categories – including wine – in which Ocado "naturally wins". The site met the needs of wine lovers particuarly well, she said, adding "there's a lot of them in the UK".
While M&S has worked over the past 18 months to match and improve the current Waitrose selection, the retailer appears to have prioritised different categories.
In grocery M&S has 2,063 SKUs compared with Waitrose's 1,774, but the percentage of total SKUs in the category is similar (M&S 85.2% vs Waitrose 88.4%). However, M&S has dedicated slightly more of its range to ambient foods and less to chilled foods. In frozen M&S is trailing Waitrose with only 44 SKUs against 120 from Waitrose.
There are far more homecare items offered by Waitrose than M&S at present (148 vs 7). The category made up 7.4% of Waitrose SKUs but only 0.3% of those by M&S. Analysis of health and beauty ranges also showed Waitrose to be dominant.
The data comes after a significant decline in the Waitrose range on Ocado over the year – falling by more than a third since January, including an 8.5% drop in the first week of 2020.
Waitrose has been letting lines run out in readiness for the switchover, and pointed to the wide selection of booze available at waitrose.com. The combined own-label, exclusive and brand selection on the Waitrose site includes 476 red wines and 440 white, 434 spirits and 173 sparkling wines.
"Ocado started introducing the M&S range to its website in mid-August and, as of August 25, there were 20.7% more M&S products than Waitrose," said Chris Elliott, digital shelf analyst at Edge by Ascential. "However, this is still 19.8% lower than Waitrose had in January. All of these M&S products were showing as unavailable for purchase so this may not be the finalised range."
The M&S products are labelled as out of stock to customers with a delivery slot ahead of the 1 September switchover, but can be added to orders due to arrive after that date.
Elliott added that it was "reasonable to assume this is not the finalised range before full launch".