Going 'Big on Christmas' this year, Lidl has sprinkled interesting flavour twists and visual theatrics through its festive range which is primed to impress guests at the dinnertable.
Check out our other Christmas 2019 range previews.
Lidl has not revealed the rsps for this range and has limited images.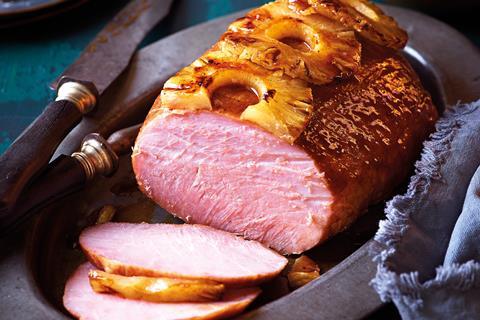 Birchwood Gammon with a Spiced Rum Glaze and Pineapple
The boozy glazed gammon trend we saw entering stores last year is showing no signs of slowing down. This offering from the discounter has a Caribbean feel, with a warming sticky rum glaze topped with pineapple rings which will caramelise during the roasting process. Other new pork options from Lidl this year include two Deluxe Porchettas in Lemon & Sage and Bramley Apple varieties.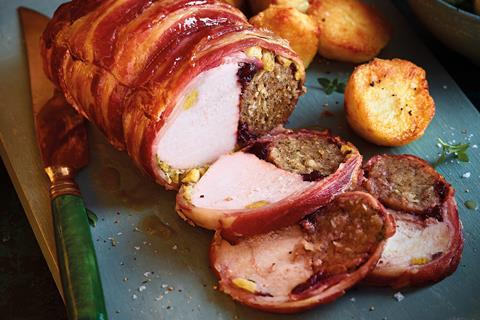 Deluxe Ultimate Christmas Parcel
This new centrepiece was such an innovative concept for Lidl that the buying team only managed to decide on a name for it just before its reveal. It features a fillet of turkey breast sandwiched alongside a roll of pork stuffing, cranberry sauce and shredded brussels sprouts all parcelled up with streaky bacon. Not the only bacon-wrapped centrepiece, the retailer has consolidated its five bird roast to three birds: duck, turkey and chicken (dropping guineafowl and goose) with an orange glaze.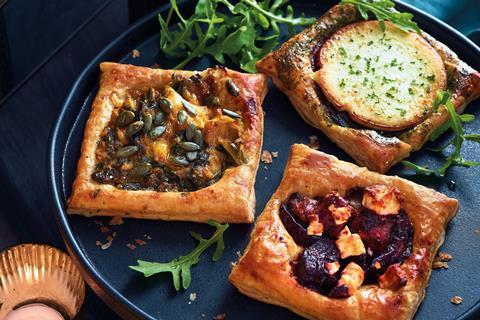 Ultimate Vegetarian Tarts
There are a plethora of vegetarian pastry options: Butternut Squash & Pumpkin Seed, Caramelised Red Onion & Goats Cheese, Curried Caultiflower and Mushroom & Stilton in a variety of formats are all joining the party this year. The range doesn't currently include any new vegan mains, but Lidl told The Grocer there was something in the works that it isn't ready to reveal yet.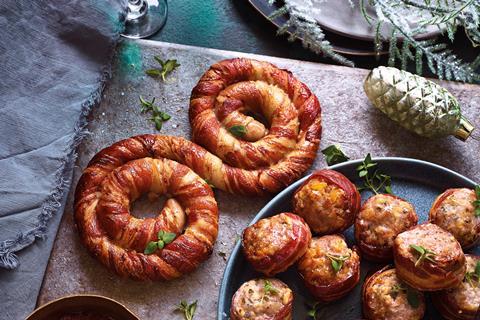 Birchwood Yard of Pigs in Blankets
Last year we had the foot-long from Asda and the triple from Aldi – now Lidl has entered the pigs in blankets battle with a yard-long chipolata in an eye-catching double-twist shape, entirely wrapped in streaky bacon. It's also adding a chicken in blanket option made with mini chicken sausages.
Deluxe King Prawn Gratin
From the frozen aisle, these individual gratins combine king prawns, cheese and a rich thermidor sauce. This launch is one of many in the fish category: other starter dishes include breadcrumb-topped Deluxe Scallops with a Pea & Prosecco Sauce and Deluxe Whisky & Honey Scottish Smoked Salmon.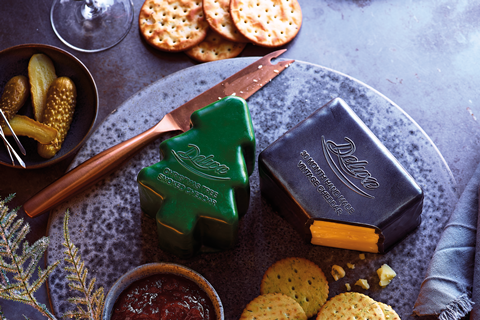 Deluxe Christmas Tree Smoked Cheddar
This festive-shaped cheese is made from blended cheddar that has been smoked with nordic pine for a light, smoky flavour. It's joined on the cheeseboard by a goats cheese camembert (which is suitable for people with lactose intolerance) and a fondue made with a blend of cheddar and gruyère.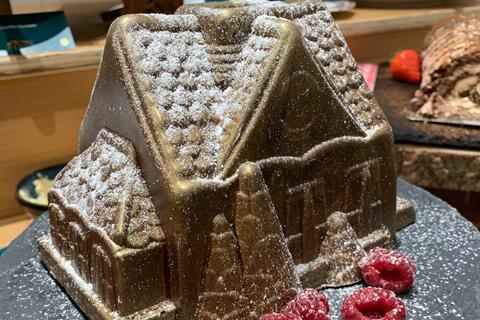 Deluxe Chocolate Cottage
A hero product in this range, Lidl has high hopes for this centrepiece dessert. The soft chocolate structure (which is covered in gold lustre) encases a chocolate mousse and salted caramel sauce centre, which is revealed when the accompanying chocolate sauce is heated and poured over it. Other desserts include an equally sparkly Espresso Martini Roulade and a revamped White Chocolate Crown, which now features a lemon curd and lemon blondie base with raspberry pouring sauce.
Gingerbread Mince Pies
A twist on the gingerbread-flavoured filling we saw across the retailers last year, Lidl has used the warming gingerbread spices within the pastry of these pies, which have a classic mincemeat filling. They're also joined by a florentine-topped variety.
Pulled Pork & Wildflower Crisps
Lidl has introduced a raft of luxury crisp flavours to its range this year: Pulled Pork & Wildflower; Stilton & Caramelised Onion; Camembert & Rosemary; Lobster, Brie & Cranberry; and Roast Turkey with Sage Stuffing will be hitting shelves this winter.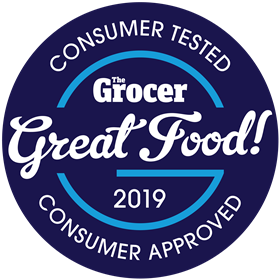 How do you know if the own brand product you're buying is as good as the big brand version? By looking for our Great Food and Great Drink labels, of course. Supermarket products with these on let you know that they have been tried, tested and loved by an independent panel, which is made up of hundreds of shoppers from across the UK.
Look out for the logos in store now.