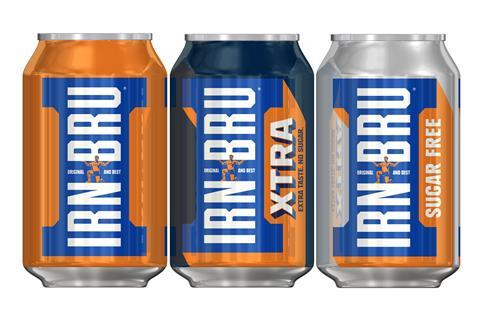 AG Barr (BAG) has boosted annual profits by 4.4% to £43.1m despite a near 1% decline in revenues as it slashed sugar across its range of fizzy drinks.
Shares in the Irn-Bru maker fizzed 2.2% higher by late afternoon to 559.5p on the back of its results in the year to 28 January.
Reported sales slipped 0.6% to £257.1m because of the comparison with the 53-week period in the previous year. However, underlying revenues rose 1.5%, driven by growth from innovation across the two key Irn-Bru and Rubicon brands.
Irn-Bru sales were up 3.2% and Rubicon climbed 4.9% on an underlying basis during the year.
AG Barr launched Irn-Bru Xtra and Rubicon Spring during the year, which both contain no added sugar, in response to government plans for a sugar levy, which CEO Roger White labelled "a new punitive tax regime".
The business has also made the commitment that 90% of its owned brands would contain less than 5g of total sugars per 100ml by the autumn of 2017.
Growth in the two flagship brands, alongside a group-wide restructuring programme to lower overheads and a 27% sales hike at cocktail mixer business Funkin, which AG Barr acquired in 2015, helped statutory pre-tax profits jump 4.4% to £43.1m and profit before tax and exceptional items rise by 2.7% to £42.4m.
"We have made considerable progress across the business over the last 12 months and delivered a solid financial performance in volatile and uncertain market conditions," White said.
"As consumer tastes and preferences continue to change, our recent announcement that 90% of company owned brands will contain less than 5g of total sugars per 100ml by the autumn of 2017 is a positive demonstration of how the business is responding to consumers' needs with both pace and commitment.
"The UK consumer environment remains uncertain, however, we are confident that our great brands, effective business model, clear strategy and strong team ensure we are well placed to realise the full potential of our business and to deliver consistent long-term shareholder value."
Finance director Stuart Lorimer added that the year "was not without its challenges", pointing to a tough commercial environment and deflationary pricing pressures impacting the business – particularly across Rockstar and its regional brands.
"These customer challenges were compounded by the reappearance of inflationary headwinds from the commodity and currency markets during the second half of 2016/17. While the increased levels of volatility and uncertainty were unhelpful, we took decisive management action which benefited us in the second half, and we expect will continue to underpin our performance going forward."
Employee numbers are being reduced by 10% – or 100 staff – at the group as part of the cost-saving programme designed to generate £3m of savings per year.
The board also decided to return up to £30m to shareholders via an on-market share repurchase programme, which is expected to start in the spring of 2017 and complete within two years.