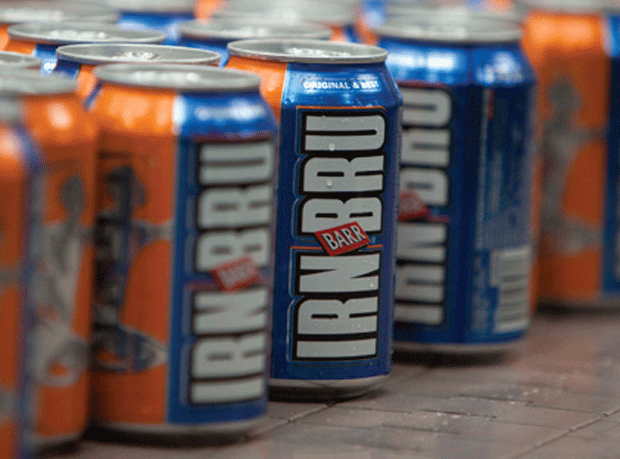 Irn-Bru manufacturer AG Barr has posted a near 15% jump in first half pre-tax profits and announced a 10-year deal to distribute the Snapple brand in the UK and Europe.
The Scottish drinks firm said this morning it has secured a deal for the exclusive rights to sell, market and distribute the Snapple range of tea and juice drinks in the UK and certain other EU territories.
AG Barr will also work with Dr Pepper Snapple Group to look at extending Snapple into other European markets where it is currently not available.
Roger White AG Barr's chief executive said: "Snapple is an authentic, high quality brand that is very successful in the United States and we strongly believe in the significant potential of Snapple in Europe."
The Snapple deal was announced at the same time AG Barr updated the market on its results for the six months to 27 July.
Total turnover increased by 5.4% to £135.7m during the period, while profit on ordinary activities before tax and exceptional items increased by 14.6% to £19m.
Volume in the period grew by 6.2% and, in value terms, carbonates grew by 4.5% and still drinks by 6.3%. The company noted its outperformance of the general soft drinks market which, according to Nielsen, grew by 0.8% in value terms with a volume decline of 1.2%.
White commented: "We have delivered strong, balanced growth across our core brands in the year to date, with volume growth well ahead of the total market. We have traded well across all channels and have benefited from the excellent execution of our Commonwealth Games sales and marketing plans.
"Market conditions across the soft drinks category and general consumer environment are challenging, however we plan to maintain our increased levels of investment in our brands, people and assets across the rest of the year and we remain confident in the long term potential of the business."
During the first half, the company launched a number of new products, including Rubicon Coconut Water, IRN-BRU ice cream and BARR XTRA Cola.
In terms of outlook, AG Barr said the market will remain "both dynamic and challenging". It added that the poor summer weather will have a short term impact on trading, noting: "Despite tough weather driven comparatives, based on our well invested brands, strong operating model and excellent business momentum, we remain confident in the long term potential of the business."