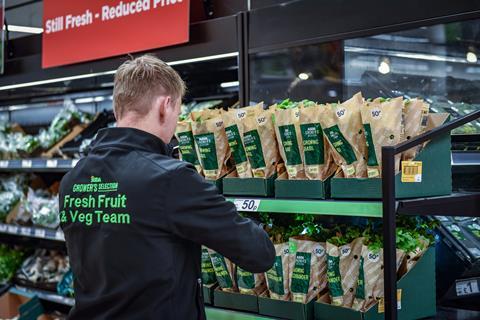 Asda posted a 1.3% decline in like-for-like sales in the fourth quarter, as cash-strapped customers failed to provide the Christmas trading boost it had hoped for.
Parent company Walmart today published its earnings for 1 October to 31 December, admitting Asda's overall performance in the quarter had been impacted by "challenging market conditions".
However, it claimed the supermarket giant's core food business had proved more stable and the period saw what it described as "continued progress".
UK CEO and president Roger Burnley insisted Asda's price positioning against its rivals had continued to improve, year on year and quarter on quarter, and pointed to strong online growth.
He also claimed that despite the fall in sales Asda had begun 2020 with a "sharper focus", highlighting positive sales in its premium Asda Extra Special products (up 5% year on year), as well as innovation in online and in the war on plastic and food waste.
However, he admitted Asda had suffered from cautious spending over Christmas which had affected sales.
"We continued to improve our price position versus the previous quarter, and year on year," said Burnley.
"Our trusted combination of great value and quality ranges with a touch of Asda personality resonated strongly with customers. Our home shopping operation continued to deliver double-digit growth in the fourth quarter – up 10.3% year on year – and we continue to innovate in this area. We continue to develop our store proposition, maximising our space and testing new concepts for our customers.
"We're ambitious to deliver even more for customers in 2020 and have entered the year with an even sharper focus on driving forward our strategy, which is anchored in saving our customers time as well as money."
Walmart's quarterly figures showed Asda's prices were up 0.2% in the quarter, with the overall drop in sales driven by a 1.5% reduction in sales volumes.
Asda's gross profits and operating income also decreased in the period, though no further details were provided.
Profits fell as a result of strategic price investments, discounting in apparel and a shift in mix towards lower margin categories.
Overall Walmart group sales were up 2.1% in the quarter to US$141.7bn taking its annual growth to 1.9% to US$524bn.
Operating income in the quarter fell 12.3% to US$5.3bn.
The group-wide quarterly results included a US$450m charge related to business restructuring and US$75m on a "legal matter".