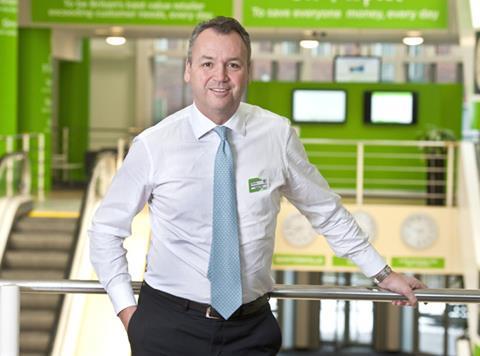 The Asda PR team may not have realised when they set up the room at the Carnaby Street offices for the media briefing of the company's full-year results but the choice of promotional advertising provided an apt commentary for the supermarket's 2014 sales.
'Wonky' stood out in bold letters on signage promoting Asda's campaign, in partnership with Jamie Oliver, to get the nation eating an odd-shaped assortment of veg currently going to waste.
And with like-for-like sales falling 2.6% in the fourth quarter to 4 January – widening from -1.6% in the preceding three months – and down 1% over the full year, the figures certainly looked out of shape for Britain's second largest retailer.
However, CEO Andy Clarke and CFO Alex Russo exuded an aura of calm as they updated the gathered hacks on Asda's financial performance and its long-term strategy, which they said they were sticking with over any short-term "gimmicks" and promotions.
And that calmness came in the face of what Clarke admitted was one of the retail market's "most challenging and changeable periods in history." Indeed, he echoed the sentiments of Sainsbury's chief executive Mike Coupe, who said last November that supermarkets would continue to see declines over the next couple of years. "I would suggest that Mike is not inaccurate," the Asda boss added.
However, the message that was drilled home was all about the "long-term" and sticking the course.
Clarke said the five-year strategy, announced 18 months ago, was already working. And CFO Alex Russo used Kantar Worldpanel data from 28 December 2008 to 7 December 2014 to highlight the cumulative market share of its rivals and give a "long-term" overview.
Over the period Asda grew its market share by 0.2% whereas Morrisons was down 0.4% and Tesco fell 2.2%. There was no sign of Sainsbury's, from which you can draw your own conclusions, but Aldi and Lidl grew 2.6% and 1.2% respectively in that time.
Clarke also stressed Asda was bucking the industry trend of reducing retail space – Tesco just last month revealing it was closing 43 unprofitable stores and shelving plans to open 49 new ones – announcing plans to open 17 new stores in 2015, including three supermarkets in London, and remodel 62 existing stores at the expense of £600m on top of its five-year pledge to invest £1bn in price.
Declining sales in the fourth quarter were blamed squarely on short-term discounting tactics employed by Asda's rivals. Clarke said the strategy of flooding the market with vouchers was "unsustainable" and was not a game he was prepared to play as he preferred to stand by the strategy of 'everyday low prices' (EDLP). "This undoubtedly reflects a very competitive market where retailers took a decision to drive unprofitable sales, but from our perspective I'm very confident of driving our strategy based on the medium to long term," he added.
Shore Capital analyst Clive Black said Asda had a credible trading strategy that had been well executed but it would have to fight harder in 2015. "The UK market is now genuinely competitive with the discounters expected by us to continue to gain market share, albeit at a slower rate, and the Big Four showing signs of competitive reaction after deep slumber," Black added.
"In this respect, Asda is expected by us to continue to invest in price and to focus on driving out trade, including online and the fabulous George apparel brand.
"Asda may also gain a benefit from any rising tide of economic activity in the UK with living standards now improving, which, with deflation, may spark higher ongoing volumes . This all said, we do believe that if Tesco does indeed recover in its core market then Asda and its peers will need to limber up all the more effectively."