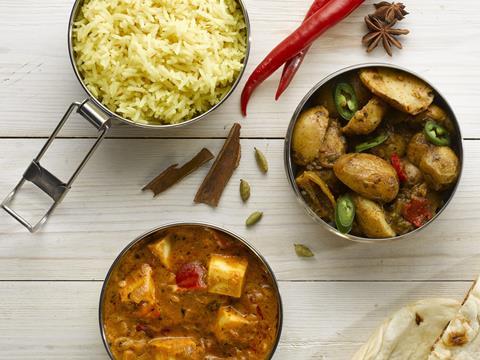 Sales have soared 50% to close to £74m at ready meals producer The Authentic Food Company as it invested heavily in the Irish frozen factory acquired from Heinz in 2015.
The manufacturer, which supplies Iceland, Morrisons and Asda, as well as foodservice customers, injected additional capital into developing the 180,000 sq ft Dundalk site during the year ended 31 May 2016.
It led to a number of major new contract wins, which are expected to drive further rapid growth in 2017, Authentic said.
However, the group fell into the red as a result of the investment and other integration costs, accounts filed at Companies House this morning showed.
Authentic posted pre-tax losses of £800k in the period, compared with profits of £1.2m (itslef a 33% drop on 2013/14) in the year to 31 May 2015, but moved back into profitability in the fourth quarter.
CEO Nik Basran said that profits had improved over the nine months of the current 2016/17 financial year, but added trading conditions in the UK grocery sector remained "challenging".
Revenues, which jumped 20% in 204/15, hit record levels last year, climbing from £49.1m to £73.6m. The top-line figure included the first four months of a three-year co-pack agreement to manufacture ready meals for Kraft Heinz.
Basran said it was a "milestone year" of accelerated growth and "unprecedented" investment for the future.
"Over the last two years, we've built an infrastructure capable of supporting a £150m-plus turnover business, creating significant headroom for further growth," he added.
"The scope and scale of our production capabilities are now unrivalled, whilst our expertise in taste and recipe development is market leading.
"Alongside continued investment in product innovation and people, we're confident in our ability to deliver significant growth in the years ahead as we capitalise on rising demand for authentic, high-quality world foods across the UK and Europe."
Authentic, founded by Indian-born Kamal Basran in 1985, has expanded its focus from Indian ready meals over the years to include a range of world food recipes, snacks and accompaniments.
It has collaborated with former Michelin-starred chef Paul Heathcote to develop a range of classic British and Italian dishes, as well as the Yu family, who won Gordon Ramsay's best Chinese restaurant in the UK in 2010, to launch Chinese recipes.
As well as manufacturing private label for supermarkets, it produces ranges for third-party brands under licence and its own foodservice brand The Authentic Food Co.