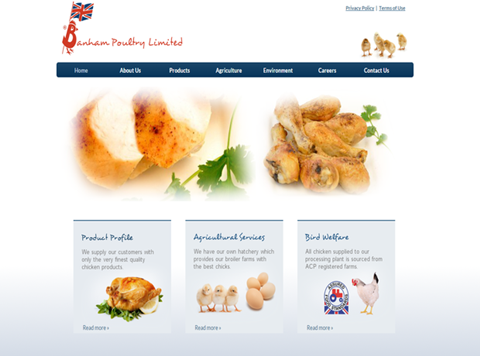 Fast 50 new entry Banham Poultry tumbled to a pre-tax loss last year after pressure to reduce prices amid rising wage costs hit profits.
Banham recorded a sales rise of 23.3% in 2013/14 to propel it into The Grocer's annual ranking of the fastest growing food and drink suppliers, but in the year to 3 October 2015 revenues fell back 0.9% to £122.2m.
Newly filed accounts in Companies House show that dip in turnover coincided with rising costs, meaning a pre-tax profit of £576k in 2013/14 turned into a pre-tax loss of £789k last year.
Mid Norfolk's largest employer blamed lower sale prices because of falling commodity costs and rising wage costs for the shift into the red.
"The company faced pressure to reduce sales prices following the continued reduction in the cost price of feed," the accounts stated.
Banham Group chairman Michael Foulger added that the chicken fillet had been "at the forefront" of the grocery price war, leading to decreased whole bird sales and a carcass imbalance issue that affected profitability.
"Further to this, wage costs have increased as a result of the change to a six day kill week through the whole of the 2015 financial year to meet the demand for prepared chicken cuts," the accounts added.
Average production-related headcount during the year rose to 808 employees from 682 in the previous year, while overall staff costs rose 18.8% to £23.7m during the year.
Foulger also said outbreaks of Avian Influenza across Europe "had a large impact" on the business resulting in "significant periods of not being able to export our by-products".
He added that once those export restrictions were lifted there was a flood of products on the market leading to industry oversupply and falling prices.
"Having said this, the group has risen to the challenges on all fronts and we are making progress as a business. The market for chicken remains strong as the most popular protein… Despite an extremely difficult first six months of the financial year, the final quarter saw the group's results improve vastly with growth in both turnover and profitability."
The results mark the first pre-tax loss recorded by Banham since it restructured the business following what at the time at called a "disappointing" 2011.
A pre-tax loss of £135k in 2011/12 was turned into to a pre-tax profit of £484k in 2012/13.
The wider Banham Group Ltd saw turnover edge down 0.3% to £126.4m and slipped to a £234k pre-tax loss from a £2.3 profit last year.