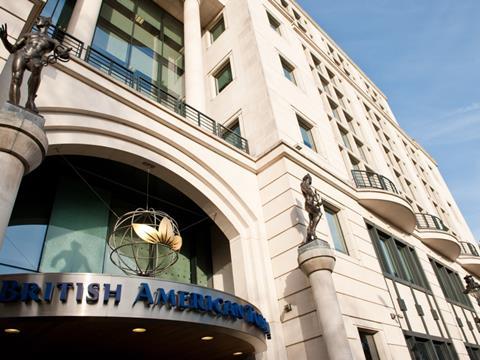 Top story
British American Tobacco (BATS) has issued a second half pre-close trading update, stating it is on course to hit earnings growth expectations amid market share growth, but currency tailwinds are declining.
Ahead of its 1 January financial year close, BAT said the business "continues to perform well and trading is in line with our expectations".
It is confident of "good" earnings growth at constant currency, with continued market share growth, driven by the Global Drive Brands (GDBs) and an improvement in second half organic operating profit.
This improved profitability reflects the benefit from the phasing of volume shipments, partially offset by a more difficult pricing environment in some markets.
Second half organic volume is expected to benefit from the phasing of shipments in a number of key markets, including Pakistan, partly offset by the impact of the significant excise increase in the Gulf states.
Full year industry volume will be down around 4%, with BAT outperforming the industry.
Organic revenue in the second half benefits from growing next generation product revenues and good overall pricing in most markets, although organic price mix is expected to moderate in the second half due to downtrading in the Gulf and a more difficult pricing environment in some markets, notably in Russia.
The national rollout of its smokeless glo product in Japan is complete and glo has continued its "excellent" performance with national share now at 2.7%. The product has also been launched in Canada, Switzerland, South Korea and Russia and is now available in a total of five countries. In vapour, its share in Western Europe continues to grow and the performance of VUSE in the US remains "strong".
Overall Canada, Germany, Romania, Bangladesh and Ukraine are performing well, but conditions remaining challenging in Russia, Gulf states, Brazil, South Africa and Malaysia.
Additionally, full-year earnings per share will benefit from a reduced currency translation tailwind of 5%. The translational currency tailwind would be expected to be 6% on operating profit and 2% on operating profit.
BAT added that the integration of the Reynolds American business is on track with the business "performing strongly" driven by market share growth and pricing.
Morning update
German supermarket Metro has posted its first financial results as a focussed wholesale and food specialist after the demerger of the former Metro Group.
Metro said it had posted "sustainable sales growth and a stable EBIT development" in its 2016/17 financial year.
Reported EBIT has fell to €852m from €1.2bn, however, adjusted for the earnings from the sale of its business in Vietnam in the previous year the EBIT rose
Profit for the period before special items grew to €583m from €495m last year.
Olaf Koch, chairman of the management board of Metro, commented: "Financial year 2016/17 was a transition year. It was among the most eventful and strategically important years in the history of METRO. With the stock exchange listing of the new METRO, we created the foundation to deliver even more focus, innovation and growth. This ultimately also improves our operative earning power."
"Our declared goal is to make our customers more successful and help them make their everyday work easier. We believe that digitisation offers huge opportunities, especially in the hospitality sector. The vast majority of restaurateurs has not yet caught on to using digital solutions. We want to change this and are now launching our digital solutions and services internationally."
The FTSE 100 has opened this morning flat at 7,501.5pts.
British American Tobacco is down 0.5% to 5,020p on this morning's trading update.
Early risers include Devro (DVO), up 1.8% to 224.8p, Applegreen (APGN), up 1.5% to 499.8p and Majestic WINE (WINE), up 1.1% to 449.8p.
Fallers include PureCircle (PURE), down 2.1% to 477.8p, Britvic (BVIC), down 1.3% to 792p, Ocado (OCDO), down 1% to 347.5p, Imperial Brands (IMB), down 0.9% to 3,076p and Coca-Cola HBC (CCH), down 0.9% to 2,310p.
Yesterday in the City
The FTSE 100 marched on again yesterday, rising another 0.6% to 7,500.4pts despite significant falls in amongst the index's grocery stocks.
Morrisons closed 4.5% down to 211.5p yesterday and Sainsbury's dropped 4.1% to 234.6p as the market digested the latest market share figures from Kantar Worldpanel and Nieslen.
The two supermarkets are showing markedly lower growth in recent weeks as we head towards the vital Christmas period – well below sales growth at Tesco, which edged back 0.4% to 204.7p on its more solid share figures.
The day's major risers were in the natural resources sector rather than consumer stocks, but Imperial Brands (IMB) was up 1% to 3,104p and Greencore (GNC) was up 1% to 216.9p.
Also on the up were FeverTree (FEVR), up 2% to 1,965p, Hilton Food Group (HFG), up 2% to 860p and PayPoint (PAY), up 1.8% to 916.5p.
Fallers included a number of retailer names. Those grocery stocks falling included Majestic Wine (WINE), down 2.8% to 445p, Devro (DVO), down 2.7% to 220.8p, Hotel Chocolat (HOTC), down 2% to 345p, Marston's (MARS), down 2% to 118.6p, Conviviality (CVR), down 1.9% to 377.8p, Greggs (GRG), down 1% to 1,340p and Marks & Spencer (MKS), down 0.8% to 311.6p.