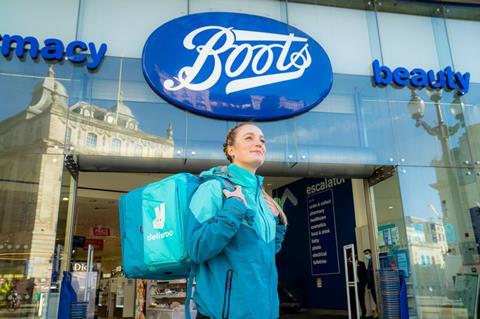 Boots comparable retail sales grew 16.3% year on year in the three months to 30 November, contributing to higher than expected earnings for US parent Walgreens.
The first quarter results put Walgreens Boots Alliance sales from continuing operations up 7.6% on a constant currency basis. Operating income from continuing operations increased to $1.3bn, compared with a loss of $535m in the same quarter the previous year.
The group increased full-year adjusted earnings-per-share guidance to low-single digit growth, from flat previously.
In the UK, Boots' online sales were nearly double pre-Covid levels, according to today's trading update.
Comparable pharmacy sales were up 8.8% year on year, and 27 new Boots beauty halls opened in regional locations.
The update said footfall had improved but remained below pre-Covid levels.
Boots delivered two million flu vaccinations in the period, up 150% year on year, and developed healthcare services both in store and online, according to the update, including mental health support.
Edge by Ascential director of advisory Nick Everitt pointed out Boots' positive results were against a difficult comparable period last year, when the UK was "in the thick of a dangerous Covid-19 wave".
He said the health and beauty retailer still had urgent work to do to keep up with the migration of its key markets to online, despite having taken steps in 2021 including partnering with Deliveroo.
Despite being UK market leader in pharmacy, health and beauty, Boots had a "tiny fraction of the e-commerce pie" in the categories, Everitt said.
"If Boots wants to remain ahead in the UK market, it is essential that it focuses investment in its online channels, rather than relying primarily on a store estate."
Reports emerged last month that WBA is exploring a sale of Boots, amid speculation it could be worth as much as £10bn in the spin-off, making it one of the largest UK retail deals in history. However, industry observers told The Grocer challenges faced by the UK business meant any sale price was likely to be significantly lower.