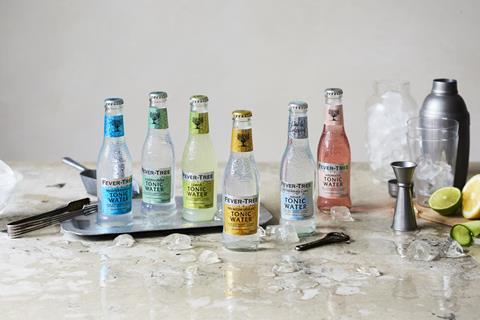 Fever-Tree shares this week have been quite mixed following a sharp drop in profits as UK sales fell flat.
The premium mixers producer saw first-half revenue of £175.6m, up 9% year on year (6% at constant currency), driven largely by strong growth in the US. However, its UK revenues of £53.8m were up just 1% year on year as on-trade sales edged up, but off-trade flatlined.
Instead, growth slipped to a 40% sales jump in the US to £56.1m, representing a rise of 32% in constant currency. It saw gains in all categories.
In Europe, the Fever-Tree brand delivered 9% revenue growth across its European markets, slightly ahead of total European growth of 7%, which includes sales from German distributor Global Drinks Partnership (4% at constant currency). Rest of the World saw a 36% drop in revenues to £9.6m, impacted by a one-off inventory buy-back in Australia, as it established its own subsidiary in the territory.
Overall group EBITDA slumped 53.5% to £10.2m, with gross margins hit by inflationary cost pressures, most notably the effect of "materially elevated" glass prices in 2023. Meanwhile the bottom line was further hit by continued investment, alongside some phasing effects that increased operating expenditure to 24.9% of group revenue from 23.7% last year.
As a result of these first-half issues, it reduced its forecast sales growth to £380m-£390m from £390m-405m and EBITDA range to £30m-£36m from £36m-£42m.
However, the group stressed that it expected improved gross margin and adjusted EBITDA in the second half of the year, and it is confident of further recovery in 2024 due to a combination of "softening inflationary headwinds and the benefit of the actions we are taking this year".
AJ Bell commented: "Unfavourable weather for much of the summer has made it harder to shift tonic water and other mixers for spirits. Naturally, the market doesn't like the news. Profits, margins and cash fell in the first-half period which suggests a business under pressure. Its challenge is to reverse that trend."
Jefferies noted a possible negative investor response to the 2023 guidance cut, but suggested positive comments on 2024 represented an upgrade to current expectations. The broker said: "Whilst we acknowledge that 2023 top and bottom line are held back by a number of one-off factors, the market will need to see further visibility on both 2024 top and bottom line before underwriting the 2024 guidance".
Fever-Tree shares opened on Tuesday 7.1% down at 1,213p, but had recovered back to trade slightly up at 1,310p by the end of the day.