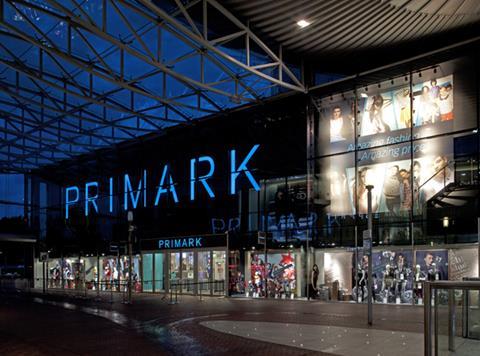 Top story
Associated British Foods (ABF) has warned of the impact of a "tough" retail market on its Primark clothing chain, which experienced "challenging" conditions in November.
Ahead of its AGM today, ABF said overall sales in the first eight weeks of its financial year were in line with expectations, but that Primark is fighting a difficult wider retail environment.
However, it said that with careful inventory management and improved margins, its previously stated expectation for the increase in Primark profit is unchanged.
Primark's selling space expansion will continue and it expects an increase in retail profit for the year. With the opening of a store in Belfast tomorrow, it will be trading from 364 stores and a total selling space of 15.1m sq ft.
In its grocery division ABF said it expects an improvement in profit from a margin increase in its Australian and UK businesses and a full year contribution from Acetum.
Mirroring the 2017/18 financial year, the profit at AB Sugar will be significantly lower reflecting the full year effect of EU sugar prices.
Chairman Michael McLintock said: "Taking all of these factors into account, at this early stage, we still expect adjusted earnings per share for the group for this financial year to be in line with the 2018 financial year."
Meanwhile, shareholder advisory body PIRC (Pensions & Investment Research Consultants) has advised shareholders to vote against the pay package of ABF boss George Watson at its AGM later this morning.
The advisory group also advised shareholders to vote against the reappointment of non-executive director Emma Adamo as she is not independent given she represents Wittington investments, which holds 54.5% of the group.
ABF shares have dropped 2.3% to 2,295p on the news this morning.
Morning update
Welsh own-label supplier The Village Bakery has hired advisors in a search for external investment to drive future growth.
The premium bread manufacturer has hired PwC to find a funding partner, with the preference understood to be the sale of a minority stake to a private equity firm.
Click here for the full story.
Also in The Grocer this week Greencore explores M&A options outside its core sandwich operations, how the growth in Waitrose of Sushi Daily growth and the loss of a Pret contract hit Taiko Foods profits, OMG Tea seeks funding boost and more.
See the grocer.co.uk/finance later this morning for full details.
On the markets this morning, the FTSE 100 has regained 1.4% to bounce back to 6,800pts.
Early risers include FeverTree (FEVR), up 4.3% to 2,354p, Tesco (TSCO), up 4% to 201.5p, Just Eat (JE), up 3.5% to 553.6p and Ocado (OCDO), up 3.3% to 817.2p.
The few fallers in addition to ABF include Devro (DVO), down 1.7% to 172p and Hotel Chocolat (HOTC), down 1.7% to 295p.
Yesterday in the City
The FTSE 100 sank 3.2% back to 6,704pts on the index's worst day since the UK vote to leave the EU.
Market worries continue to mount over the trade dispute between the US and China and were further exacerbated by the arrest of a top executive of mobile technology group Huawei in Canada at the request of the US.
Stocks were in the red across the board, with the consumer/grocery sector no exception.
Amongst the worst hit were PayPoint (PAY), down 8.1% to 814p, McColl's (MCL), which continued its wretched week after its Monday profits warning by falling a further 6.7% to an all-time low of 67.2p, Just Eat (JE), down 5.3% to 535p and FeverTree (FEVR) down 5.1% to 2,258p.
FTSE 100 packaging firm DS Smith (SMDS) dropped 5.8% to 307.3p after posting its first half results yesterday.
Also falling were the grocers, with Ocado (OCDO) losing 3.8% to 790.8p, Morrisons (MRW) fell 2.9% to 6,215p, Tesco (TSCO) fell 2.6% to 193.8p and Sainsbury's (SBRY) fell 2.1% to 300p.
Other fallers included Hotel Chocolat (HOTC), down 4.8% to 300p, PZ Cussons (PZC), down 3% to 217.4p, Reckitt Benckiser (RB), down 3% to 6,215p, Coca-Cola HBC (CCH), down 2.5% to 2,336 and Greencore (GNC), down 2.2% to 180p.