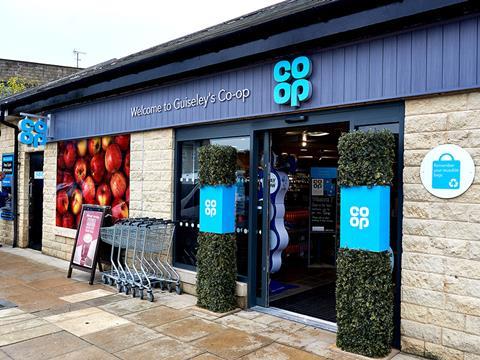 Top story
The Co-op has posted a double-digit rise in annual sales and profits last year as strong food performance boosted growth.
Total revenue across the group in the year to 5 January rose 14% £10.2bn, reflecting its acquisition of Nisa and a strong performance from its food business.
Like-for-like food revenue growth of 4.4% meant the Co-op has now enjoyed five consecutive years of like-for-like revenue growth.
During the year it invested £75m into opening more than 100 new food stores, refitted 138 existing stores and creating 1,600 new jobs.
The group has opened 417 new stores in the last four years and now has 2,582 Co-op Group food stores at year end.
Co-op said the "successful" acquisition of Nisa and expansion of its wholesaling business has "significantly grown our footprint and capacity, making Co-op products available to many thousands of new customers".
Overall profitability "exceeded expectations", as pre-tax profits rose 27% year-on-year, reflecting the growth in revenues.
A total of £79m was returned to Co-op members and their communities in the year – £60m directly to members and £19m to over 4,000 community projects across the UK.
Funeralcare and Life Planning revenue reduced by 1% year-on-year, reflecting the change in customer trends within the funeral sector.
Net debt also rose due to the Nisa acquisition, but remained below the group's £900m debt ceiling target.
Steve Murrells, Chief Executive of the Co-op, commented: "Over the past year we have continued to successfully transform the Co-op, leading to a 14% increase in revenues to £10.2bn and the return of £60m directly to our members and £19m to over 4,000 community projects across the UK.
"The acquisition and integration of the Nisa wholesale business has been a game changer in expanding our food footprint and we have also set out the path by which we can offer our members a broader range of compelling Co-op solutions in Insurance and Health.
"We continue to demonstrate that the Co-op is a good business that does good for society as we lead on issues including single use plastics, funeral affordability and social housing. It is this determination to make a positive difference for all of our stakeholders which will ensure that we fulfil our ambition to build a Stronger Co-op and Stronger Communities."
Chairman Allan Leighton added: "A year into launching our Stronger Co-op, Stronger Communities ambition and we continue to grow both sales and social impact. We have also made significant investments to further align our business with the needs of our members and deepen our understanding of the communities in which they live.
"In these uncertain economic times we have the opportunity to demonstrate that the Co-op Way of doing business has never been more relevant than it is today. With the continued support of our colleagues, members and communities, I have no doubt that we will thrive in the years ahead. I am confident and excited about the path we are following and the greater social impact we can create for our members and their communities."
Morning update
In this week's editition of The Grocer, Australia-based entrepreneur Tony Quinn is to create a major player in the meat snacking category after bringing together the UK's two biggest biltong and jerky suppliers.
He has acquired Meat Snacks Group for an undisclosed sum, just six months after his purchase of the Kings Elite brand, as part of New World Foods.
Plus, Ella's Kitchen sales and profits surge as it signs up to a recycling scheme with Asda, profits fall at Tayto despite acquisitions and more.
Check out thegrocer.co.uk/finance later this morning for the full stories.
Elsewhere, A 4.8% rise in in-store sales proved dire for high street retailers trying to rebound from a brutal base of -10.1% for March last year, figures released today by accountancy and business advisory firm BDO LLP reveal.
According to BDO's High Street Sales Tracker, disappointing in-store like-for-like sales in March failed to offset last year's dire performance when the 'Beast from the East' left high streets like ghost towns, resulting in the worst month for the high street since November 2008.
The latest figures bring to a close the high street's disastrous first quarter trading in 2019. Even Mother's Day and warm spring weather failed to provide any respite for bricks-and-mortar retailers in March, as sales failed to counterbalance last year's result despite improved conditions.
Despite another poor month for the high street, non-store like-for-like sales grew by +18.7% this month from a middling base of +11.0% for the equivalent month last year. Total non-store like-for-like sales had a mediocre start to the month, but enjoyed a substantial rise in the final week thanks to Mother's Day spending.
Sophie Michael, Head of Retail and Wholesale at BDO LLP, said: "With increased footfall, falling unemployment and rising wages, the stars should have aligned for high street retailers in March. Yet sales remained extremely poor and any positive movement failed to make a dent in the huge negative result we had last year caused by the Beast from the East.
"There has been noise of increases in total consumer spending, but these results only demonstrate that the spending is largely driven as a result of price inflation of weekly essentials with the discretionary purse remaining bare. Retailers continue to trade on paper-thin margins and the impact of further increases in business rates and staffing costs from this April will only add to the fears of further possible high street casualties."
On the markets this morning, the FTSE 100 has opened flat at 7,403.1pts.
Early risers include CARR's Group (CARR), up 2.8% tp 145p, Hilton Food Group (HFG), up 1% to 950.4p and C&C Group (CCR), up 0.9% to €3.30.
Fallers include Finsbury Food Group (FIF), down 1.5% to 59.1p, Cranswick (CWK), down 1.4% to 2,791.1p, Sainsbury's (SBRY), down 1.2% to 236.8p, Reckitt Benckiser (RB), down 1.2% to 6,356.7p and Morrisons (MRW), down 1% to 227.4p.
Yesterday in the City
The FTSE 100 fell back 0.2% to 7,401.9pts yesterday as political efforts to break the Brexit deadlock continued.
Baby and child retail specialist Mothercare dropped 6.5% yesterday to 20.9p after announcing a double-digit slump in UK like-for-like sales amid a raft of store closures.
Also falling yesterday were Stock Spirits Group (STCK), down 3% to 223p, McColl's (MCLS), down 3% to 81.5p, Just Eat (JE), down 2.9% to 764.8p, B&M European Value Retail (BME), down 1.3% to 382.6p and DS Smith (SMDS), down 2.4% to 345.5p.
The day's risers included Cranswick (CWK), up 1.9% to 2.3% to 2,832p, PayPoint (PAY), up 1.5% to 878p, Hotel Chocolat (HOTC), up 1.5% to 347.5p and Glanbia (GLB), up 1.4% to €17.35.
Imperial Brands (IMB), bounced back from a heavy fall on Wednesday on news of weaker cigarette sales in the US, rising 1.3% to 2,552p.