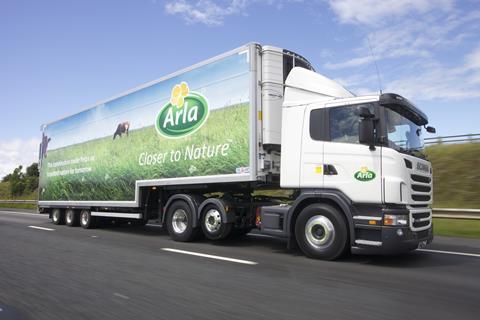 Danish dairy giant Arla grew its first half revenues by 2.8% as branded sales and retail growth helped overcome the slump in its foodservice business.
Total first half group revenues were up 2.8% to €5.4bn, compared to €5.2m in the first half of 2019.
Arla's global branded sales volumes grew an "unprecedented" 10.4% and the cooperative delivered a strong and competitive performance price.
Despite the challenging global market circumstances, throughout the first half of 2020 the milk price to farmer owners remained stable at a competitive level, with per kilogram prices at 37.0 EUR-cent compared to 36.1 EURcent first half year of 2019.
Arla also grew profitability and achieved a net profit share of 3% of revenue up from 2.3% in the first half of 2019.
CEO of Arla Peder Tuborgh commented: "It has truly been abnormal times this year and I am very proud of our people and our results. The Covid-19 pandemic is one of the most severe crisis situations I have experienced as CEO of Arla, and we – as many other food companies - saw a very quick change in consumers eating habits as countries shut down around the world.
"We quickly channeled milk from our Foodservice business into retail and successfully maintained a steady flow of products in demand while our Foodservice business found creative solutions to support their customers. This shows just how robust and agile our cooperative really is for our dairy farmers."
As restaurants, coffee shops and canteens had to close due to the pandemic, Arla said its food service business "declined rapidly".
It said consumers instead turned to trusted household dairy products as in-home cooking and consumption increased and this more than offset lost foodservice sales and lower commodity prices.
Global brands Lurpak and Puck grew by 17.7% and 16.7% respectively.
The Arla brand was affected be the decline in foodservice, but still delivered 3.3% volume growth.
Arla's transformation and efficiencies programme Calcium delivered savings above expectations at €69m despite the pandemic. Cost savings were mainly from efficiencies in indirect spends and optimisation of supply chain operations.
On a regional basis, Arla's Europe zone grew revenue 0.9% to €3.2bn as its foodservice business saw steep reductions in sales.
However, its international zone delivered the highest revenue growth in the past five years of 22.1% seeing an increase to €1bn primarily driven by Middle East and North Africa as home cooking and overall dairy consumption rose steeply due to lockdowns and curfews.
Arla said the uncertainty around the duration and intensity of the economic and market impacts caused by the Covid-19 pandemic is expected to continue throughout the second half of 2020.
It will focus on continuing to steer successfully through the coming deadline for Brexit negotiations and the looming global recession.
Tuborgh said: "On the short term, we are looking at two very severe and unpredictable risks for the second half of 2020. One being the covid-19 pandemic that continues to require us to be in crisis mode along with the potential adverse consequences surrounding Brexit negotiations.
"On the longer term we need the business to be ready to navigate successfully through the expected global recession. So we must continue to be resilient and agile to ensure that Arla continues to be as robust and competitive as it is today."
Arla still expects to meet its expectations for full year with revenue outlook 2020 at €10.4bn-€10.8bn and a net profit of between 2.8%-3.2% percent of revenue.
Morning update
The Hut Group has confirmed it is to push ahead with the £4.5bn London flotation it announced last week.
The company will list new shares worth around £920m, valuaing the online retail platform and owner of beauty and nutrition brands at £4.5bn.
The admission will happen at some point later this month.
THG said the offer will further support its growth plans by increasing its public profile and brand awareness as well as providing a base of long term shareholders whilst also providing potential liquidity opportunities for shareholders.
It said this morning that funds and accounts managed by BlackRock, Henderson Global Investors, Merian Global Investors (UK) and Qatar Investment Authority have each entered into cornerstone agreements with the company to subscribe for, in aggregate, £565m shares at the offer price, acting as cornerstone investors.
The issue had already raised a commitment of £300m from BlackRock, £100m from Janus Henderson, £90m from Merian and £75m from QIA.
Immediately following Admission, the company intends to have a free float of at least 20% of the company's issued share capital.
Meanwhile, the FTSE's quarterly review has seen vale retail B&M European Value Retail promoted to the FTSE 100 at the expense of TV broadcaster ITV.
B&M has grown its market capitalisation to £4.8bn since its IPO six years ago and is up by around 16% so far in 2020 despite the coronavirus hammering shares across the general retail sector.
B&M's sale of food, drinks and toiletries saw it named an essential retailer able to stay open during the coronavirus crisis, during which it benefitted from boom DIY and gardening sales as rivals such as B&Q and Homebase were shut during the lockdown.
The retailer will become a member of the FTSE 100 on 21 September.
B&M shares are up 0.5% to 477.2p so far today.
On the markets this morning, the FTSE 100 is up another 0.8% to 5,986.7pts.
Early risers include eating out-of-home companies Compass Group, up 4.2% to 1,279p, SSP Group, down 3.5% to 249.4p and Greggs, down 2.9% to 1,403p.
Fallers include AG Barr, down 5.8% to 395.5p, Applegreen, down 4.5% to 315.2p and Nichols, down 3% to 1,225p.
Yesterday in the City
The FTSE 100 recovered 1.4% to 5,940pts yesterday after a sharp drop on Tuesday.
Unilever was up 2.4% to 4,533p after announcing it will invest €1bn in removing products derived from fossil fuels from its household ranges.
Strong risers yesterday included Science in Sport, up 5% to 31.5p, Compass Group, up 4.3% to 1,227p, Domino's Pizza Group, up 3.9% to 347p, Applegreen, up 3.8% to 330p, Diageo, up 3.7% to 2,530p and SSP Group, up 3.4% to 241p.
McBride was up 2.7% to 60p ahead of its results announcement this morning.
The day's fallers included Pets at Home, down 3.3% to 288.2p, Finsbury Food Group, down 2.6% to 57.2p, Premier Foods, down 1.2% to 85p, Naked Wines, down 0.9% to 456p and PZ Cussons, down 0.7% to 206p.