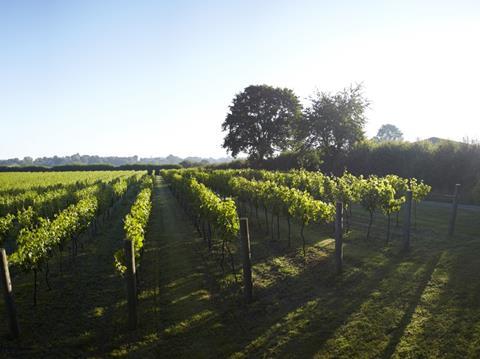 Top story
English winemaker Chapel Down has experienced "substantial" growth in supermarket, off license and online sales, but has shuttered its beer and cider brewing arm due to the closure of on-trade outlets.
The listed English wine producer said that, following the Governments advice to close pubs, theatres and hospitality venues to contain the spread of the virus, it has seen sales in supermarkets and off licenses "grow substantially" and on-line sales "multiply dramatically as customers seek to continue to enjoy our brands at home".
It said it remains too early to extrapolate any trends, but if the current sales rate continued the off-trade sales and on-line growth of its wines would "more than make up for the loss of on-trade wine sales".
"It will certainly leave us with a stronger business and an increased market share in these areas where we see long term growth," the group stated.
However, as a result of the measures taken to control the spread of the coronavirus it has had to close its tours, shop, restaurant and bar at Curious Brewery in Ashford and its hospitality, shop and tours at its winery in Tenterden.
Given that our beer and cider sales are largely focussed on the on-trade, in order to conserve our cash, it has taken the decision to stop brewing and close the brewery until the on-trade returns to normality.
It said it has sufficient stocks / work in progress to trade through with bottled product to take home and online customers for up to 6 months.
It has used government aid to furlough the staff directly affected by the change to the business, which "will enable us to get back up to speed quickly when the all clear is given".
"Those still working will ensure we deliver to our off-trade customers and on-line consumers, will tend the vineyards and create the wines in the winery. We are ensuring that their safety is our first concern. We have moved staff to work from home wherever possible."
The board, executive and senior managers in the company have all taken 20-40% salary cuts for the duration of the crisis.
The company has also taken significant steps to conserve cash and reduce spend across the business and has suspended all non-contracted capital expenditure with the exception of the committed development of the vineyards planted in 2018 and 2019.
It said that following the actions it has taken and based on "prudent assumptions" it has adequate cash for the foreseeable future.
Frazer Thompson, CEO commented: "These are challenging times, but we believe that the company is in a better position – strong in on-line and off-trade sales – than nearly all its competitors in English wine and craft beer. We have a good relationship with our bank HSBC, solid tangible assets and great brands.
"I believe we are in a very strong position to weather the crisis. Demand for our brands remains extremely healthy. We have taken swift and decisive action to ensure that the company is well placed for the aftermath and has the talent to compete immediately."
Morning update
The monthly BRC Nielsen Shop Price Index has found overall shop prices fell by 0.8% in March compared to a 0.6% decrease in February.
Food inflation eased to 1.1% in March, down from 1.6% in February – which is below the 12- and 6-month average price increases of 1.6% and 1.4%, respectively.
Fresh Food inflation eased for the third consecutive month. In March, Fresh Food prices rose by 0.4% compared to a 0.6% rise in February.
Meanwhile ambient Food inflation slowed sharply to 2.0% in March down from 3.0% in February.
Non-food prices also fell at a steady pace of 1.9% in March to fall below the 12-and 6-month average price declines of 1.3% and 1.7%, respectively.
This is the highest rate of decline in non-food prices since May 2018.
BRC chief exec Helen Dickinson commented: "As of the first week of March, when our price collection took place, Shop Prices were pushed further into deflationary territory, with Food inflation easing and Non-Food prices continuing to fall.
"Fresh Food prices rose by a modest 0.4%, as lower global prices in 2019 filtered through, limiting the price rises of meat, dairy and fish products. Non-food prices fell again in March as household spending remained low.
"There are a number of price pressures arising from the coronavirus crisis. Food prices, particularly of fresh produce, may be impacted by higher costs on seasonal farm labour, while Non-Food prices will be pushed down by lower demand. It is likely that the combination of future economic uncertainty and job losses, whether realised or potential, will drive people to reconsider their spending patterns and to save more.
"As a result, it is vital the Government monitors the situation carefully and is ready to continue taking bold action where necessary to support jobs and businesses."
Mike Watkins, head of retailer and business insight, Nielsen, added: "The weak demand for many goods and services means non-food retailers continued to battle hard for consumer spending by keeping prices down wherever possible.
"And across supermarkets, the recent upwards pressure on food prices slowed a little in March, with a slowdown in the rate of inflation in both ambient and fresh foods."
On the markets this morning, the FTSE 100 is back down 4.2% to 5,434.4pts on fears of the rising number of cases in the US.
Early fallers include SSP Group (SSPG), down 6.9% to 286.4p, Greencore (GNC), down 6.3% to 154.5p, WH Smith (SMWH), down 6.1% to 1,071p and Stock Spirits Group (STCK), down 6.1% to 154p.
Applegreen (APGN) is one of the few risers today, up 7.9% to 205p.
Yesterday in the City
The FTSE 100 continued on its long road to recovery by rising a further 2% yesterday to 5,672pts.
The tobacco firms were amongst the notable risers in the FTSE 100, with Imperial Brands (IMB) jumping 12.3% to 1,496.8p after announcing that the coronavirus outbreak was not having a material effect on its business as it renegotiated its banking facilities. British American Tobacco (BATS) was up 4.7% to 2,759p in response as it raised its own long term financing.
The rocketing sales in supermarkets in recent weeks did not result in rocketing share prices – with Tesco (TSCO) down 1.8%, the best performing supermarket Sainsbury's (SBRY) down 0.1% to 210.4p and Morrisons (MRW) down 2.4% to 178p.
Ocado also fell 1.3% as its own growth was hampered by capacity contraints.
One grocery retail name that did surge upwards was convenience chain McColl's (MCLS), which jumped 17.2% to 30p on the news of rocketing food sales in independent convenience stores.
Other risers yesterday included Marston's (MARS), up 12.3% to 41.2p, Hotel Chocolat (HOTC), up 9.8% to 280p, FeverTree (FEVR), up 9.4% to 1,212p, Hilton Food Group (HFG), up 7.8% to 1,080p, WH Smith (SMWH), up 7.7% to 1,141p, PayPoint, up 7.2% to 536p, Britvic (BVIC), up 7% to 701.5p, Compass Group (CPG), up 6.2% to 1,264p and Bakkavor, up 6.2% to 105p.
The day's fallers included Science in Sport (SIS), down 7.4% to 31.5p, McBride (MCB), down 2.9% to 57p, Pets at Home, down 2% to 257.4p, Finsbury Food Group (FIF), down 1.6% to 61.5p and Reckitt Benckiser (RB) down 0.8% to 6,150p.