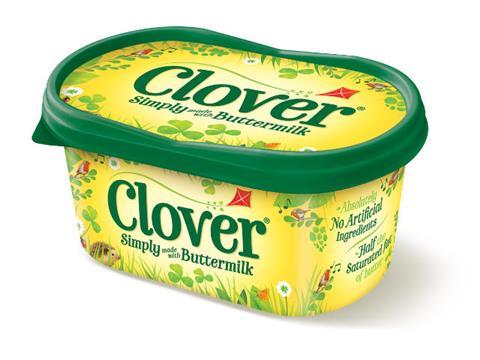 Top story
Dairy Crest (DCG) has grown volumes in its key brands in the first nine months of the year and remains on course to meet market expectations, but has warned over the impact of rising input prices.
In an interim management statement for the nine months to 31 December 2016, Dairy Crest said it had grown volumes in Clover, Frylight and Country Life and taken "significant" share in their respective markets.
Cathedral City performance "improved" in the third quarter, meaning combined volumes are in line with the same period last year.
Dairy Crest added that it has seen further milk cost inflation since the half year and has announced increases in the price paid to farmers of 8.28 pence per litre since June 2016 - an increase of 38%.
Market prices for cream have remained high after more than doubling in the first half of the year. This increase will "will inevitably result in a short-term working capital outflow" and, as a result, it now expects year end net debt to be somewhat higher than 31 March 2016.
Mark Allen, CEO of Dairy Crest, commented: "The outlook for the full year remains in line with our expectations.
"The business has continued to make progress during the quarter. Our brands have performed well supported by successful innovation and brand investment. I'm particularly pleased to see the improvement in Cathedral City's performance.
"At the new Davidstow functional ingredients facility we are seeing significant improvement in the percentage level of demineralised whey meeting infant formula grade. This is important in maximising future opportunities in this market.
"The announcement of the partnership with Danisco Animal Nutrition marks a further significant step in the development of GOS beyond infant formula. This has exciting potential opportunities for the future."
Dairy Crest will issue its results for the year ending 31 March 2017 on 18 May.
Dairy Crest shares have fallen 3% this morning to 598p on the announcement.
Morning update
Tate & Lyle (TATE) has issued a trading statement for the three months ended 31 December 2016 and upgraded earnings expectations after a strong trading period.
The sucralose producer said it continued to perform strongly in the third quarter with profit in constant currency ahead of the comparative period in both divisions. Its 'speciality food ingredients' division performed in line with expectations while in 'bulk ingredients' profit was ahead of our expectations.
Underlying volume was broadly in line with the comparative period. As in the first half, demand in North America continued to be soft with volume lower, whilst in Europe, Middle East and Africa underlying volume growth was robust. Strong volume growth in Latin America largely offset weaker demand in Asia Pacific.
Splenda sucralose profit was ahead of the comparative period benefiting from the consolidation of production to a single facility.
The company stated: "Encouraged by performance in the quarter, we now expect the group's performance in constant currency for the full year to be modestly ahead of our expectations at the time of our half year results in November 2016."
Pernod Ricard (RI) has announced 4% organic sales growth in the first half of its financial year to €5bn.
Reported sales growth was 2% as headline revenues were held back by an unfavourable FX impact.
The continued improvement in underlying sales was driven by strong growth continuing in USA, for Jameson worldwide and innovation and improved sales in China, Russia and travel retail. Sales also improved for Absolut, Martell and Chivas.
Second quarter sales were up 4% on an organic basis to €2.8bn.
Net profit for the to €924m from €896m in the corresponding period last year - a rise of 4% in both organic and reported terms.
The company said price/mix turned positive but pricing remaining subdued, with profits driven primarily by tight management of costs.
Alexandre Ricard, chairman and CEO commented: "Our half-year results are strong, delivering a continued performance improvement.
"Our strategy remains consistent and is driving results. For full year FY 17, in an uncertain environment, we plan to continue improving our business performance year-on-year versus FY 16.
"We will continue to support priority markets, brands and innovations while focusing on operational excellence. We expect to deliver organic growth in profit from recurring operations in line with the guidance of +2% to +4%."
On the markets this morning, the FTSE 100 is flat at 7,184.5pts.
Tate & Lyle is down 0.5% after yesterday's strong rise.
Elsewhere, Majestic wine (WINE) is up 2.7% to 369p, Real Good Food (RGD) is up 2.3% to 33.25p and Premier Foods (PFD) is back up 1.7% to 40.4p.
Other than Dairy Crest, fallers include Finsbury Food Group (FIF)l, down 1.2% to 117.6p, SSP Group (SSPG) down 0.8% to 402.3p and Tesco (TSCO), down 0.7% to 196.2p.
In Paris Pernod Ricard is down 0.2% to €108.25.
Yesterday in the City
The FTSE 100 ended the day flat at 7,188.8pts, but it was a strong day for some of the market's big grocery and fmcg players.
Tesco (TSCO) was one of the FTSE 100 big movers, rising 2% to 197.6p, while fellow FTSE 100 companies Reckitt Benckiser (RB) and Associated British Foods (ABF), were up 2.5% and 2% to 7,287p and 2,497 respectively.
Greencore (GNC) was up 3.1% to 252.5p, Ocado (OCDO) up 2.9% to 249p and PZ Cussons (PZC) was up 2.2% to 317.2p.
Tate & Lyle jumped 4% to 720.5p ahead of its results this morning. Also on the up were Hotel Chocolat (HOTC), up 6.1% to 260p and McBride (MCB), up 4.2% to 179.3p.
The day's few fallers included Premier Foods (PFD), down 1.2% to 39.75p, PayPoint (PAY), down 1.2% to 1,000p and C&C Group, down 1.1% to €3.91.