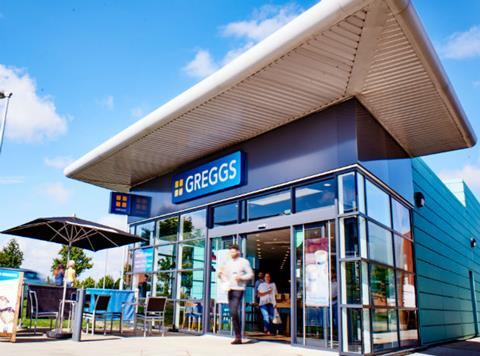 Top story
Greggs has confirmed it will cut staff numbers as its level of custom will remain "below normal for the foreseeable future" as sales remain well down year-on-year.
The bakery chain said sales have been 28.8% down in the 12 weeks to 26 September since it re-opened its store estate on 2 July, with sales down 23.9% year-on-year during September.
It said such a fall was in line with its assumptions, given it was unable to participate in the Government's Eat Out to Help out Scheme and unseasonal high temperatures in August.
However, it said increase out-of-home activity in September has driven a recovery in customer visits and in response it is brining back more of its product range, returned customer seating in 100 of its larger outlets and restarted its store opening programme.
In the 39 weeks to 26 September 2020 it opened 38 new shops and closed 49 shops, giving a total of 2,039 shops (comprising 1,720 company-managed shops and 319 franchised units).
Greggs said that with greater clarity on activity levels it has reactivated elements of its shop opening pipeline and now expect to open a net 20 shops in 2020, predominantly in locations accessed by car.
However, with the Job Retention Scheme planned to end in October it has reviewed its employment costs to ensure they reflect the estimated level of demand from November onwards.
Greggs said it has completed a review of every part of the business and are now proposing a series of changes which are the subject of a collective consultation with union and employee representatives.
"Our aim is to minimise the risk of job losses by negotiating reduced hours in our shops and we will update on the outcome of the consultation when concluded," it stated.
It will update on the expected financial impact of these changes when the consultation ends in November.
"The outlook for trading remains uncertain, with rising COVID-19 infection rates leading to increasing risks of supply chain interruption and further restrictions on customer activities out of the home. In these challenging conditions our teams continue to work hard and have proven our ability to operate with social distancing and adapt to new digital channels."
Greggs shares are down 2.3% to 1,191p on this morning's news.
Morning update
The shuttering of Hotel Chocolat's store estate during the coronavirus lockdown period has sent that chocolatier into an annual loss despite a positive contribution from its digital operations.
Having delivered a "strong first-half performance" the second half of the year to 28 June was materially disrupted by COVID-19 and the related restrictions, which led to the closing of all UK retail locations for 12 weeks, and the shutdown of our factory for eight weeks.
In the first half, sales of £92m increased by 14%. However, second half sales of £45m declined by 14% due to the shutdown of physical locations which typically generate 70% of second half revenues.
Overall group revenue for the period was up 3% to £136m as revenue growth from digital channels accelerated, helping reduce the overall decline
Gross margins fell 500bps to 60.9%, of which 80bps was product mix, with the balance including costs related to inventory rehandling and clearance activity in the period March to June
This meat group profit before tax and before exceptional costs slumped to £2.4m compared to £14.1m during the year, reversing growth in the first half of the year.
The second half of the year saw profit before exceptionals reverse to a £12.6m loss due to the combined impact of lower sales, and additional costs of sales which reduced gross margins.
The chain fell to a headline loss of £6.5m from a £10.9m profit last year, partly driven by £10m of writedowns taken in the period related to its store estate and its cacao estate hotel in Saint Lucia.
Since year-end the group said it is trading in line with management expectations and "well positioned to navigate existing and potential COVID-19 challenges".
Digital demand up over 150% on the comparable period in the prior year, while it remains in a strong financial position, with net cash of £16.5m and liquidity headroom of £51.5m as at 20 September
It has also today confirmed a formalised trading agreement with Rabot 1745 joint venture, for the purchases of its beauty products and it looks to expand its beauty range.
CEO Angus Thirlwell commented: "The events of 2020 have challenged all of us, but also brought out the best in us, ethically, competitively, and professionally, making us better equipped to face the future.
"The challenges of COVID-19 have pushed us to accelerate many of our existing plans and strategic initiatives, helping to; strengthen our financial position, improve our multichannel capability, deepen customer engagement and loyalty, and accelerate the rate of product innovation, whilst continuing to make good progress in our two new and sizeable markets of the USA and Japan.
"Whilst uncertainty will continue for all of us in the coming year, our pipeline of potential growth opportunities has never been stronger. We are working hard to anticipate potential trading scenarios for the year ahead and are planning prudently to be ready to adapt quickly and effectively as the situation evolves. To achieve this, we have invested in our ability to increase production and expand our supply chain capacity as well as strengthen the leadership team to ensure a continued focus on product innovation, e-commerce, supply chain and sustainability."
"I am confident that the strategic progress we have achieved over the past year will build a stronger business in the medium-term with greater growth, profitability and brand appeal."
Elsewhere, new FTSE 100 member B&M European Value Retail has announced further strong revenue growth continued through the summer into September.
Updating the market on its first half to 26 September, it said group revenues were up 25.3%, with B&M UK stores generating revenue growth of 29.5% including like-for-like growth of 23%.
Trading momentum at B&M UK stores maintained in Q2, with 19.1% like-for-like growth in the quarter, driven by elevated average spend per visit.
First half Group Adjusted EBITDA is now expected to be above the previously guided range (£250m to £270m announced on 28 July) and is guided to come in at around £285m (before currency adjustments).
A total of nine new B&M UK fascia stores were opened by the half year end, offset by 8 closures.
However, guidance has been upgraded on new stores this financial year as a result of pick up in leasing activity; now expected in the range of 40 to 45 B&M UK gross openings, most of which scheduled to open in the fourth quarter
B&M also reported positive like-for-like sales growth at Babou in France since re-opening on 11 May 2020, with total first half revenue of €156.8m, and a small positive EBITDA outturn for the half year despite the closure due to lockdown over the first six weeks.
CEO Simon Arora commented: "Our group has performed well in the first half. Our business model is proving well-attuned to the evolving needs of customers, given our combination of everyday value across a broad range of product categories being sold at convenient out-of-town locations.
"Our people have risen to the many challenges posed by the COVID-19 crisis, not least in serving our customers through a period of high demand, keeping our shelves filled, providing a clean and safe shopping environment, as well as sourcing higher volumes than we had planned. I thank them all for their commitment, hard work and resilience."
B&M's Interim Results will be released on 12 November 2020.
On the markets this morning, the FTSE 100 is down another 0.7% to 5,886.9pts.
B&M is amongst the major early risers, up 3.3% to 506.6p, joined by Nichols, up 2.6% to 1,265p and Bakkavor, up 2.3% to 66.9p.
Fallers so far today – along with Greggs – include SSP Group, down 3% to 198.9p, PZ Cussons, down 2.1% to 232p and Greencore, down 2.1% to 103.1p.
Yesterday in the City
The FTSE 100 rallied yesterday to get closer to the 6,000-points mark after a difficult time last week. The index finished the day up 1.5% to 5,927.93pts.
Guinness owner Diageo shot up 6.1% to 2,675p after an upbeat trading update pointing to a recovery in multiple areas of its business, particular in the US spirits category.
Other FTSE 100 food stocks in the black included Associated British Foods, up 1.7% to 1,874.5p, B&M European Value Retail, up 0.6% to 490.4p, and Compass Group, up 3.9% to 1,230p.
Elsewhere beleaguered SSP Group, Greggs and M&S all finished well in the black, up 6.1% to 205p, 6% to 1,219p, and 6% to 99.6p respectively. M&S has been in nosedive recently and fell every day last week. SSP Group, which is down more than 70% this year, reported some reasons to be cheerful last week, but two-thirds of its estate remain closed. And Greggs is due to update the City with its latest trading this morning (see above).
There were few fallers for grocery and fmcg yesterday, but stocks in the red included posh mixer brand Fevertree, down 2.6% to 2,290p, McBride, down 1% to 60.4p, and Cranswick, down 0.55 to 3,596p.