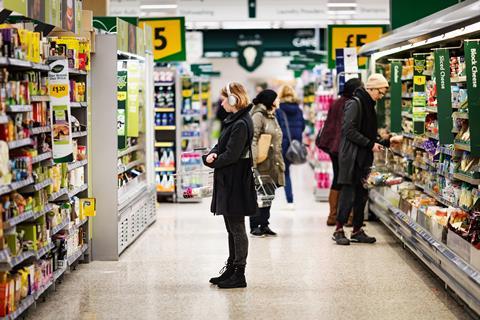 Top story
The grocery sector experienced a sobering January as clean-living consumers cut back to constrain market growth to just 0.3% in the latest 12-week period.
The latest market share figures from Kantar showed growth of 0.3% in the 12 weeks ending 26 January as shoppers committed to Dry January and Veganuary.
Fraser McKevitt, head of retail and consumer insight at Kantar, commented: "Many people start the year with good intentions and pledges to make healthier choices following the excesses of the festive period. Those who committed to drinking less in January helped the retailers boost sales of non-alcoholic beer by 37% and adult soft drinks by 3%, as shoppers reached for alternatives to their favourite tipples."
Morrisons (MRW) continues to be the weakest performer of the big four supermarkets, losing 3% of its sales over the period, with Asda down 2.2%.
McKevitt commented: "Morrisons is bucking the trend in the overall grocery market, where fewer groceries are being purchased on deal, conducting 47% of its sales through some type of promotion during the past 12 weeks, a 1.3 percentage point increase on last year's level."
Sainsbury's (SBRY) was the best performer of the big four, down 0.9%, while Tesco (TSCO) was down 0.6%.
Lidl continues to surge at a double-digit growth rate of 11.1%, while Aldi grew by a more modest 5.7%.
Ocado was a fastest overall grocery retailer, with its sales up 11.2%.
Kantar found grocery inflation now stands at 1% for the 12-week period ending 26 January 2020. Prices have been rising since the 12 weeks to 1 January 2017.
Meanwhile, market share data from Nielsen also shows there was no post-Christmas recovery for UK supermarkets this January as sales grew by only 0.7% in the last four weeks.
This is significantly less than the same period last year, which saw strong growth of 3.3%.
This year, value sales since Christmas fell at the grocery multiples by 0.3%, with volumes also down -1%. This was exacerbated by inflation, which was only up by 1.6%.
The continuing mild winter weather was also not enough to give a seasonal boost, with volume sales of traditional ambient grocery products down by 2.8%.
Mike Watkins, Nielsen's UK head of retailer and business insight, said: "We know that shoppers are always more conscious of their spending after Christmas, yet this behaviour is impacting the basket more so now than last year. Overall, the number of items purchased per trip is less than last January, resulting in lower supermarket spend - even if visits to stores are up.
"The good news is that consumer confidence is improving, compared to where we were six months ago. However, this change in sentiment will take a number of months to be reflected in sales. The economy remains firmly our number one concern, followed by political stability, health and rising utility bills.
"Assuming there is no late winter disruption, we anticipate that industry growth will improve to around 1% over the next couple of months, whilst volume growth will remain relatively weak until Easter, where this holiday should provide much needed momentum mid-April."
Nielsen also found Morrisons was the weakest mainstream grocery, with sales down 2.7% in the month, while Asada was down 1.5%, Tesco down 0.4% and Sainsbury's down 0.2%.
The only supermarket growth came from Marks & Spencer (+0.1%), Iceland (+1.1%) and the Co-operative (+2.6%), while the discounters Aldi (+5.6%) and Lidl (+10.8) also experienced a rise in sales.
Morning update
The FTSE 100 has surged 1.4% this morning up to 7,429.7pts as better international trading sentiment has added to yesterday's recovery.
Early risers include FeverTree (FEVR), up 2.4% to 1,398p, PayPoint, up 2.2% to 1,024p and Marks & Spencer (MKS), following this morning's grocery share numbers, rising 2% to 181.1p.
Of the other supermarkets, Tesco is up 0.6% to 250.3p, Sainsbury's is up 0.7% to 202.4p and Morrisons is up 0.9% to 182.1p.
Fallers include Finsbury Food Group (FIF), down 2.5% to 99.5p and Compass Group (CPG), down 0.3% to 1,881p.
Yesterday in the City
The FTSE 100 climbed back 0.6% yesterday to 7,326.3pts as the pound fell in value once more on fears that a no-deal Brexit is back on the table.
Having been at $1.32 over the weekend, the pound fell back below $1.30 yesterday apparent divisions between the UK and EU over a future trade agreement were seen as making a no-deal scenario more likely.
Multinational FTSE 100 risers included Diageo (DGE), up 2.9% to 3,098p, Reckitt Benckiser (RB), up 1.2% to 6,356p, Unilever (ULVR), up 1% to 4,580p and British American Tobacco (BATS), up 1% to 3,391p. Ocado (OCDO) was up 1.8% yesterday to 1,246p.
Other risers included Finsbury Food Group (FIF), up 3% to 102p, Britvic (BVIC), up 2.1% to 945p, Marston's (MARS), up 1.4% to 106.2p, DS Smith (SMDS), up 1.4% to 345p and Nichols (NICL), up 1.3% to 1,362.5p.
Just Eat Takeaway.com ended its first day of trading up 1.9% to 7,350p following the delisting of Just Eat (KE) in the wake of the merger of the two online food delivery firms.
Yesterday's fallers included McColl's (MCLS), down 5.1% to 43.4p, Premier Foods (PFD), down 3.7% to 34.9p, Hotel Chocolat (HOTC), down 2.9% to 452.5p, Greencore (GNC), down 2.5% to 239.4p, Hilton Food Group (HFG), down 2.5% to 1,030p, B&M European Value Retail (BME), down 2.1% to 356.2p and AG Barr (BAG), down 1.5% to 596p.