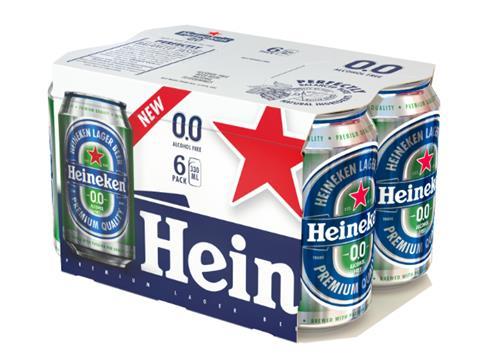 Top story
Heineken is planning to slash jobs at its head office in a bid to cut costs and return to profitable growth as the Covid pandemic continues to slam the hospitality industry.
The decline of organic beer volumes at Heineken slowed in the third quarter, falling just 1.9%, with the Heineken brand up 7.1%.
However, the damage done in the second quarter, when the hospitality industry around the world was forced to shut, resulted in net profits in the first nine months of the year plunging to €396m (£358m), compared with €1.7bn in the same period of 2019.
Heineken is conducting a strategic review in an attempt to accelerate a return to growth in the post-Covid world. The Dutch group said it will cut jobs at its head office, as well as at regional bases, in a bid to reduce staff costs by 20%. The cuts will start in the first quarter of 2021.
CEO Dolf van den Brink said: "Our performance during the third-quarter continued to be impacted by the Covid-19 crisis. As many lockdowns eased, our volumes improved sequentially compared to the last quarter.
"We outperformed the category across most of our key markets, with Heineken showcasing a stellar performance. We continued strict cost mitigation actions whilst balancing investments behind our brands and future growth opportunities.
"The situation remains highly volatile and uncertain. We expect rolling outbreaks of Covid-19 to continue to meaningfully impact many of our markets in addition to rising recessionary pressures."
Rival brewer Carlsberg reported a better quarter, with volumes jumping by 2.4%, compared with a 8% fall in the previous quarter.
Organic revenues were down by 2.1% in the three months to the end of September, with reported revenues of DKK 17.3bn (£2.1bn), down 6.8% after currency fluctuations.
The Danish group said its international premium brands, craft & speciality and alcohol-free brews delivered solid growth in the period despite the challenges of Covid.
Carlsberg revised its full-year profit expectations upwards as a result of the "strong" performance in the third quarter. The group said that despite the continued uncertainty in Western Europe it expected organic operating profits to fall less than forecast thanks to improvements in Russia and China and cost controls.
Carlsberg CEO Cees 't Hart said: "We're satisfied with our Q3 performance and the fact that we were able to deliver more than 2% volume growth, including strong figures for craft & speciality and alcoholfree brews. Our earnings upgrade is the result of solid execution and our ability to adjust our business and costs to changing market conditions.
"The pandemic remains a concern for us, impacting our people, our customers and our businesses in many of our markets. Our first priority is the health and safety of our employees and customers, while also ensuring the health of our business, both short term and long term.
"Consequently, we're continuing to adapt our organisation, processes and structures to a new market reality, including changed consumer preferences and a temporarily reduced level of on-trade activity."
Shares in Heineken are down 4.1% to €76.76 this morning, while Carlsberg climbed 1.3% to DKK 847.20.
Morning update
The ongoing price war between the supermarkets and discounters kept prices rises to a minimum in October, according to the latest figures.
Food inflation was steady at 1.2% this month, which is below the 12 and six-month average price increases of 1.4% and 1.3% respectively, the BRC-Nielsen index showed.
Asda, Sainsbury's, Waitrose and Co-op all waded into the price war this month with a raft of branded and own-label cuts.
Fresh food inflation accelerated to 0.4% in October, up from 0.2% in September but below the 12-month average price increase of 0.6%. Ambient food inflation slowed to 2.3% in October, down from 2.5% in September.
BRC chief executive Helen Dickinson said food inflation remained low as supermarkets fiercely competed with one another to offer the best quality goods at the lowest prices.
But she warned consumers that bad news was on the horizon as time ran out to agree a free-trade deal with the EU ahead of the close of 2020.
"Unless such an agreement can be signed in sealed in the next few weeks, retailers will be unable to provide the same value to their customers after 1st January," Dickinson said. "The government must do all in their power to secure a zero-tariff deal or else it will be the public who suffer the consequences of higher prices."
Shop prices overall fell by 1.2% in October compared to a 1.6% decline in September.
The drop was driven by non-food retailer slashing prices to attract customers amid renewed coronavirus restrictions and falling consumer confidence.
Non-food prices fell by 2.7% in October compared to a decline of 3.2% in September.
Mike Watkins, head of retailer and business insight at Nielsen, said: "With pandemic restrictions extended, shopping behaviour has been in a holding pattern as households adjust to new ways of working, living and spending.
"To help sales volumes, non-food retailers are limiting any price increases coming through the supply chain and food retailers are continuing with the lower prices introduced in recent weeks. And should the recession and the growth in unemployment have a further impact on consumer spend, we can expect shop price inflation to remain low for the rest of the year."
Ingredients group Tate & Lyle has agreed to acquire an 85% shareholding in Chaodee Modified Starch Co, a tapioca modified food starch manufacturer located in Thailand.
This investment extends Tate & Lyle's presence in speciality tapioca-based texturants and establishes a dedicated production facility in the main tapioca region of eastern Thailand.
The acquisition will enable Tate & Lyle to offer a broader range of tapioca-based solutions to meet customers' needs for better tasting and clean label foods in categories including dairy, bakery, snacks, noodles and soup, sauces and dressings.
Tate & Lyle will operate CMS in partnership with the former owner. Together with its partner, Tate & Lyle intends to invest in the facility over the next three years to increase significantly capacity for higher functionality starches. The CMS facility will be supplied with substrate by a co-located tapioca starch mill fully owned and operated by Tate & Lyle's partner.
CEO Nick Hampton said: "We are delighted to announce this investment to expand our tapioca offering and grow our texturant portfolio. CMS brings new tapioca capabilities, raw material sourcing expertise and additional production capacity to Tate & Lyle, and expands our presence in the higher growth Asia Pacific region."
Yesterday in the City
Fears over a second wave of coronavirus sweeping over Europe knocked investor confidence again yesterday with the FTSE 100 slumping another 1.1% to 5,728.99pts.
Shares that have been hammered this year during the lockdown were down again yesterday, including Greggs, down 2.1% to 1,359p, M&S, down 1.1% to 94.2p, WH Smith, down 1.7% to 1,004p, Greencore, down 2.8% to 93.6p, and Bakkavor, down 2.2% to 58.7p.
Drinks producers were also hit in the sell-off given their exposure to the out-of-home markets and hospitality, with Irn-Bru maker AG Barr down 2.8% to 479.5p, Britvic down 2.1% to 777p, Coca-Cola HBC down 3.3% to 1,891.5p and Fevertree Drinks down 3.2% to 2,213p.
Other losers in the grocery and fmcg markets included Science in Sport, down 4% to 31.2p, Glanbia, down 3.9% to €7.97, and Applegreen, down 3.4% to 282p.
Stocks on the rise included those that have done well during the outbreak as investors looked for somewhere safe to put their money, with Domino's Pizza Group up 3.5% to 341p, Ocado up 2.7% to 2,322p, Pets at Home up 2% to 394.8p and Just Eat up 0.7% to 9,032p.