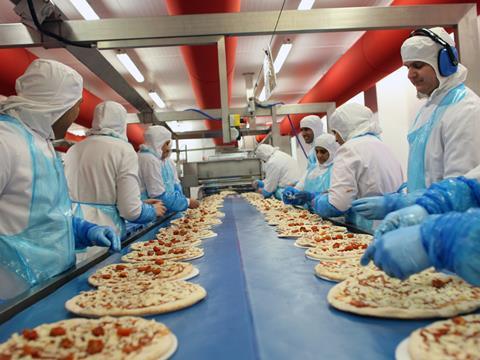 Top story
2 Sisters Food Group owner Boparan has reported a £2.5m loss in the second quarter to 28 January despite a rise in like-for-like sales as rising input costs hit margins.
Boparan said revenues "remained strong" in a tough market, with total sales rising 5.2% to £833m in the quarter and like-for-like sales up 2.6% to £812.8m.
However, like-for-like operating profit fell 17.8% to £18m, from £21.9m last year and operating profit margin decreased by 50bp to 2.3%.
This lower profitability led to a reported quarterly loss of £2.5m from a profit of £1.7m in the corresponding period last year.
Boparan said this performance was in with expectations as expected headwinds were affecting overall margin performance "in the short term".
The group added that efficiency and cost reduction programmes are being accelerated to counter inflationary and currency pressures and that "strong foundations" were being laid through innovation and investment streams.
Ranjit Singh, 2 Sisters Food Group CEO, said: "Our results reflect the very tough trading environment we face. The market is as competitive as ever and currency fluctuations have brought about higher input prices. It is unsurprising that this has put a margin squeeze on a lot of businesses, including our own."
"However, there is underlying positive momentum across the business, as we have seen over the past four trading quarters. Sales are rising, and we are well positioned to grow with our customers in new markets.
"Competing in our markets requires investment for the long-term, so our supply chain is efficient, sustainable and fit for the future. This has been our approach when making investment decisions, and we are still focusing strongly on a 'cost out' and efficiency culture.
"Our Brands have been more acutely affected by ingredient inflation. However, both Frozen and Biscuits have seen robust sales figures with new contract wins and, like the rest of the business, both have implemented major efficiency drives."
"The market will remain challenging, but as we continue to create a good environment for the long-term sustainability of the business, remain resilient and deliver for customers, our Better Before Bigger strategy will achieve our long-term ambitions."
On a divisional basis like-for-like sales protein division were up 1.4% at £531.0m, but operating profit was down to £4.5m from £7.1m in the comparable period.
Its chilled division saw like-for-like sales increase by 5.9% to £175.5m and like-for-like operating profit increase by £1.6m to £5.7m as it focussed on efficiency programmes.
The branded division reported Q2 like-for-like sales up 3.5% to £106.3m and overall operating profit down marginally to £9.2m from £10.7m. Boparan said the division saw the largest element of inflation in Q2 driven by both commodity and currency impacts.
In terms of outlook Boparan said the strong headwinds had "affected the business" but "a series of tactical and strategic actions, the business is confident these can be mitigated".
It said efficiencies and innovation, supplemented by targeted investment, will help drive profitable sales and protect the business in a volatile operating environment, but that EU exit uncertainty, as well as cost pressures and the tough grocery market are likely to remain for the foreseeable future.
Morning update
Also this morning, listed sports nutrition business Science in Sport (SIS), which currently partners Chris Hoy, Team Sky and Liverpool FC, has released annual results showing a 30% jump in sales as investment in the brand led to a £0.8m loss.
Sales were up 30% to £12.2m, which SIS said was "significantly ahead of market growth" and had seen particularly strong growth online and international markets.
New product development delivered £0.8m of sales during the year and contributed 29% of growth, while its newly launched Australian business performed ahead of plan and it established USA and Italy businesses in the third quarter.
Gross profit increased to £7.4m from £5.5m in the previous year, with factory efficiency improvements helping margin up 1.8% to 60.3%.
The investment in in marketing, e-commerce and international expansion meant it reported an underlying operating loss of £0.8m after a profit of £0.25m last year, which SIS said was in line with expectations.
Stephen Moon, Science in Sport's CEO, said: "This was a year of exceptional revenue growth for SiS where we continued to outperform our peers and grab market share in the highly attractive endurance sports nutrition sector. In line with our growth strategy, we continued to invest heavily in brand equity, marketing, product innovation, e-commerce and International markets, with the benefits evident in both our 30% increase in revenues and growing brand awareness in all markets
"Online and International growth has been particularly strong during 2016. Our new Australian business delivered sales ahead of plan and in the second half we launched e-commerce websites in the USA, Italy, Germany and Netherlands. Our scienceinsport.com business doubled in size in the year.
"Our model is working, we have exceeded our revenue growth targets, and we are committed to our strategy of investing in science, brand, e-commerce and International markets. We expect our core UK and EU business to be EBITDA profitable in 2017 and we will deploy cash to support growth in International markets."
In wider retail this morning Next (NXT) has slipped to its first annual loss for eight years, with pre-tax profits falling 5.5% from £836.1m to £790.2m last year. In-store sales slumped by 3% to £2.3bn but online and catalogue sales increased by 4% to £1.7bn.
On the markets this morning, the FTSE has started the day sharply down, but has since recovered to trade just 0.1% down at 7,319.6pts.
Science in Sport is up 2.9% at 84.4p, while Next has jumped 5.7% to 4,105p as the profits fall was widely expected and the results were not as bad as some forecasts had feared.
There has been some rebound from yesterday's falls with Marks & Spencer (MKS), up 1.4% to 329.5p, Tesco (TSCO), up 1.1% to 187.9p and Associated British Foods (ABF) up 1% to 2,630p.
Other fallers from yesterday remain under water, with Sainsbury's one of the FTSE's biggest early fallers again, dropping a further 0.9% to 264.1p and Unilever (ULVR), falling 0.9% to 3,988.5p.
Other risers include PureCircle (PURE), up 3.9% to 301.8p, Majestic Wine (WINE), up 2.4% to 332.8p and Total Produce (TOT), up 2.1% to 172p.
Fallers include Glanbia (GLB), down 2.3% to €17.97 and Just Eat (JE), down 1.4% to 560.7p.
Yesterday in the City
The FTSE 100 tumbled 0.7% to 7,324.7pts yesterday as overnight share price falls in the US shook confidence in global markets. The FTSE rallied in the afternoon but fell back again towards the end of trading as shockwaves from the tragic events in London yesterday rippled through the market.
A slew of major grocery and consumer stocks were caught up in the sell-off, with the supermarkets amongst those in the FTSE 100 worst hit.
Sainsbury's (SBRY) dropped 2.4% to 266.6p yesterday, while Tesco (TSCO) was down 1.6% to 185.9p, Marks & Spencer (MKS) lost 1.6% to 324.9p and Morrisons (MRW) was down 1.6% to 232.3p.
Other major stocks losing ground included Dairy Crest (DCG), down 2.2% to 556p, Associated British Foods (ABF), down 2.1% to 2,605p and Greencore (GNC), down 1.7% to 253p.
FeverTree (FEVR) continued its post annual results slump, dropping another 4.3% as the market worries about its ability to continue its massive growth trajectory.
Also falling were Majestic Wine (WINE), down 4.6% to 325p and PureCircle (PURE), down 3.8% to 290.5p.
Risers were few and far between, but C&C Group (CCR) rose 1.5% to €3.77, Science in Sport was up 1.2% to 82p ahead of its annual results this morning and Conviviality (CVR) was up 1.2% to 267.8p.