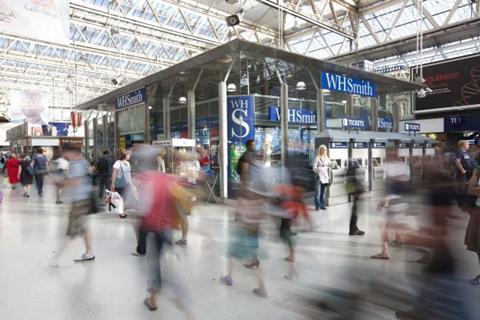 Top story
WH Smith has fallen to a £280m loss as the due to the coronavirus-driven closure of stores and a slump in its travel business.
Reporting its annual results for the year to 31 August, WH Smith posted a group loss before tax of £280m driven by a pre-tax trading loss of £68m and non-underlying costs of £212m.
The £280m loss compare to a £135m profit in the previous financial year and reflects the impact of Covid-19 as travel numbers have slumped and a number of stores were closed during the lockdown period.
Non-underlying items including costs relating to the acquisition of its MRG travel business, pensions charges and items specifically relating to the impact of Covid-19 on the business.
Total revenues were down 27% compared to last year at £1bn compared to £1.4bn in the previous year, with group like for like sales down 33% and down 64% in the second half).
WH Smith said its high street business had showed a "resilient performance", with a steady recovery since first lockdown period.
Total revenues were down 19% in the division with like-for-like revenue down 19% as it kept a number of stores that included Post Offices open during the lockdown period.
However, travel was "significantly impacted" by Covid, with second half revenues down 73% compared to 19% growth in the first half, to take full year sales down 32%.
Its UK Travel business saw a significant decline in passenger numbers as a result of travel restrictions in the second half of the financial year. Recent trading in UK Travel has been impacted by quarantine measures and reduced passengers on public transport.
Revenue in September and October was just 32% of 2019 sales, while hospital revenue continues to track at around 64% of 2019 sales.
The group said that, following the announcement of the second lockdown in England, it expects to be further impacted and for the recovery not to begin until the second half.
Its international business, which is 50% focussed in North America, saw total revenue for the year drop 17% to £209m, with like for like revenue, on a constant currency basis, down 43%.
CEO Carl Cowling commented: "The Group delivered a strong first half performance and traded strongly prior to the outbreak of Covid-19. Since March, we have been heavily impacted by the pandemic. Despite the many challenges faced, we responded quickly and took decisive actions to protect our colleagues, customers and the business, including strengthening our financial position.
"We have a robust plan across all our businesses focusing on cost management and initiatives within our control which support us in the immediate term and position us well to emerge stronger as our markets recover.
"We are a resilient and agile business. The actions we have taken have put us in a strong position to navigate this time of uncertainty and we are well positioned to benefit as our markets return to growth."
Looking forward, WH Smith said with continuing uncertainty from the impact of Covid-19 it continues to plan "cautiously for a wide range of outcomes".
"As we have done since March, we will manage the business by focusing on the short-term actions that manage cash and costs along with ensuring we are well positioned for economic recovery, particularly in our Travel business," it stated.
In air, it expects a gradual improvement in domestic passenger numbers first, particularly in the US where 85% of passengers are domestic. In rail, as government restrictions are lifted, and more people return to work, it expects to see a gradual improvement in sales.
Morning update
B&M European Value Retail continues to enjoy bumper trading during the coronavirus outbreak, posting a strong rise in sales and profits in the first half of its financial year.
Group revenues for the 26 weeks ended 26 September 2020 jumped by 25.3% to £2.24bn and by 25.3% on a constant currency basis1.
In the B&M UK stores business, revenues grew by 29.5% to £1.89bn with like-for-like sales up 23% for the first half as a whole.
Like for like sales did slow towards the end of the period, but remained strong with first quarter LFLs up 26.9% and the second quarter up 19.1%.
New store openings also contributed revenue growth, with the annualisation of the net 36 new stores opened in FY20 plus one net new opening in the first half of the year and nine gross new store openings in the period.
B&M UK business now expects 40 to 45 gross new store openings in the full year, offset by 10 closures and relocations.
Its discount convenience chain, Heron Foods, generated revenues of £216.2m compared to £188.2m in the same period last year, as the business has maintained good like-for-like sales momentum.
In the French business Babou, revenues decreased by 2.4% to £140.6m reflecting the closure of all stores for the first 6 weeks of the financial year under the French Government's initial lockdown.
Group adjusted EBITDA increased 95.3% to £295.6m, driven primarily by operational leverage in the UK businesses.
Group adjusted profit before tax increased by 128.5% to £253.6m.
UK government business rates relief represented a £35m saving in compared to the previous year for the B&M UK business, but was substantially offset by the increased costs of implementing social distancing in stores.
CEO Simon Arora said: "The Group delivered a strong performance in the first half, with our business model proving well-attuned to the evolving needs of customers. Our combination of everyday value across a broad range of product categories and convenient Out of Town locations has proved popular with shoppers.
"During such challenging times, we have been proud to play an active role in supporting the communities in which we operate, having created over 1,800 new jobs across the Group during the past six months in addition to repaying the £3.7m furlough support originally received during the height of the crisis.
"Despite the wider economic uncertainty and ongoing restrictions related to Covid-19, we remain confident in our business model and future prospects."
Elsewhere, Nestlé has announced a number of leadership changes, with Patrice Bula, head of strategic business units, marketing, sales and Nespresso, retiring at the end of February 2021.
Bula has worked at Nestlé for over 40 years and in his current position he led the group's brand strategies, digital marketing transformation and the Nespresso business.
Bernard Meunier, currently Head of Nestlé Purina PetCare EMENA, will succeed Patrice Bula as head of strategic business units, marketing and sales. He will assume this role as of March 1, 2021 and will join the Nestlé Group executive board.
David Rennie, Head of the Nestlé Coffee Brands group, will become a member of the executive board as of March 1, 2021. This decision reflects the strategic nature of his role, as coffee is one of Nestlé's major growth pillars.
Mark Schneider, CEO, commented, "I would like to thank Patrice for the tremendous job he has done over the course of 40 years at Nestlé. We are excited that, in Bernard, we have a successor who is a dynamic leader with the proven ability to grow businesses. We are equally delighted to welcome David Rennie to the group executive board. With his strategic vision, ability to execute and stellar record of success in coffee, he will make a valuable contribution."
On the markets this morning, the FTSE 100 has lost some of its recent gainst to fall back 0.9% to 6,323.9pts.
WH Smith shares are up 1.5% to 1,472p, while B&M shares are down 0.6% to 498.4p.
Risers so far include Ocado, up 2.6% to 2,362.4p, Glanbia, up 2.1% to €9.61m and McBride, up 2.1% to 65.3p.
Fallers include Sainsbury's, down 4.8% to 199.3p, SSP Group, down 2.8% to 302.2p and Compas Group, down 1.9% to 1,407p.
Yesterday in the City
It was another day of confident growth on the FTSE 100 as London's leading index continued its remarkable run this week on the back of the hopes for a Covid vaccine to rise another 1.4% to 6,386.85pts.
After spending some of the day in the red, Coke bottler Coca-Cola HBC ended the day up a healthy 2.9% to 2,199p after it reported improving trends in the third quarter.
Ocado and B&M European Value Retail came back strongly after a sell-off earlier in the week as investors sought to take profits from two of the winners during the pandemic and buy stocks that had been hammered. Ocado jumped 7% to 2,316p and B&M, which reported half-year figures this morning, rose 5.4% to 501.2p.
Other big winners yesterday in food and drink included Applegreen, up 7.7% to 335p, Bakkavor, up 6.4% to 76.6p, and Glanbia, up 5.9% to €9.53.
There were plenty of other risers yesterday, including British American Tobacco, C&C Group, Cranswick, Domino's, Greggs and Hilton Food Group.
Upper Crust owner SSP, which had rallied by more than 60% this week on the vaccine news, fell back 2.7% to 312.6p.
Other fallers included Fevertree, down 2.9% to 2,434.5p, Science in Sport, down 2.8% to 31.6p, and Greencore, down 1.2% to 119.4p.